It's About Health Not Politics; Phl Stands By Taiwan Travel Ban
The World Health Organization has warned against imposing travel restrictions due to the coronavirus disease 2019 (COVID-19), but the Philippine government insists that health concerns are primordial and above politics.
It took more than a week before Taiwan was included in the travel ban imposed by the government on travelers from China due to the coronavirus disease 2019 (COVID-19) outbreak.
The clarification was made on Feb. 10 by the Department of Health (DOH), which cited the Philippines' One-China policy in including Taiwan in the ban. On Feb. 2, only mainland China and its administrative regions – Macau and Hong Kong – were specifically mentioned by the government as areas covered by the ban.
Beijing assailed the move by various countries to contain the COVID-19 by restricting entry of travelers from China. It also did not sit well with Taiwan, but for another reason: it said the ban was based on "wrong information" since Taiwan is not and has never been part of the People's Republic of China (PRC).
Taipei is reportedly eyeing retaliatory measures against the Philippines, including the possible cancellation of the two-week visa-free entry privilege of Filipinos visiting Taiwan as well as a ban on overseas Filipino workers (OFWs).
Government officials issued somewhat conflicting statements about the Taiwan travel ban. Complicating matters is the fact that Taiwan is not part of the World Health Organization (WHO) due to China's aggressive diplomatic efforts against what it considers a renegade province.
Beijing made an exception this week when it allowed the WHO to include Taiwan in a forum on COVID-19. This was after Taiwan bemoaned how the One-China policy had prevented it from participating in the WHO's response to COVID-19. Taipei said "putting political considerations over people's health and safety, this, basically, is extremely vile."
Taiwan's Ministry of Foreign Affairs also slammed the WHO for labeling it as "Taiwan, China," "Taipei" and "Taiwan and its environs" in its tallies of COVID-19 cases.
DOH Undersecretary Eric Domingo, however, noted: "As far as the health community is concerned, Taiwan is part of China."
"If you look at the WHO map and the number of cases that they have, Taiwan is included in China. So since we have a travel restriction on China, then Taiwan is included," he explained.
The WHO has consistently discouraged the imposition of travel bans from the onset of the health emergency to avoid hindering information-sharing and medical supply chains. WHO country representative Rabindra Abeyasinghe recently reiterated that "no travel restriction should be placed" on any country, even China.
Despite this, Domingo said Taiwan was included in the ban from the start, but there was "confusion," so the restriction started being implemented only "late last week."
"The DFA (Department of Foreign Affairs) has made it clear to us that we have a One-China policy," Domingo said, as he disclosed that Taiwan was seeking a reconsideration of the travel ban.
Bureau of Immigration Commissioner Jaime Morente subsequently confirmed that travelers from Taiwan would not be allowed to enter the Philippines while Filipinos would be barred from boarding flights to Taiwan.
On Tuesday, Feb. 11, presidential spokesperson Salvador Panelo affirmed Domingo's earlier statements regarding the One-China policy.
"The travel ban, I understand, that included China was the basis of the World Health Organization including Taiwan as part of China. And since there's a ban on China, necessarily, Taiwan being part of China is included," Panelo said.
Meanwhile, flag carrier Philippine Airlines as well as Cebu Pacific and AirAsia announced the cancellation of their flights to and from Taiwan on Tuesday, Feb. 11.
The following day, Taiwan's representative office in Manila, the Taipei Economic and Cultural Office in the Philippines, called on the government to "immediately correct its decision on Taiwan and remove Taiwan from the travel ban."
"Taiwan issues its own passport and visas and has exclusive jurisdiction over its people and territory. In fact, Taiwan is not, nor has it ever been, part of the PRC. Taiwan has taken all measures needed to contain the spread of the 2019 novel coronavirus," the TECO said.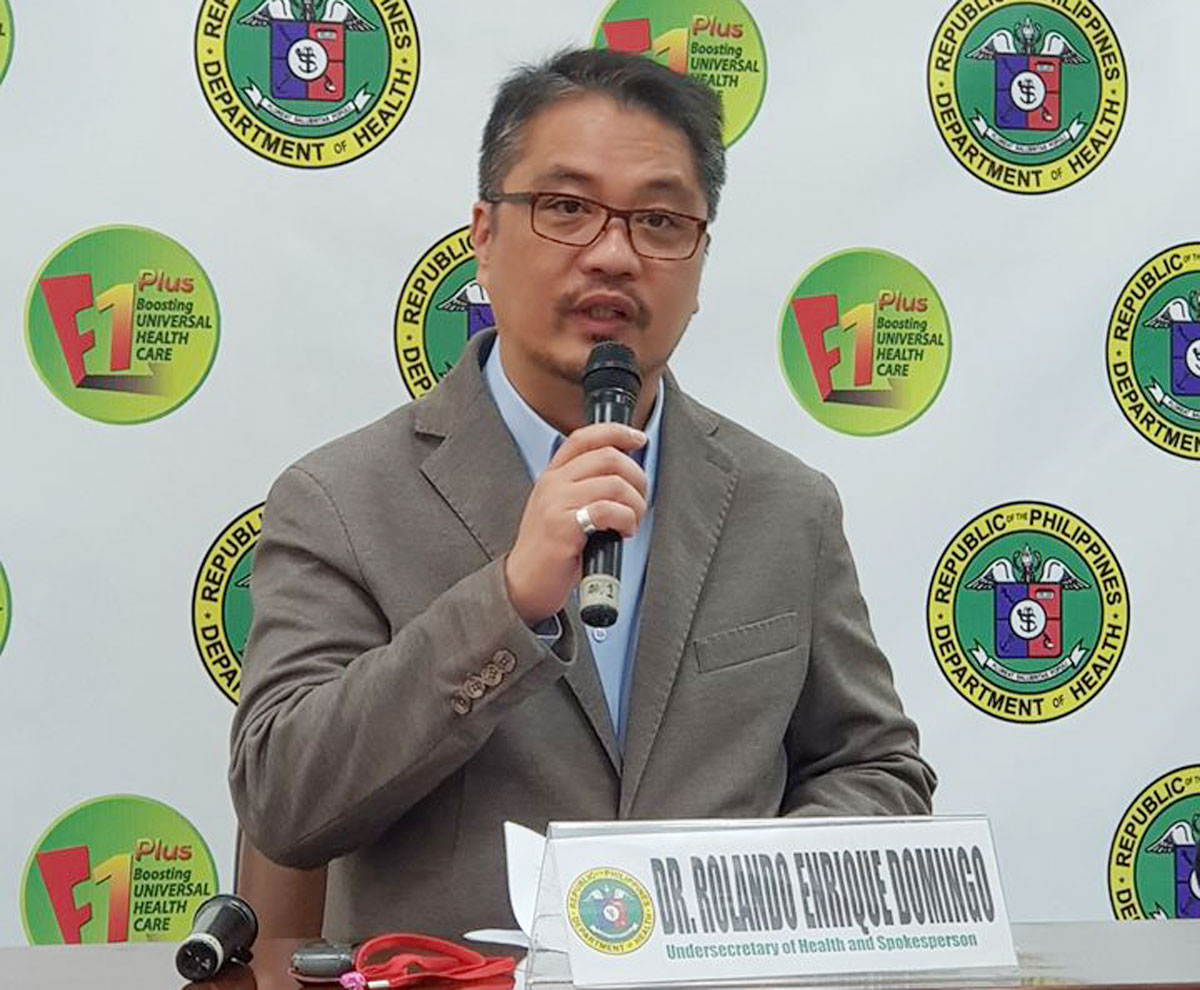 Which is which?
Yesterday, as over 200 Filipinos planning to work in Taiwan complained about their failure to leave the Philippines because of the ban, Panelo denied that the travel ban had anything to do with the One-China policy, contradicting his earlier statement.
He said Duterte's "primary concern is the health and safety of countrymen" and "until the danger persists, then we have to do what's necessary to ensure that safety."
Taiwan recorded 18 confirmed COVID-19 cases as of Wednesday. More cases were actually recorded in Singapore (47), Japan and South Korea (28 each), and the figure for Malaysia equaled that of Taiwan as of the same day – yet none of these countries were subjected to a travel ban.
Asked by reporters if there were plans to also ban travel from Singapore or other countries with confirmed COVID-19 cases, Panelo said he did not know. For now, the ban on travel from mainland China would continue to affect Taiwan.
Sen. Francis Pangilinan and Sorsogon Gov. Francis Escudero questioned the wisdom of restricting travel from Taiwan for seemingly political reasons.
Saying roughly 154,000 Filipino workers in Taiwan would be affected, Pangilinan asked the DOH to clarify if there were really health risks posed for Filipinos going to and coming from Taiwan.
"Averting the spread of the virus and protecting the health of the Filipinos are the only justifiable reasons for the prohibition, not political considerations to China, which counts Taiwan as one of its Special Administrative Regions," Pangilinan said in a statement. "The administration's adherence to the so-called One-China policy should not be above the welfare of our OFWs (overseas Filipino workers) in Taiwan who stand to lose their jobs and their only source of income."
Escudero posted on Twitter: "Why was Taiwan included in the travel ban? It is clearly separate & distinct from mainland China & is similarly situated in relation to other countries with COVID-19."
"Is the basis for political rather than for health reasons?" Escudero asked, noting that it was "just unfair to a lot of Filipinos in Taiwan."
The relations of the international community with China (People's Republic of China) and Taiwan (Republic of China) is complicated by the One-China policy, in which both parties refuse to have diplomatic ties with states that recognize their respective rival. This forced all but 14 United Nations member-states to recognize the Communist Party-led government in Beijing.
The controversy is rooted in a stalemate between the PRC and its predecessor, the Kuomintang Party-led "nationalist" ROC. When the PRC overthrew the ROC in 1949, the nationalists moved their capital to Taipei and controlled only Taiwan and surrounding islands. Taiwan officially claims mainland China, and many of its territorial claims including the Spratly Islands.
The Philippines originally recognized Taipei as the sole representative of China, but shifted to Beijing on June 9, 1975. Then dictator Ferdinand Marcos said the decision was made after a "review (of) our alliances." But Manila maintains economic relations with Taiwan through the TECO.
Let it be
Panelo said "perhaps that (One-China policy) was the perception of DOH" in explaining the Taiwan travel ban.
"But I asked the President (Wednesday) night and he said it has nothing to do with that. It's the safety. He was very emphatic last night. He said the safety of our countrymen transcends borders," Panelo stressed.
With regard to the possible cancellation of Filipinos' visa-free entry to Taiwan, Panelo explained that each country has the right to respond as it sees fit to any act it perceives to be against its interest.
"What can we do about it? We also have our own interests to protect, and that is the health and safety of our countrymen. We understand where the reaction is coming from but they should also understand why we're doing it," he said.
Domingo said Taiwan has appealed for a reconsideration of the travel ban. This will be discussed by the Inter-Agency Task Force on Emerging Infectious Diseases.
Under the ban, all travelers – except those who hold Philippine passports and  Philippine resident visas – are banned from entering the country if they come from mainland China, Hong Kong, Macau and Taiwan.
At the same time, those who hold Philippine passports and Philippine resident visas are not allowed to travel to those places.  – With Sheila Crisostomo