From P20 To Millions, Digital Platforms Used For Donations Amid COVID-19 Pandemic
It's physical distancing now, according to the World Health Organization in prescribing a new term for measures to prevent the contagion, as people still need to connect and help one another even if only virtually amid the COVID-19 pandemic.
In the time of physical distancing, various platforms are bringing people together through digital donation drives to aid frontline and other workers along with their families, amid the coronavirus disease 2019 (COVID-19) pandemic.
The World Health Organization (WHO) is recommending the use of the term "physical distancing" instead of social distancing in describing measures to prevent the transmission of the coronavirus, Reuters quoted officials as saying in a March 21 report.
"We are changing, to say 'physical distance' — and that's on purpose, because we want people to remain connected," said WHO epidemiologist Dr. Maria Kerkhove.
"So find ways to do that, find ways through the internet and through different social media to remain connected, because your mental health going through this (pandemic) is just as important as your physical health," she stressed.
In the country, the calls for donations are made by groups large and small, some using unprompted hashtags to be of help as the country and the world face the health crisis.
The groups are taking advantage of the digital platforms aside from the usual bank transfer and cash donations. The different mobile platforms are seeing a surge in donations, with internet users donating amounts ranging from P20 to millions of pesos.
The donations will be used to acquire personal protective equipment (PPE) and other medical essentials for frontliners such as health workers as well as families most in need during the pandemic.
Here are some of the organizations and companies that are using online platforms to bridge the gaps and the distance stemming from the crisis.
1. The Office of the Vice President and the Ticket2me platform
The office of Vice President Leni Robredo has tapped the ticketing platform Ticket2me for its fundraising to help in the fight against COVID-19.
Ticket2Me, which is an alternative ticketing website, has waived its service fees for the campaign organized by the OVP in partnership with the Kaya Natin! Movement, a non-partisan, non-government organization based in Quezon City that advocates good governance and leadership with integrity.
The fundraising campaign was launched for the acquisition of PPE and food packs for frontliners in battling the COVID-19 pandemic.
Donors will receive an electronic ticket as proof of their contribution through the platform. Proceeds will go directly to the acquisition of PPE sets and food packs.
As of March 22, the Office of the Vice President had raised P23.7 million in donations.
This can procure 50,663 PPE sets and other items for 3,375 frontliners, Robredo said in her social media account.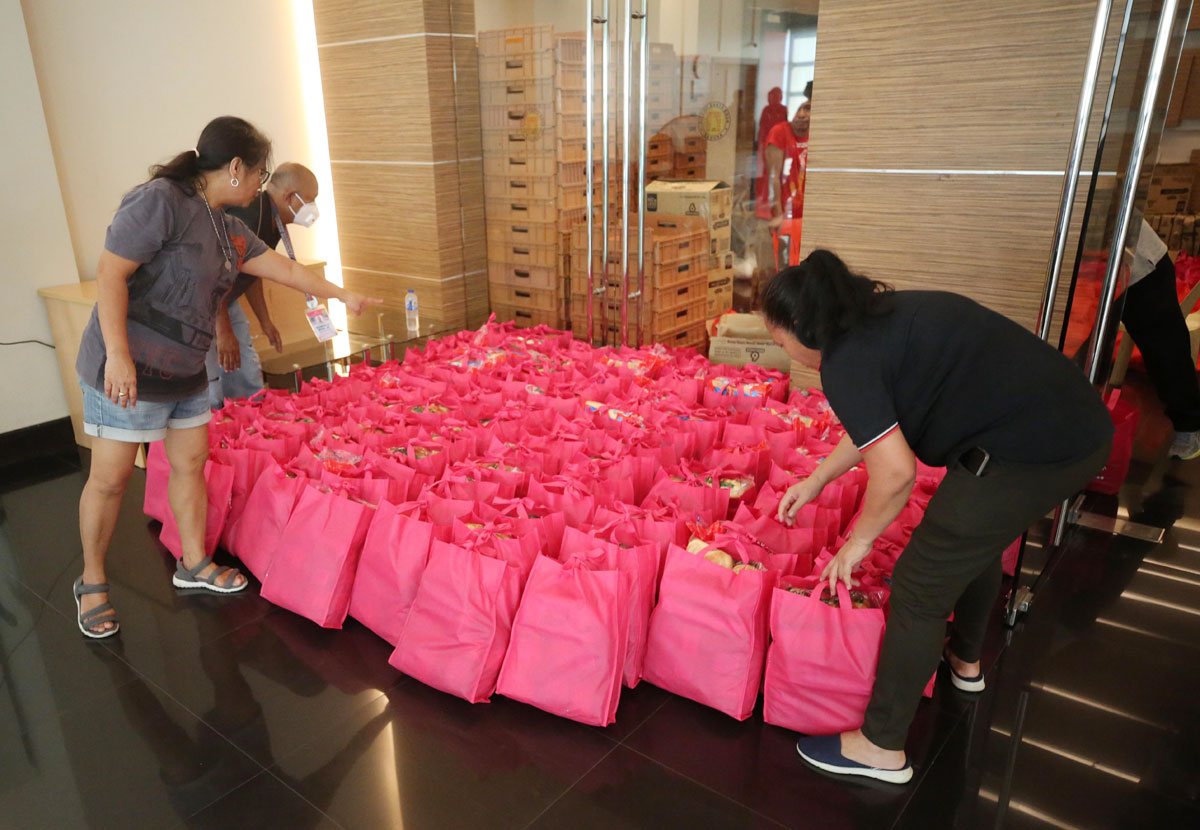 2. Fintech companies step up in the fight against COVID-19
Both GCash and PayMaya, the leading mobile wallets in the country, have set up donation options in their platforms to fight COVID-19.
Donations are just a few clicks away for mobile users, who have been urged to stay at home during the pandemic.
GCAsh noted that it has seen an increase in the number of cashless transactions made on its platform, especially for donations.
Its #FightCOVID19 drive has raised around P3.52 million so far in individual donations.
Through the GCash platform, Caritas Manila alone has collected almost P850,000 in donations. Caritas Manila is a non-profit organization that serves as the lead social service and development ministry of the Catholic Church in the Philippines.
Among the partners of GCash in the #FightCOVID19 donation drive are the Philippine Disaster Resilience Foundation, Philippine Red Cross, World Vision, UP Medical Foundation, Philippine General Hospital or PGH Medical Foundation Inc., ABS-CBN Lingkod Kapamilya Foundation and Ayala Foundation.
But GCash is not the only COVID-related initiative of Globe Telecom Inc. and its subsidiaries.
Globe Rewards, or points accumulated by Globe users, has collected P12.7 million worth of points for the PGH Medical Foundation Inc.
Users can donate P50, P100 or P500 worth of points to the PGH Inc., which will be used to provide test kits, alcohol and PPE sets for health workers.
Paymaya also has several foundations and humanitarian agencies that are mobilizing relief and response efforts on its platform.
It has set up a one-stop digital donation facility that can be accessed online or in-app as part of its #OneAgainstCOVID19 drive.
All donations using the channel will be received by Paymaya and remitted to the recipient organizations chosen by customers.
Paymaya partner organizations include the Philippine Red Cross, United Nations Children's Fund or UNICEF, Oxfam Pilipinas and Caritas Manila, Philippine Business for Social Progress, Kaya Natin! Movement for Good Governance and Ethical Leadership, Philippine Disaster Resilience Foundation, TV5's Alagang Kapatid Foundation, PLDT-Smart Foundation, Nowhere To Go But UP Foundation Inc., Rock Ed Philippines, Ronald McDonald House Charities Philippines, UTown Pen Foundation and YesPinoy Foundation.
3. LazforGood
Lazada, one of the top online shopping applications in the country, has a digital donation platform on its site.
With the government urging families to avoid going out, the platform gives online shoppers an easy way to donate while in the comfort of their homes.
Customers can easily buy donation vouchers from the Lazada platform, ranging from as low as P5 to as high as P5,000.
The donations will be sent directly to partner non-government organizations, which include Caritas Manila, the Philippine Red Cross and UNICEF.
Lazada initially launched its LazforGood program during the 2019 holidays and now has a dedicated section for donations to combat COVID-19.
4. Streams and hashtags for donations
Amid the monthlong enhanced community quarantine in the entire Luzon, several musicians and artists are staging digital concerts.
Renowned artists, including Ramon Magsaysay awardee Ryan Cayabyab, and Ebe Dancel, have held concerts to thank frontline workers for their sacrifices amid the pandemic.
Some artists are holding online concerts to urge their fans to donate and help in the fight against COVID-19.
Ben&Ben will host a one-hour Puhon: A Ben&Ben FB Live Event for the COVID-19 Efforts this Friday to help raise funds.
Indie artist Clara Benin also held an online show to raise funds for a remote barangay in Antipolo City that is affected by the pandemic.
Meanwhile, ABS-CBN held a digital fund-raising titled "Pantawid ng Pag-ibig: At-Home Together Concert" that raised P237 million in donations for families affected by COVID-19.
GMA and its artists also conducted the network's first ever no-contact online show, titled "Buong Puso Para sa Pilipino" last Sunday.
The online get-together and fundraiser reached one million views.
The network said the online donations would be used mostly to buy medical supplies for frontliners, with a portion allotted for grocery packs to be given away to the families of daily wage earners.
 More organic donation drives have also cropped up on social media sites like #MayTwentyAko, urging netizens to donate amounts as low as P20 for frontline workers.
 While each organization is keeping its own tally of donations, there are no estimates yet on how much has been raised through the digital donation drives.
 But one thing is sure: the mobile platforms are bringing people closer despite the pandemic and physical distancing.