Doctors Want ECQ Extended For Another Week; Duterte Open To Dialogue With Healthcare Frontliners
Philippine College of Physicians vice president Dr. Maricar Limpin said one more week of enhanced community quarantine in NCR Plus may be required to prevent the country's healthcare system from collapse.
Doctors are pushing for another extension of the lockdown in the National Capital Region, Cavite, Laguna, Bulacan or NCR Plus as well the adoption of  "out-of-the-box" solutions to curb the soaring number of COVID-19 cases in the country.
From March 29 to April 4, the government has extended the enhanced community quarantine (ECQ) in NCR Plus until April 11 as infections continue to increase.
In an interview with "The Chiefs" on One News / TV 5  on Monday night, April 5, Philippine College of Physicians (PCP) vice president  Dr. Maricar Limpin said one more week of ECQ in the National Capital Region (NCR) and nearby provinces may be required to prevent the country's healthcare system from collapse.
"I think we might need at least another week kasi malaking bagay ang nare-restrict 'yong mobility ng mga tao that basically is the reason bakit nagkaroon tayo ng ganitong problema," Limpin said.
Limpin noted that people started going out and when the vaccines started arriving, they engaged in risky behaviors.  She expressed belief that many no longer complied with the minimum health and safety standards, resulting in "dramatic increase in cases."
She likened the ECQ to the "timeout" that doctors sought in August last year. Doctors, Limpin said, do not want to call for another timeout to avoid adverse economic impact. "Kasi we know economically magkakaroon ng problema.  'Yong worry lang namin ngayon baka mag-collapse ang ating healthcare system because many patients ay hindi  na natin maalagaan  and we have already seen patients dying habang naghahanap ng hospital na mapupuntahan," Limpin added.
At the Philippine Heart Center (PHC), Limpin cited, the intensive care unit and ward beds are already fully occupied and the hospital already opened additional wards to accommodate COVID-19 patients.
But still Limpin said some of the patients had to wait  for days in the emergency room (ER) before they could be admitted. Some of the patients also had to be intubated in the ER and provided with necessary procedures sitting down.
According Limpin, not all mild and moderate COVID-19 patients can be transferred to isolation facilities because some still need hospital management.
"Yon mga nakikita sa mga hospital ngayon, hindi sila 'yong mga mild lang, hindi sila 'yong mga pasyente na pwede nating i-refer sa isolation facilities, ito mga pasyente na kailangan ng admission," Limpin pointed out.
She said there are COVID-19 patients whose mild condition could immediately deteriorate. They are also now seeing a growing number of patients who are young and without comorbidities but requiring mechanical ventilation.
Due to the high number of COVID-19 cases, Limpin noted the patients with more severe and critical forms of the disease also increased.
Upon experiencing early symptoms, Limpin advised patients to immediately go to a community health facility which will determine whether they need to be hospitalized or not. Elderly and those with co-morbidities must immediately seek hospital care.
She said asymptomatic patients may undergo isolation at homes, but they must have their own toilet and bath to avoid the possibility of infecting others.
The PHC would want but could no longer expand their medical services because many of the hospital staff, especially nurses have been infected the virus and are now under quarantine.
Limpin said the health system is in near collapse and may no longer capable to accept any patient due to shortage of healthcare workers soon.
"I think we need to have an out of the box solution for what we are experiencing now, kailangan mabawasan ang mga pasyente titingnan doon sa hospital," she underscored.
Limpin said the PCP already requested President Duterte to look into the possibility of converting some of the hotels into facilities where mild and moderate cases can be admitted.  "Pero kakailanganin nyan full complement of (healthcare workers) which could come from regions with low COVID-19 cases," she added.
Limpin added every Filipino should be provided with quality care and doctors should not be left to decide who would live or not. 
Out-of-the-box solutions
As one out-of-the box solution to the COVID-19 pandemic, Philippine Hospital Association (PHA) president Dr. Jaime Almora suggested that the government allow self-collection of swab samples and self-testing among the people.
Considering that the hospitals or the third line of defense have already been overrun, Almora said, a new strategy must be adopted, including what he called "war in every door."
"The strategy here is for everybody to know their COVID status so that they will not bring home or spread the virus to their houses. What I have been thinking is for everybody to be able to test themselves," Almora said in an interview also with the The Chiefs.
He said the Food and Drug Administration should allow commercial use of rapid antigen test kits, which could be easily used by any individual.
Instead of putting up additional isolation facilities that would require big resources, Almora said, the Department of Health should just teach the people to collect swab samples.
Almora said results of reverse transcription polymerase chain reaction or RT-PCR take at least two days to come out and by that time an infected individual may have transmitted the virus to many people.
"So if we want to reduce the reproduction time, every person should be able to access rapid antigen test," Almora said. He said an antigen test will be done for surveillance purpose.
As the DOH reported, Almora said, there are small hospitals that are available to take in mild COVID-19 cases but are not willing to do so because the Philippine Health Insurance Corporation (PhilHealth) barred them from collecting out-of-pocket payments.
Aside from the PhilHealth issue, Almora said, there are hospitals that do not have enough HCWs to handle COVID-19 patients. Most level one hospitals would rather refer to a tertiary hospital than admit COVID-19 patients.
"They have the capacity, but not the capability. Dapat tingnan din ang manpower hindi kasi ito na-re-report," he noted.
 Vaccination
Infectious disease specialist  Dr. Rontgene Solante called for the faster implementation of COVID-19 immunization program to reduce the number of patients needing hospitalization.
Aside from healthcare workers, Solante said the elderly and those with comorbidities should be prioritized since they comprise the bulk of those getting hospitalized for develop severe forms of COVID-19.
"Dapat palakasin campaign sa pagbakuna despite increase in cases, malaking bagay ma-decongest ang hospitals at maprotektahan ang high risks," Solante said in a virtual briefing.
Solante disclosed the Vaccine Expert Panel is also submitting a recommendation to the DOH to allow vaccination of those who have been infected with COVID-19 as soon as they have recovered.
He said even those who have been infected with COVID-19 should be given the vaccine at the soonest possible time to give them the necessary protection from the virus.
Some of the healthcare workers who have been infected with COVID, Solante bared, have not received the vaccine yet.
There are still people who are reluctant to get vaccinated due to fear of side effects. But Solante assured the public that the protection that the vaccine provides outweighs the possible side effects.
The vaccination rollout, he said, is slow mainly due to the shortage in the global supply of the vaccines.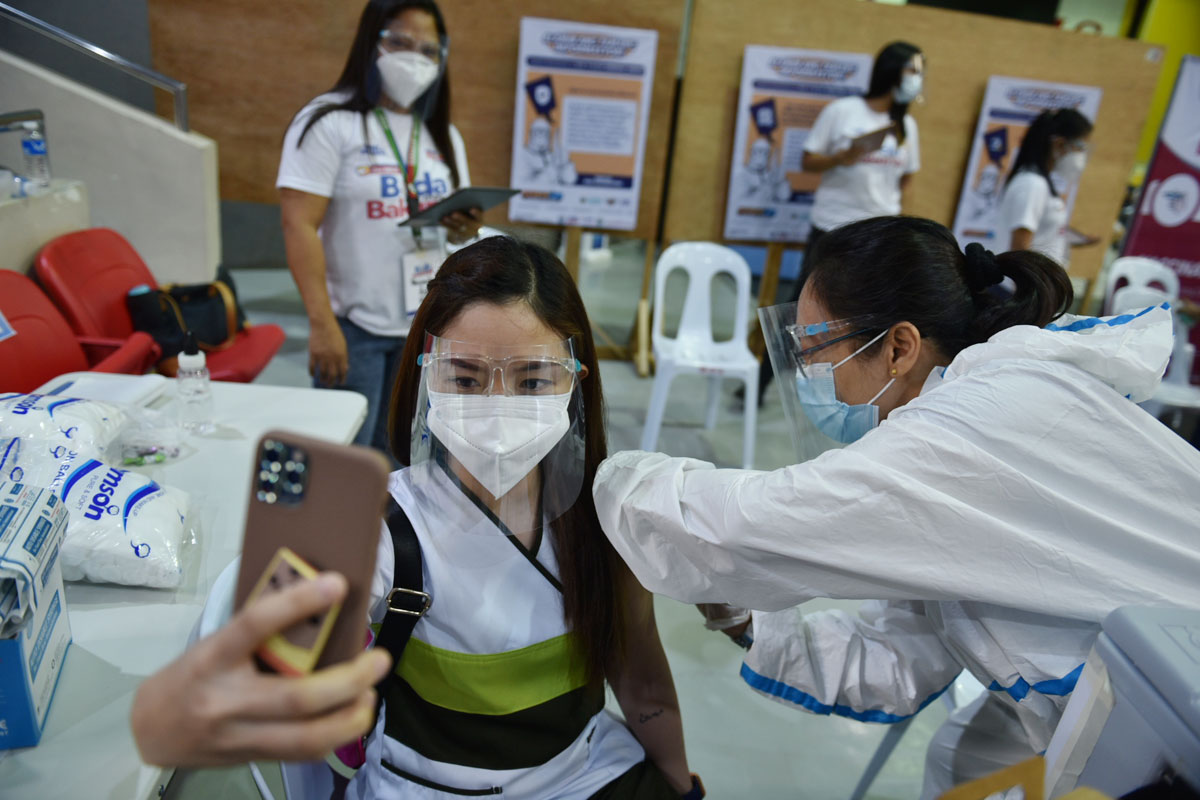 Duterte open to dialogue
Presidential spokesman Harry Roque said as modern-day heroes in time of the pandemic, President Duterte is willing to reach out to healthcare workers amid concerns that they are overwhelmed with COVID-19 cases.
Some groups of medical frontliners are also complaining that their concerns have not been addressed more than a year since the pandemic struck.
Roque said the Chief Executive is ready to listen to the medical frontliners.
"The President's office is always open for all Filipinos who have ill feelings which they want him to hear," Roque stated in Filipino.
OCTA Research group said on Monday that number of COVID-19 cases in the country could breach the one million-mark by the end of April.
OCTA said that the spread of the virus has "started to slow down" in some cities in Metro Manila, the epicenter of the outbreak, but other parts of the region are tallying "rapid increases" of new COVID-19 cases.
OCTA while five cities in Metro Manila saw a slight decline in new COVID-19 cases recorded in the past week, it is still too early to say if the negative growth rates recorded in Manila, Makati, Parañaque, Pasay and Marikina will continue and be sustained in order for them to have a downward trend in new cases.
On Monday, Roque said another extension of the lockdown in NCR Plus may not be possible as the government no longer has funds to help people who are affected by movement restrictions.
The Duterte administration has allocated P23 billion to assist workers who were affected by the lockdown but officials admit the amount is not enough.
"Well, given what (Budget) Secretary (Wendel) Avisado said that we have no more funds for ayuda (aid) and Congress currently is on recess, so in case we need a supplemental budget, we would have to request for a special session," Roque told ABS-CBN News Channel.
"I don't think ECQ for a third week is actually a possibility. In fact, based on the model of the DOH, what they recommended was two weeks of ECQ including last week and then we had earlier another week of bubble to be followed by a week of MECQ (modified enhanced community quarantine)," he said.
But in a press briefing on the same day, Roque said the decision on whether to downgrade the classification of the NCR Plus bubble to MECQ depends on the effects of the intensified prevention, detection, isolation, treatment, and reintegration or PDITR efforts. He said the assistance to be given to people affected by the lockdown would only cover the "bare essentials."
"We can only shift to the lower MECQ if we see that the intensified PDITR yielded positive results," Roque said.
World Health Organization representative in the Philippines Rabindra Abeyasinghe said the surge in infections is being experienced worldwide, not just in the Philippines. He said the factors that caused the surge include the new and more transmissible variants, the gradual reduction in the compliance of the minimum public health standards, and the optimism on the arrival and gradual rollout of vaccines. – With Janvic Mateo, Alexis Romero