Contrary To Roque's Claim, Fisherman Says Duterte Administration's Pro-China Stance Not Working In Their Favor
Fisherfolk in Pangasinan are still being blocked by the Chinese coast guard from entering the resource-rich Scarborough Shoal despite the Duterte administration's friendly stance toward China.
Even with the supposed fishing agreement between President Duterte and Chinese President Xi Jinping, Filipino fishermen are still being blocked by the China Coast Guard from entering the resource-rich Scarborough (Panatag) Shoal.
While they are no longer being shooed away with water cannons, the situation of Filipino fisherfolk five years into the present administration hardly changed, disclosed Carlo Montehermozo, the fisherman to whom Duterte made his jet ski remark during one of the presidential debates in 2016.
"Hindi kami makapasok sa loob. Doon lang sa labas ng Scarborough, sa mga gilid gilid lang po (We cannot enter. We just stay outside of Scarborough, in the outskirts)," the fisherman said in an interview with The Philippine STAR.
"'Yun nga ang mahirap. Sa atin 'yun eh, (pero) tayo naman ang pinapaalis. Wala naman tayong magawa, malaki 'yung mga barko nila, mamaya namaril pa sila doon. Pero hindi naman sila namamaril, parang pinapaalis lang talaga. Ganoon pa rin hanggang ngayon (That's what's difficult. That is ours, but we are the ones being shooed away. We can't do anything since they have big ship and they may fire on us. But they don't shoot, they just shoo us away. It's the same up to this day,)" he added.
In 2019,  Duterte said he and his Chinese counterpart came up with a verbal agreement that will allow Filipino fisherfolk to enter Scarborough in exchange for Chinese fishing vessels allowed on Recto Bank.
But last month, Malacañang denied that there is such an agreement, with presidential spokesperson Harry Roque Jr. saying that the President does not condone such an "unlawful" fishing deal.
But fishing deal or not, the problem still persists for fisherfolk like Montehermozo, who hails from Infanta in Pangasinan.
On Wednesday, May 12, the fisherman expressed frustration over Duterte's claim that his promise to ride a jet ski in disputed territories was merely a campaign joke and that anyone who believed him were "stupid."
Read More: Fisherman Calls Duterte A 'Joke' After Jet Ski Campaign Quip
"Masama loob namin na mangingisda. Dapat sana po tulungan niyo po kami, hindi yung sabihin niyang stupido kami. Kasi siya po ang inaasahan naming makakatulong sa amin (We fisherfolk feel bad. He should be the one helping us instead of calling us stupid. He is the one whom we hope can help us)," Montehermozo told The STAR.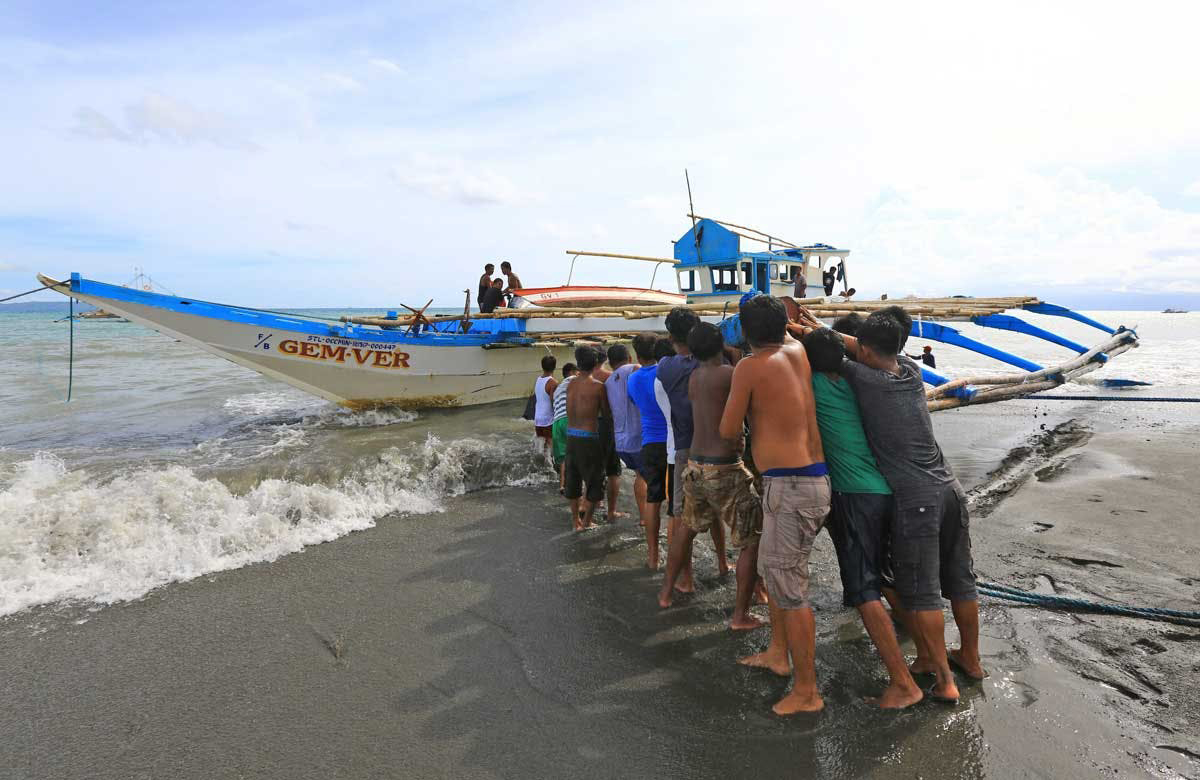 Visitors inside Phl territory
Roque on Thursday, May 13, downplayed Montehermozo's situation by saying that they can at least find food to eat and fish at the shoal under the present administration.
Contrary to Montehermozo's pronouncements, Roque claimed the fishermen could already enter Scarborough Shoal when the new administration came in.
In 2016, the arbitral tribunal based in The Hague upheld the country's exclusive economic zone in the South China Sea and declared Scarborough Shoal as a traditional fishing ground where both Chinese and Filipino fishermen could operate.
The previous administration brought the case to The Hague after a standoff between Chinese and Filipino ships.
But the current government insists it is not responsible for the loss of the Scarborough Shoal and that it could not enforce the ruling
"Carlo, unang-una ang tanong, nakakapag-hanapbuhay ka ba ngayon? Hindi ba totoo na ang noong mga panahon ng administrasyong Aquino kung saan tayo po ay palaaway sa Tsina, iyon po ang mga panahon na hindi kayo nakapangingisda sa Scarborough? So 'wag po natin kalilimutan, kung hindi nabago ang polisiya natin sa Tsina, hindi pa rin ho kayo makakapangisda (Carlo, my first question is, are you able to work now? Isn't it true that during the Aquino administration when we were at odds with China, those were the times when you could not fish in the Scarborough? So let's not forget, if we haven't change our policy with China, you will still not be able to fish)," the presidential spokesperson said.
 "Sino po ngayon ang nagbigay ng pagkakataon sa 'yo ngayon Carlo na magbigay ng pagkain sa hapagkainan? HIndi ba po ang polisiya ng Presidente at hindi ang polisiya na awayin ang Tsina? (Who gave you the opportunity, Carlo, to serve food at the table today? Isn't that the President's policy and not the policy to quarrel with China?)" Roque asked.
But Montehermozo said this still depends on the mood of the Chinese if they would allow the Filipinos to fish with them.
He noted instances when the Chinese would come up to them to take photos before allowing them to stay, as if they needed to seek clearance to fish on their own land, he recalled.
But there were other times when they would be driven away, during which time Montehermozo and the other fishermen needed to rely on their "diskarte" or own ability to hide from the Chinese ships and catch fish quickly before they were caught.
He also recounted incidents when the Chinese would cut off their anchors just to drive them away.
His small fishing vessel, he said, looked like a toy next to the Chinese fishing vessels and coast guard ships anchored on the shoal.
Left with scraps
The 2016 arbitration victory remains to be felt by the fishermen like Montehermozo.
According to experts, the Duterte administration should have pursued the award since the decision was issued during its time.
He said it remains baffling to him that huge Chinese fishing vessels can anchor and fish in the shoal freely, but Filipino fishermen, with their smaller boats, could not even enter it.
It is as if they were left to fish around the shoal for scraps, he added.
Asked about the difference between fishing around the shoal and inside it, Montehermozo said the water is deeper in the outskirts, making it more difficult for them to catch fish.
The Pangasinan fisherman said it may be too late for the President to take back his joke and consider their plight in a more serious tone, but expressed hope that Duterte could instead extend a helping hand and fulfill his campaign promise to them.
"Siguro sa (susunod) na presidente, gawin sana nila na hindi po sana kami pababayaan na mga mangingisda (For the next president, I hope that what he or she will do is not abandon us fishermen)," Montehermozo said when asked for his ideal candidate for president in 2022.
"Sana tuparin nila propaganda nila na sinasabi nila (I hope that they will fulfill the propaganda that they say)," he added.