Cancer, Other Non-Communicable Diseases Continue To Burden Filipinos
A study commissioned by the Department of Health reveals that the Philippines is losing P756.5 billion yearly, which is equivalent to 4.8 percent of the country's gross domestic product, due to NCDs.
Non-communicable diseases (NCDs) like cancer, diabetes and even mental disorder continue to be a burden among Filipinos and the Philippines.
"This is a sad reality," Department of Health (DOH) Secretary Francisco Duque II said.
Duque admits the NCDs have been overlooked and understudied for years despite the fact that these diseases account for 68 percent of deaths annually among Filipinos.
Aside from cancer, diabetes and mental behavioral disorders, NCDs include cardiovascular and circulatory diseases, neoplasms, musculoskeletal disorders, urogenital, blood and endocrine diseases, chronic respiratory diseases, neurological disorders, cirrhosis of the liver and digestive diseases. They are considered global health threats of the 21st century.
NCDs account for almost two-thirds of the world's estimated 53 to 56 million deaths every year worldwide, according to the International Monetary Fund.
Duque said the DOH has been implementing several health programs, but the rising cases of NCDs significantly affect Filipinos socially and economically.
Based on a DOH-commissioned study titled Prevention and Control of NCDs in the Philippines, The Case for Investment, made public on Oct. 29, the Philippines is losing P756.5 billion yearly, which is equivalent to 4.8 percent of the country's  Gross Domestic Product, due to NCDs.
The cost includes the direct cost of NCDs associated with treatment as well as indirect cost from the loss of workforce and reduced productivity. 
People suffering from NCDs, health experts point out, are likely to miss days of work.
In 2017 alone, the study bared that the yearly cost of absenteeism due to cardiovascular diseases was placed at P7.3 billion, aside from P50.6 billion in estimated losses as a result of reduced productivity. 
According to the World Health Organization (WHO), the effects on human health and quality of people's lives are just a part of the problem because the economic costs of NCDs are also significant.
Rabindra Abeyasinghe, WHO country representative, is urging the Philippine government to pour investments into programs and projects that will drastically reduce NCDs that not only claim lives but also place a burden on the economy.
Abeyasinghe reported that 29 percent of Filipinos are at risk of dying of the four main NCDs — cardiovascular diseases, diabetes, chronic respiratory disease and cancer before age 70.
Premature deaths from NCDs have been attributed largely to tobacco use, unhealthy diet, physical inactivity and harmful use of alcohol.
Based on government data, 40 percent of Filipino men and 12 percent of those 13 to 15 years old are smokers. Almost half or 48 percent of men and 17 percent of women are binge drinkers.
In 2015, another survey revealed that 43 percent of Filipino adults were not sufficiently physically active, with women at higher risk of physical inactivity than men.
Salt intake among Filipinos, on the other hand, is more than double the WHO recommendation.
The report showed the Philippines is already facing an NCD epidemic, but the path can still be reversed with the implementation of intervention programs.
DOH Undersecretary Myrna Cabotaje noted that NCDs are preventable. However, unhealthy choices place many Filipinos at greater risk.
Cabotaje said NCDs can be reduced by modifying behaviors such as reducing tobacco use and salt intake. 
Aside from the existing health programs, Cabotaje said the DOH is also working on possible legislation intended to reduce the prevalence of NCDs.
Seeing the need to adopt new strategies and innovations to curb the high incidence of NCDs, Duque worked with the WHO and other United Nations agencies in developing the investment case report.
The report will serves as a guide for the DOH in prioritizing and re-directing strategies to address NCDs, Duque explained.
Citing findings in the report, UN Interagency Task Force on NCDs (UNIATF) external relations officer Alexey Kulikov said the Philippines needs to scale up NCD preventive and clinical interventions.
Kulikov stressed that almost 400,000 annual deaths can be averted if the Philippines would invest P28.9 billion on NCD intervention programs in the next 15 years.
Of the proposed amount, P10 billion will be for tobacco control, P8.4 billion for alcohol control, P5 billion for salt reduction programs and P3.5 billion for physical activity awareness.
Based on cost analysis of the selected intervention packages, health officials said the investment can be considered a "moderate expenditure" to mitigate the harmful effects of NCDs on the Philippine economy.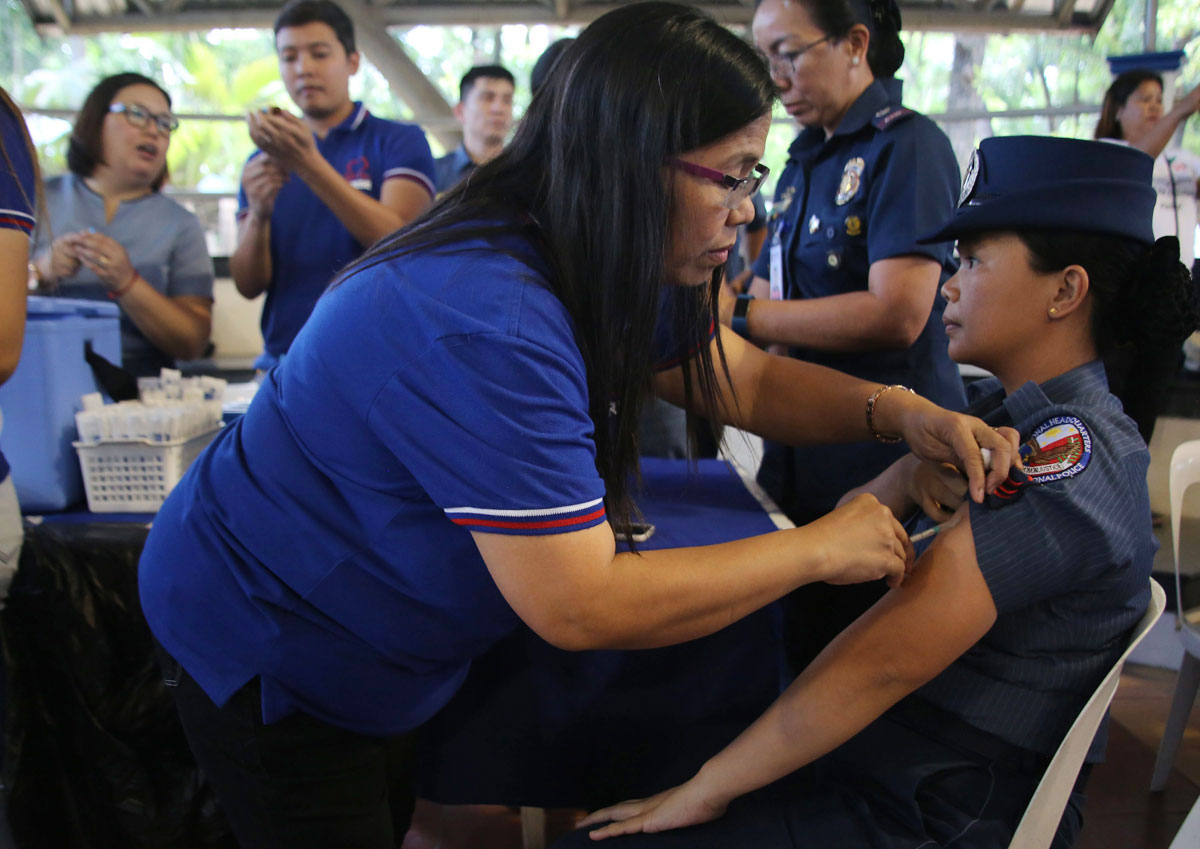 "We only know the treatment, but we don't see the deep and hidden costs of NCDs," Kulikov said, noting that the indirect cost is nine times greater than the direct cost.
With the four health packages, the Philippines can expect a return on investment amounting to P377.7 billion over 15 years, he said.
Investing in NCD prevention programs, Kuliko emphasized, is highly cost-effective. "Per every peso invested in selected prevention policies, a return of P7 to P29.9 can be expected."
Abeyasinghe said the salt reduction package has the best return on investment, costing P5 billion to implement over the next 15 years but generating a P163.1-billion return due to increased productivity in the workforce. It is estimated that this intervention will save 164,251 lives during a 15-year period.
"The physical activity package has the next best return on investment, saving 58,397 lives, followed by the tobacco control package saving 71,130 lives and the alcohol control package saving 57,872 lives," Abeyasinghe added.
The DOH hopes to achieve its target of cutting by one-third the recorded premature deaths from NCDs by 2030.