Can Duterte Really Work From Home?
Amid speculations on the state of President Duterte's health, Malacañang announced on Monday that he would be working from home starting yesterday.
Like a millennial, President Duterte is opting to work from home — probably burned out as he tries to further the interests of his administration in the last three years of his term.
Yes, the 74-year-old Duterte will be working from his Davao City residence in the next few days, Chief Presidential Legal Counsel and spokesman Salvador Panelo said on Tuesday.
"He will stay in Davao so that there will be less distraction," Panelo explained.
Duterte has not been visible to the public since he returned to the country on Nov. 4 following his participation in the 34th Association of Southeast Asian Nations summit and related meetings in Thailand.
On the same day, Panelo released the appointment papers of Vice President Leni Robredo as anti-drug czar.
Duterte usually spends time, particularly weekends at home in Davao. Thus his absence went unnoticed until Monday this week when Panelo voluntarily announced that the President would be taking a three-day "break" in Davao.
Executive Secretary Salvador Medialdea would be designated as caretaker, Panelo said.
But after his announcement on Monday, Panelo issued a clarification, saying that Duterte would merely be slowing down for a few days and would continue working from home.
"The President has declined the suggestion of well-meaning friends to have a rest for a few days," Panelo said in a statement.
Panelo announced that the Chief Executive flew to Davao Tuesday night after visiting the wakes of the late industrialist John Gokongwei Jr. and taipan Lucio Tan's son Lucio "Bong" Tan Jr. at the Heritage Memorial Park in Taguig City.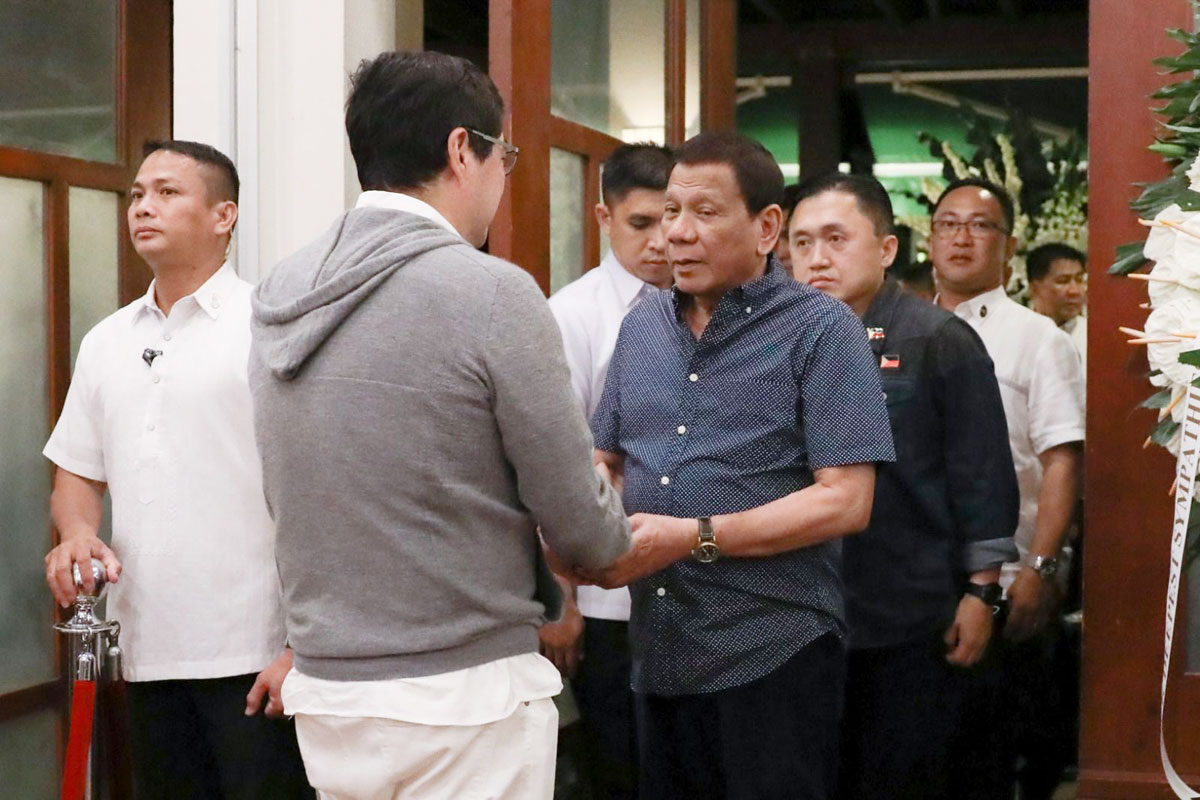 "While the demands of pressing work that go with the highest position of the land are unceasing, the people can rest assured that the President can keep up with the same and is in the best position to know how he can maintain to be on top of his health," Panelo noted.

On Tuesday, prodded by the Malacañang Press Corps, Panelo again said Duterte would be working from home.
"Lahat tayo napapagod eh (We all get tired). But like the man he is, he wants to work as long as he is President. He performs his duty with passion and dedication," Panelo stressed.
The Palace and some lawmakers say the President will not violate the Constitution if he works from home.
In December 2018, Duterte signed Republic Act No. 11165 or an Act Institutionalizing Telecommuting as an Alternative Work Arrangement for Employees in the Private Sector.  This is on a voluntary basis and as the title of the law states, does not cover state workers.
What the 1987 Constitution requires under Article 7, Section 12 is for the public to be informed "in case of serious illness of the President."
"The members of the Cabinet in charge of national security and foreign relations and the Chief of Staff of the Armed Forces of the Philippines, shall not be denied access to the President during such illness," the provision declares.
Thankless job
In his previous speeches, Duterte has admitted feeling disheartened that despite his relentless efforts, the problems of corruption and illegal drugs persist.
The President has even expressed readiness to resign or give his post to anyone who would want his position and solve the country's problems.
Some former presidents have lamented that it was lonely at the top. For Duterte, the presidency is a thankless job.
Duterte expressed his sentiments to business magnate Lucio Tan during a visit at the wake of the taipan's son and namesake, Lucio Jr. or Bong before dawn last Tuesday also at the Heritage Memorial Park.

"You know why I dissuade my daughter from running (for president)? Because it's a thankless job.  It's all work, work and work," Duterte told Tan, according to Panelo.
The President was referring to his daughter, Davao City Mayor Sara Duterte-Carpio, who is seen by some quarters as his possible successor in 2022.
Pressed anew over the state of the President's health,  Panelo maintained that as usual after getting enough sleep, Duterte is looking better and walking briskly. Panelo advised journalists to examine the latest photos of the Chief Executive:  "OK naman siya. Eh kita ninyo naman kahapon, ang ganda na naman ng itsura niya. Haven't you noticed the pictures? 'Pag nakakatulog talaga si Presidente maaliwalas palagi ang mukha, he walks briskly; pero 'pag kulang sa tulog – pareho rin natin. Kagaya ko ngayon."
There was no mention about Duterte's spinal pain, which became so unbearable recently that the President had to cut short his trip to Japan where he attended the enthronement ceremony for Emperor Naruhito.
On questions about the President's stamina, Panelo pointed out that Duterte attended three wakes before flying back to Davao.   
Before going to the wakes on Monday, Duterte met at Malacañang with Moro Islamic Liberation Front chairman Nur Misuari. On the same day, Duterte attended the joint birthday celebration of Marinduque Rep. Lord Alan Velasco and his wife in San Juan. Panelo said even he couldn't stand the rigor and went home early.
"Naka-tatlong wakes. Can you imagine, tatlong wakes. Hindi nga ako tumagal eh, nagpaalam na nga ako. Iniwan ko nga siya doon sa third wake, nauna akong umuwi," Panelo said.  
Duterte went to the wakes of Gokongwei, Tan's son, and a scion of the late defense secretary Rafael Ileto before flying to Davao.  
Until when is the President working from home? Panelo said the decision is up to the Chief Executive.