Bitch Or Weak? Tiger Or Meek? Labels, Paradoxes Women Face Tackled
According to the World Economic Forum, it will take 108 years to close the global gender gap due to stagnation in the proportion of women in the workplace, their low representation in politics and lack of access to health and education.
It's the 21st century and the Philippines has been ranked as one of the most gender equal countries in the world. Yet even women who have broken the glass ceiling and are highly successful in their chosen fields still raise labeling or stereotyping as one of the challenges Filipinas face today.
The paradoxes were also cited during the Women Today: Innovators and Agents of the Future summit held by The Philippine STAR, Women Influence Community Forum and Globe Telecom at Marriott Hotel in Pasay City last Tuesday.
When she accepted the challenge to lead the government's anti-drug war last week, Vice President Leni Robredo said she was trolled on social media, with messages insinuating that "I lacked courage and resolve" being "only a mother" and a "woman."
Robredo, who spoke on Rearing and Raising the Future Generation session during the summit, said: "We may have been called to play many roles in our lives, but beyond doubt — and I know that you will agree with me — the role that requires the most courage, the most resolve and most strength, is being a mother."
"So to all mothers and women in this room and across the nation: remember that you are made for times like this and you are meant to survive even during the most difficult times. To lead with great heart is inherent within every mother and every woman. That every trial, every difficulty, can be turned into an opportunity to lead with both strength and empathy. And this is what we all need to have — the kind of strength that draws from a deep well of love, compassion, humility, courage and integrity," she added.
Sen. Grace Poe, who was speaker on Lighting Up the Country and Communities session, noted that women's roles in nation-building still appear restrictive.
"Being a woman in a leadership position has always been a challenge. When a man is tough and is a no-nonsense boss, they call him a leader. But when a woman is tough, they call us a…" Poe said, with the audience completing her sentence with the word "bitch."
"Unfair, right? Does this mean that Filipinos prefer their men to be strong leaders and their women to be meek followers?" Poe asked.
Cignal TV and TV5 network president and chief executive officer Jane Basas pointed out the same thing, saying women could not really afford to be the "strong" and "silent type" to get recognized in the workplace because "we have to assert ourselves better" and in the process be branded as "bitches" or "tiger women."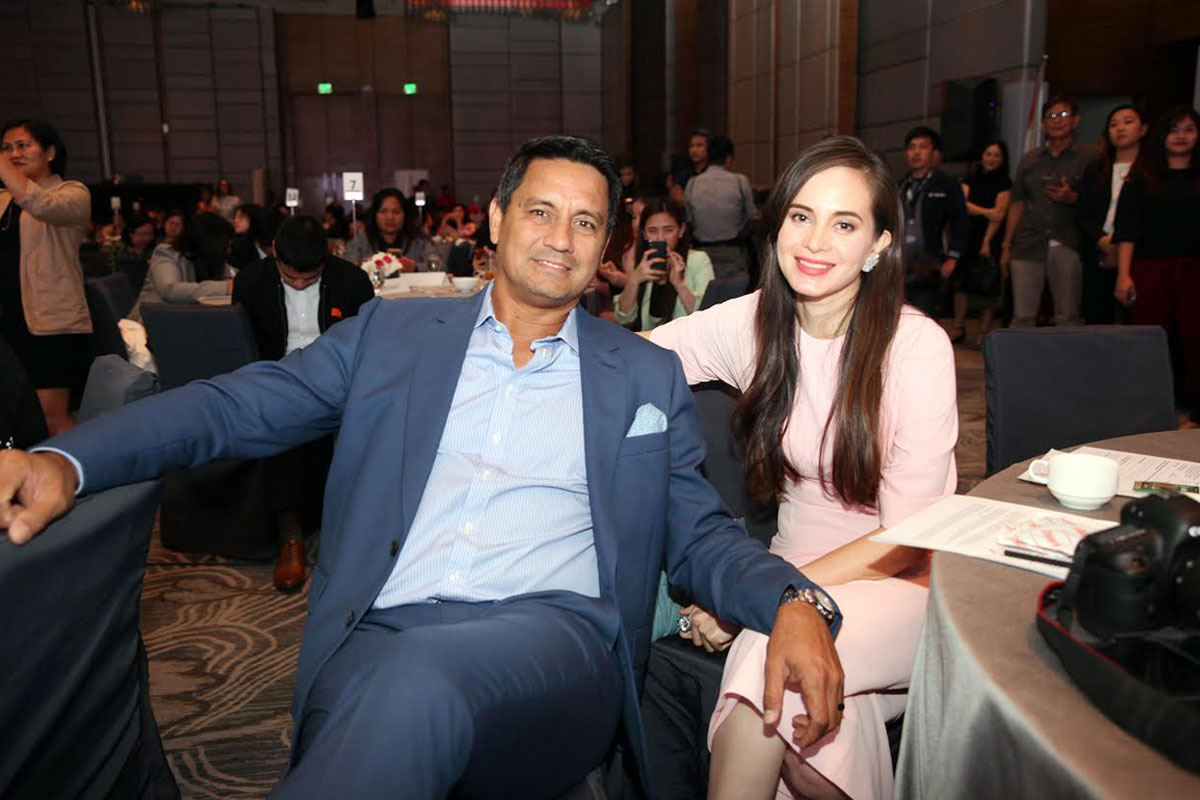 Vicki Belo, chief executive officer and medical director of Belo Group, feels lucky being one of the dermatologists in the Philippines because 90 percent of them are women.
She also disclosed that most of her staff members are women and family breadwinners. But she recounted wanting to be a dermatologist and make people beautiful as early as when she was five years old and bullied for being "ugly" and "fat."
Leyte Rep. Lucy Torres-Gomez, on the other hand, spoke about people with good looks having to deal with the perception of being dumb or not competent enough to handle difficult jobs. Lifestyle editor Millet Mananquil said some are even accused of using their beauty to "flirt" their way up at work.
Margie Moran-Floirendo, Cultural Center of the Philippines chairperson, recalled her mother asking her to train herself to become a "secretary" as a stepping stone. She instead joined a beauty pageant and was crowned Miss Universe Philippines in 1973, which opened for her a lot of opportunities.
Consistency
Quezon City Mayor Joy Belmonte likewise explained the paradoxes involved in the different situations that girls and women find themselves in.
For instance, Belmonte said that while the number of educated girls in the Philippines is high, cases of teenage pregnancy have reached an alarming level.
In fact, the Commission on Population reported that there are about 1.2 million children having babies every year as it called on President Duterte last month to issue an executive order declaring adolescent pregnancy a national emergency.
According to Belmonte, one of the panelists on Lighting Up the Country and Communities session along with Poe, Manila Mayor Isko Moreno and Hands On Manila Foundation Inc. founder and president Gianna Montinola, repeated pregnancies among girls perpetuate the cycle of poverty and affect the future of the girls and their families.
Belmonte said there must be "consistency" in teaching Filipinos, from the homes to schools and communities, to promote gender equality. She cited the gender fair ordinance in Quezon City as an example of not having any "quarrels with anyone" and that her programs were focused on education, health and housing as part of a holistic approach to ensure the welfare of her constituents.
Montinola, whose group helps in government efforts to improve education and health of women and children in the country, protect the environment and provide livelihood, among others, said they are launching a program to promote hygiene and the use of menstrual cups among female students, as many of them skip school when they have their monthly period due to lack of money to buy sanitary napkins.
 Men for women
While women business leaders who attended the summit swore they choose people for different jobs regardless of gender, Rene Gener, executive director of the People Management Association of the Philippines, said women still tend to give up their careers to become homemakers.
Gener emphasized the need to change such culture and let men share household responsibilities and for companies to give family responsive benefits to employees.
Moreno assured the audience that he lives by the words, "All men are created equal" and pushed for a woman to head the legislative council of Manila when he was vice mayor.
When he sought to become mayor in the recent elections, Moreno said he chose a woman as running mate, Honey Lacuna, and they both won.
If we take a look at the numbers though, a Commission on Elections survey done from 2004 to 2016 showed that women have comprised only 17 percent of national and local candidates.
This was raised by Poe as more than half of registered voters in the last three elections were women.
In the Senate that is composed of 24 senators, only seven are women. "Ang isa nakakulong pa," referring to Sen. Leila de Lima, a fierce critic of President Duterte who is detained for what she describes as fabricated illegal drug charges.
"Only one female has ever served in a leadership position within the Senate, namely, Loren Legarda as the majority leader. But no woman has ever assumed the rank of Senate president. Meanwhile in Congress, only 28.6 percent are women," Poe said.
In recent years, women have occupied a little less than 20 percent in local government units. For the executive branch, Poe said the Cabinet-level appointments have remained mostly male-dominated since 1986. No woman has ever headed the agriculture, defense, interior and local government and public works departments.
Floirendo also said not a single Filipina has been named national artist for the visual arts.
"These percentages mirror the statistics of women in industry and commerce. The gender disparities in terms of participation in both political as well as economic arenas point to deeper systemic issues," Poe noted.
According to the Philippine Statistics Authority, in 2017, there were about 25 million male salary and wage workers in the Philippines compared to only 15 million females.
"Why are there less women in the labor force? Furthermore, 35 percent of women aged 15 up are involved in unpaid domestic work. What is unpaid domestic work? They are the mothers who stay at home, taking care of their children and husband. There's nothing wrong with this. For me, even if I work in the Senate, I continue being a housewife and mother of three children," Poe said in English and Filipino, referring to housewives taking are of their spouses and children.
"But what I am saying is that we can do a lot more if we are given the opportunity to help in developing and improving our country and society," she added.
Poe cited as examples champion weightlifter Hidilyn Diaz and Isabel Sieh, founder of Girls Will Code.
"Age is nothing but a number because Isabel started this at the age of 10. She learned computer languages such as HTML and JavaScript by taking online classes… Her passion for coding led her to start Girls Will Code. Their mission is to provide activities that close the gender gap in (technology), by encouraging young girls to develop better technological skills and solutions," Poe said.
Sieh, a teenager from Antipolo City, eventually got her partnerships with big companies such as Google and Accenture, which helped her grow Girls Will Code.
"Now, what was I doing when I was 10? I think my favorite subject was recess. Well, I was into sports, I did taekwondo in high school," Poe said.
"As I look around this room, majority of the audience is composed of seemingly empowered and educated women. But are we the majority?" she argued, citing the need for a whole of society approach to address the concerns of women and girls.
"To bring on change, we need inspiring individuals, but we also need a grassroots movement. To eliminate discrimination, efforts must be exerted by government, (non-government organizations), the private sector," Poe said.
Poe has filed Senate Bill 315 or the Anti-Discrimination Bill, which prohibits discrimination on the basis of ethnicity, race, religion or belief, sex or gender or sexual orientation, language, disability or educational attainment in schools and in places of work.
"Let us also ensure that our offices are free from sexual harassment and other forms of abuse. I co-authored the Safe Spaces Act or what is called, 'Bawal ang Bastos,'" she said.
"As Amelia Earhart, the first female aviator, once said, 'Some of us have great runways already built for us. If you have one, take off. But if you don't have one, realize it is your responsibility to grab a shovel and build one for yourself and for those who will follow after you,'" Poe stressed.