Pinoy Engineer Shares Story Behind Award-Winning 'Keychain Microscope'
For 28-year old engineer and inventor-at-heart Jeremy de Leon, his award-winning "Make-roscope" is a way to bring science closer to Filipino students.
Ever since childhood, 28-year-old Jeremy De Leon has been an inventor-at-heart. He recalled disassembling toys to understand their inner workings or switching the wheels of his remote-controlled cars.
He tinkered with Crush Gears and Beyblades, noting their parts' interchangeability motivated him to create personalized builds of those toys. These, he said, became foundations for him to be an inventor.
Guided by his desire to help others, De Leon eventually created the "Make-roscope," a keychain-sized microscope that turns a smartphone or tablet's front camera into a microscope.
"I focus on the humanity side of inventions… Can it help, who would it help? Would it make life easier? How big is the impact of my invention? That's my driving force that, okay, I still need to make solutions, to invent solutions," De Leon told OneNews.PH in Filipino on Thursday, Sept. 14, when asked about what inspires him to create new things.
The day before, "Make-roscope" won the Philippine leg of the James Dyson Award, besting 47 entries from 12 universities. De Leon, a manufacturing engineering graduate from Mapua University, won P330,000 prize money and will progress to the competition's international stage.
It was his last chance to join the tilt as it only allows those who have graduated for the last four years. He obtain his degree in 2019.
"Make-roscope has had an impact on its users already, and has went through some iterations, so we can already showcase a lot for the James Dyson Award (in 2023)," he said.
On the awards' website, De Leon attributed its creation to a lack of laboratory access to "12 million plus" students, who were likely to have smartphones. The COVID-19 pandemic also affected the teaching of biology and life science subjects as classes shifted to distance learning.
"But what if there was a special tool that could help teachers and students study science together, even if they couldn't be in the same classroom?" De Leon said on the website.
Accessibility is key for the Make-roscope. Apart from its portability and usage of front cameras, De Leon said it streamlines the processes of the usual microscope. As an example, users only need to bend its "flexible arms" to achieve better clarity.
Food-grade silicone is also used, making the instrument waterproof. "You don't need any extra stickers or things to stick because it sticks by itself. And you don't have to strain your neck by looking up into a lens," De Leon further noted, also citing the benefits of utilizing a smartphone's front camera.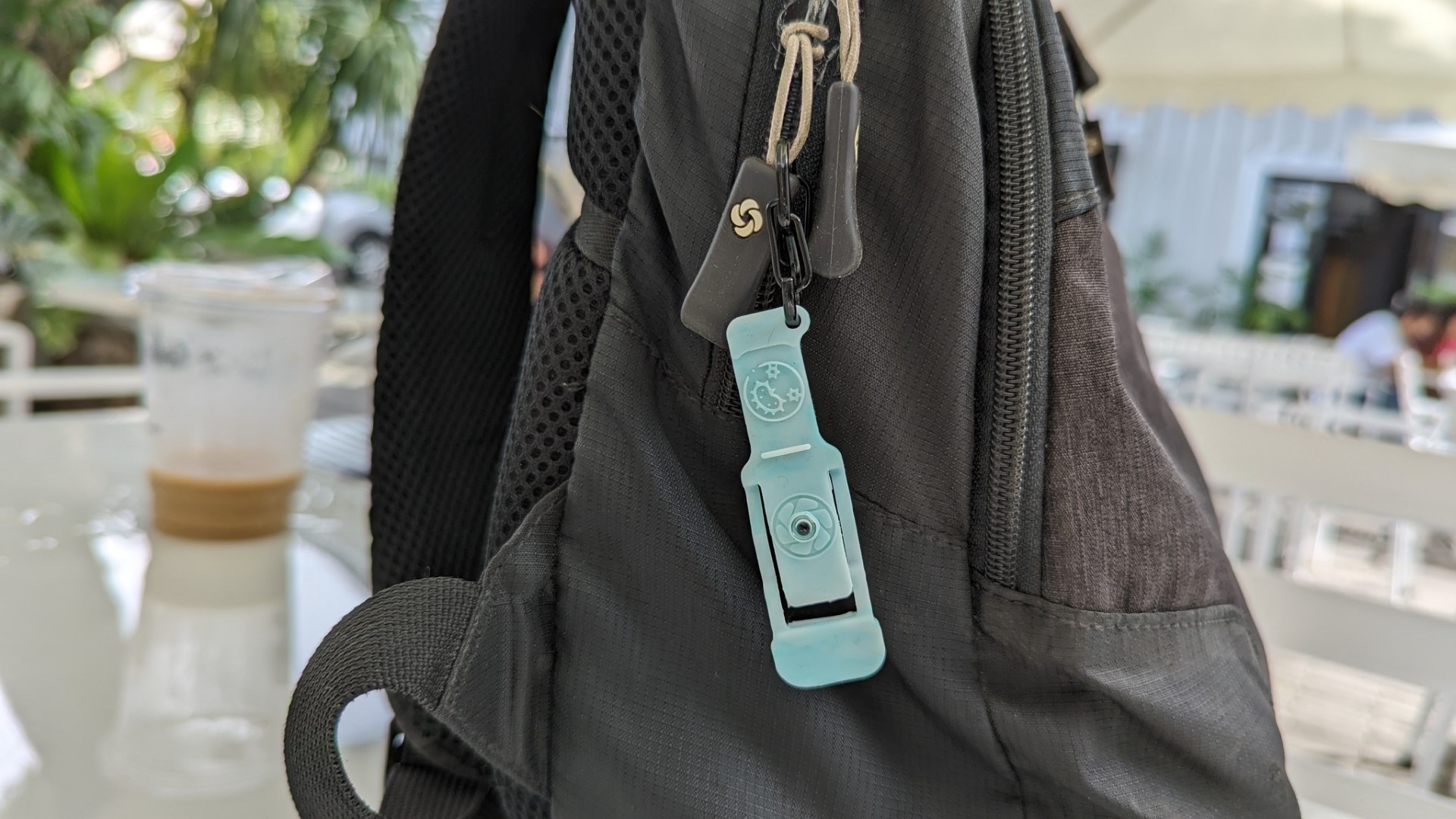 Pandemic-born
According to De Leon, "Make-roscope" began with the Department of Science and Technology's (DOST) #PinoyInventor TikTok challenge, which he won in June 2021.
The inventor won the tilt with his do-it-yourself (DIY) microscope made from a laser lens, hairclip and his mobile phone. He also finished in fourth place with a flashlight microscope-projector, adding a flashlight to his phone and laser lens.
"I realized, when I was doing the DIY (microscope), and I presented it, even I myself struggled to create a DIY behind the scenes… so maybe, there is a better way for children (to have a DIY microscope)," he said.
De Leon said the award earned him seed money worth P25,000, which he used to develop a prototype. He used the money to buy silicon molds and 3D printers, as well as to subscribe to necessary 3D printing software.
He also studied the principles of a single-lens microscope, noting that the challenge was ensuring that even kids can appreciate and would not think of the microscope's complexities when using the "Make-roscope."
The prototype was completed in August 2021. Upon posting it on TikTok, De Leon said the positive reception poured in immediately, including suggestions for government funding and inquiries on its availability.
De Leon then approached DOST's Technology Application and Promotion Institute (DOST-TAPI), where a three month process for its requirements began. De Leon recalled being asked for a target market.
To comply, he launched an interest survey form on TikTok, where followers were told responding guarantees the chance of a DOST-TAPI grant.
He later secured a P125,000 grant from the agency, allowing him to produce 3,000 "Make-roscope" pieces.
By December 2021, 1,000 pieces were already donated to students, teachers and school organizations nationwide. Another 1,000 were purchased by the Security Bank Foundation, while the rest went for sale online.
Those who secured a Make-roscope from the first 3,000 also provided initial feedback. This allowed De Leon to improve the base material, along with the shape and size of the Make-roscope.
A "special lens" has also been in use, which De Leon described as "uncommon" for usual DIY microscopes.
No easy road
But De Leon also acknowledged challenges. Moving around amid lockdowns was a hassle, given he needed to purchase materials for the Make-roscope.
He also cited limited funds. "When you finish the P25,000, that's it. If you want to mass produce it, you need new seed money. It proved to be challenging, and risky given that I did not foresee its success," he said.
But people were enthusiastic about the "Make-roscope" on social media, which strengthened De Leon's resolve.
He also recalled the support received by Mapua's mechanical engineering dean Dr. Mark Manuel, who came up with an initiative to produce 1,000 3D-printed face shield frames that were donated to several groups at the height of the pandemic.
"I was inspired. I thought, 'oh okay, sir did it, so I know I can also do the same for the Make-roscope, and it's not entirely impossible to mass produce it,' something like that," he said.
Bigger dreams ahead
De Leon admitted that he is still on cloud nine after winning the award, noting that it was a step toward his dream of providing laboratory tools to those in need.
He also shared the support he has received, with some admitting they buy "Make-roscopes" to support his cause of helping others.
"It's overwhelming, heartwarming as we inspire so many people… I even see comments saying they are interested to try the Make-roscope, see microorganisms. That alone already shows that we can inspire children to become scientists," he said.
De Leon is updating the Make-roscope to produce its own light source, instead of relying on external lighting.
He also shared plans to partner with various groups to incorporate Make-roscope with learning modules and other enrichment materials. "We will make it so we don't just have a microscope… but rather part of a school's (science) curriculum," he said.
Data on its impact would also be gathered from schools who have adopted his innovation, he said.
And with the James Dyson exposure, De Leon acknowledged this can further extend his reach, citing more rural areas nationwide. He hopes to ink new partnerships too, such as with volunteer teachers.
"Then let's expand our cause to the international level since we will have that international exposure. I'm sure the lack of laboratory equipment is not limited to the Philippines, other countries have that too, so we're going to provide a solution," he said.
The James Dyson Award's international and sustainability winners will be announced on Nov. 15. De Leon can win a P2 million cash prize as a winner or P330,000 as a runner-up.