It Worsened: Duterte Creates Mega Task Force For Government-Wide Corruption Probe; Clears Duque, Villar
President Duterte assured the public he could still curb corruption during the remainder of his term as a House committee recommended the filing of charges against Cabinet members over alleged anomalies in the Philippine Health Insurance Corp.
President Duterte vowed on Monday night, Oct. 26, to use the remainder of his term to stamp out corruption, which he said continues unabated and even worsened since he assumed office in 2016, with public officials looking helpless in stopping it.
"Alam mo, this country continues to be plagued with corruption," Duterte said during his national address aired on Tuesday morning, Oct. 27. "I have made a pledge to the people of the Philippines na 'yung oath of office ko, part of it really is to protect government interest. It does not say there, it's not included, but in its totality that is what it means actually: protecting government interest."
"Alam mo hanggang ngayon corruption pa rin ang problema. I have made a pledge – if I remember, two sessions, three sessions ago, that I will concentrate the last remaining years of my term fighting corruption, kasi hanggang ngayon hindi humihina, lumalakas pa lalo. Para na tuloy naging inutil ang mga opisyal ng bayan na wala talagang magawa with the onslaught of corruption," he added.
But Duterte believes all is not lost. He is optimistic that he together with his Cabinet members can still do something to end corruption in the country.
"Hindi po ako naniniwala na wala akong magawa. May magawa ako. Hindi naman siguro to eradicate corruption in its totality. But I think kami, Cabinet members, nandito man sila nakikinig, in our own – not small – but in our dedication, we would come up with a very strong stand against corruption," Duterte declared.
"Eradication – maybe a part, but not all. Pero talagang hihirit ako. Ang una kong sinabi, sabi ko yayariin ko kayo, 'yung sa PhilHealth, at tinotoo ko talaga. Marami na ngayon sa kanila na tinanggal, 'yung iba nag-resign," Duterte said, referring to the Philippine Health Insurance Corp.
Duterte ordered Justice Secretary Menardo Guevarra to lead the government-wide investigation on allegations of corruption in all levels of the bureaucracy and even those hurled against members of Congress and local politicians.
The President said he had issued a memorandum to the Department of Justice (DOJ) to head a "mega task force" that would conduct the investigation covering the entire government. The focus should be the Department of Public Works and Highways (DPWH).
In a televised national address on Oct. 14, Duterte tagged the DPWH as an agency ridden with corruption, and no construction work begins without money changing hands. He did not provide details of the irregularities but said the problem was serious.
Presidential spokesman Harry Roque said in a press briefing on Tuesday that the move was an expansion of a memorandum from the President to the DOJ, dated Aug. 7, 2020, to organize a panel to investigate allegations of corruption in PhilHealth.
"The DOJ is hereby directed to investigate allegations of corruption in the entire government. Lahat na. Kuridas ito," Duterte said, using the Visayan word for all-inclusive.
"In pursuit of this directive, the DOJ shall have the authority to decide which allegation to investigate, taking into consideration the gravity thereof and their impact on the delivery of government service," he added.
Apart from the DOJ, the mega task force will include representatives from the National Bureau of Investigation, Office of the Ombudsman, Civil Service Commission and the Commission on Audit.
Pressed for clarification, Roque said the President wanted things done immediately, which was why he needed to create another panel even with the Presidential Anti-Crime Commission (PACC) already in operation.
PACC Commissioner Greco Belgica told "The Chiefs" Tuesday night on OneNews / TV5 that their group welcomed the creation of the mega task force, because it would have jurisdiction over officials outside the mandate of the PACC. The commission is limited to probing presidential appointees from Cabinet rank down to a certain level.
The ombudsman can continue to do its job, Roque said, but there would be closer coordination between investigative arms of the government. He parried claims that the mega task force's functions would overlap with those of the ombudsman and the PACC.
"I guess it's the President emphasizing that in the remaining two years of his term, he will give utmost priority to the fight against corruption," Roque said.
"And of course there is no prohibition, so it is allowed," he added, referring to the creation of the mega task force. "Whether we like it or not, even if there is an Office of the Ombudsman, the biggest public prosecutor is still under the Department of Justice, because the number of prosecutors that we have under the DOJ is simply… probably 20 times more than the lawyers that they have at the Office of the Ombudsman."
Asked if the President has lost his confidence in the other anti-corruption bodies, Roque explained that Duterte is also looking at leaving a legacy of cleaning up government as the end of his term approaches.
"Ang gusto lang talaga niya eh maiwang legacy na nilinis niya ang gobyerno sa natitirang panahon ng kaniyang termino," Roque stated.
Roque reiterated that Duterte had wanted corrupt activities stopped since he assumed the presidency.
"He wants it done yesterday, which means it has to be done at the soonest time possible. He wants to see them behind bars para magsilbi pong halimbawa na mabawasan nga ang korapsiyon diyan sa mga ahensiya gaya ng DPWH, Customs at iba pa," Roque said.
Although there is a separation of powers among the three branches of the government, Roque noted that the mega task force may investigate, if necessary, members of Congress and local officials involved in corruption.
"The mandate of DOJ is to investigate everyone," Roque stressed. "While our elected members of Congress and the Senate enjoy some immunity, it is not for violating anti-graft laws. Despite the separation of powers, all elected officials are included in the investigation."
It is within the power of the executive branch to implement laws, regardless of rank in the government, Roque said as he noted that no agency investigates corruption in the legislative branch.
Villar, Duque cleared
Will Public Works Secretary Mark Villar also be probed for corruption? Roque said the President has no doubt about the integrity of the DPWH chief.
Duterte himself has said before, and again on Monday night, that Villar could not possibly be among those involved in corruption in the DPWH.
"Let me state here and now that I have nothing against Secretary Villar. He is one of the hardworking at maraming accomplishments si Secretary Villar," Duterte pointed out.
He said it is no longer the job of Villar "to be running after crooks." The President also found Villar to be too wealthy to be involved in corruption.
"But it behooves upon me to see to it na itong corruption mahinto, kung hindi… at least maputol na nang kaunti. So we are expanding the investigation sa corruption, sa agriculture, with special focus sa DPWH," Duterte underscored.
As for Health Secretary Francisco Duque III, who has been implicated in the PhilHealth corruption controversy , Duterte said the Cabinet member, who is ex-officio chairman of the health insurer, was not a part of PhilHealth decision-making.
"As a matter of fact, he was not even reporting (to PhilHealth). That's why 'yung Congress, noong sabi nila i-suspend… or oust si Duque, I said, 'For what?' Kasi… nauna kami, sa amin galing 'yan eh. So binasa ko. Ano, what ground would I base my decision? Would I just obey the cry of one million as against my assessment na si Duque walang nanakaw kung pera ang pag-usapan? Maybe some other things. He might be some other things, but corruption, no, pera, wala," Duterte emphasized.
Read more: Duque, PhilHealth Officials To Face Criminal, Other Charges For Alleged Corruption
"Kaya wala kayong makuha sa akin, lahat ng mga… puro milyonaryo 'yan," Duterte said, noting that Finance Secretary Carlos Dominguez III even founded Marco Polo hotel in Davao. Dominguez has also been implicated in the PhilHealth controversy.
Stressing that he himself is clean, Duterte warned: "Do not invent a sin against me because I have painstakingly avoided being a corrupt."
The President also said he could not be fooled and that he had only been busy looking for money for various government projects – the reason why he seemed inutile when it comes to the corruption problems.
"So huwag ninyo akong lokohin. Kung naging inutil man ako noon, maybe we were too busy looking for money. Ngayon na may kaunting may maipakita kami sa inyo – a small dent in the infrastructure setup of Manila and it will improve tremendously the traffic congestion – OK na sa akin 'yan. And I will allow the secretaries to continue with… the projects – you still have my full support. But ang focus ko ngayon, the Office of the President itself, will be against corruption," he said.
Duterte said he is ready to suspend government officials and employees suspected of corruption. If needed, the President added more lawyers would be hired under a monthly setup to augment the task force personnel undertaking the probes.
"It would be expanded with relentless energy. If need be, kukuha ako nang marami pang abugado. Tutal iilang buwan na lang 'yan, buwanan na lang 'yan. But to the very last day, may i-suspend pa ako siguro na mga empleyado. Now, that is very clear. I do not think that you receive the message equivocal. It has only one impact," Duterte underscored.
In his order, Duterte said the DOJ may "create as many panels as it deems necessary to be adequate, and may invite or direct other bodies and agencies of the government to assist or be a part of such panel."
Quoting from his memorandum, Duterte also tasked the DOJ to "prosecute and file the appropriate charges against all those involved in the anomalies investigated, whether against government or private persons, as may be warranted by the evidence gathered subject to applicable laws and rules."
"'The power and authority of the DOJ under existing laws and previous directives to investigate the commission of crimes and prosecute violators shall not, in any way, be diminished by this directive. This directive shall remain in effect until June 30 of 2022,' pag-alis ko, 'unless sooner lifted or revoked,' " he said, reading his order.
Duterte is unlikely to revoke the order earlier than the end of his term.
"Why should I revoke or lift this good order? 'For immediate compliance,' " he said. "Yung malaking pera, diretso mo na sa ombudsman, if I were to have my say."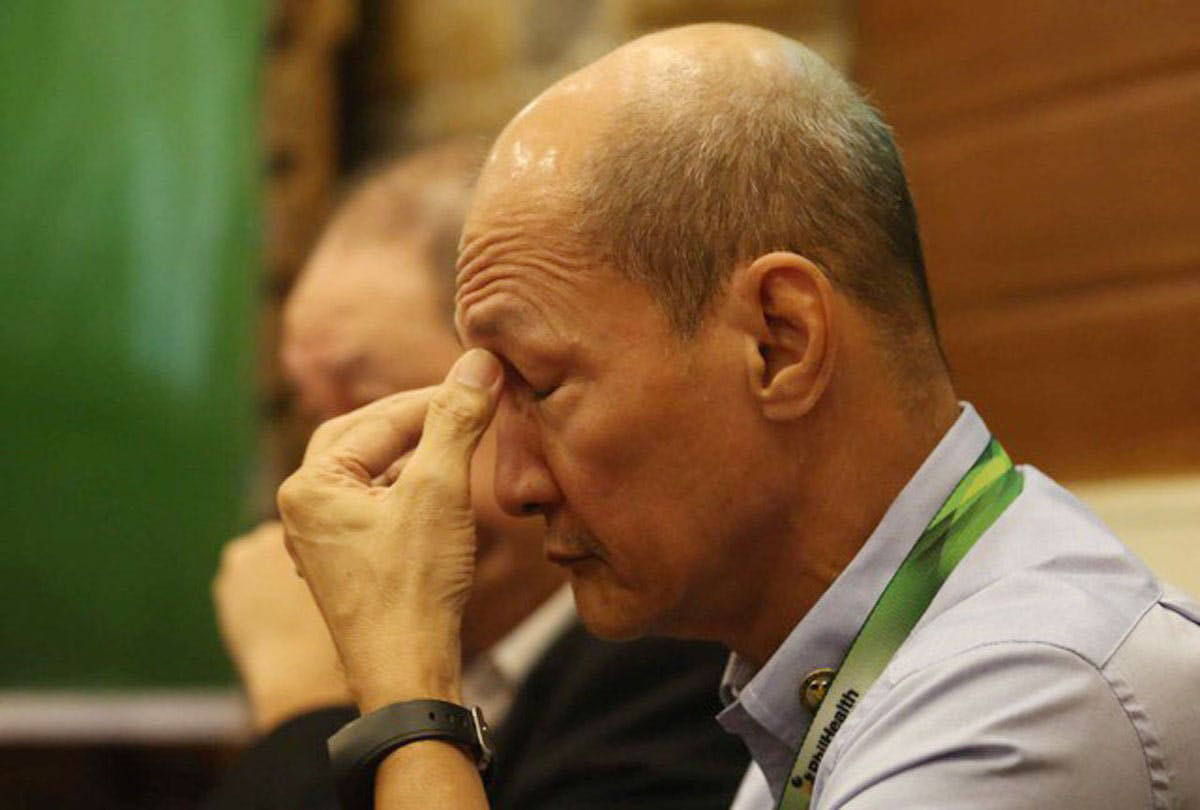 'Resignation won't save you'
The 43 PhilHealth officials who resigned from their posts amid allegations of anomalies in the agency are not yet off the hook, Duterte also stated.
"First, I said, I will go after you, those in PhilHealth. And I made good on what I said. Many have been removed. But let me remind everybody in this government that your resignation will not save your neck," Duterte said in a mix of English and Filipino.
He explained that even if a government official has resigned, this does not absolve the person of liability once charges are filed.
"Alam mo bakit (You know why)? You are not allowed to resign if there is a pending case against you. If you resign and you won't report, but then you would be summoned or subpoenaed because (although) you are already out of government… for all intents and purposes, you are still a part of government. You are not allowed to resign to escape liability," he stressed.
The 43 PhilHealth officials had resigned as called for by the new head of the health insurer, Dante Gierran. His predecessor, Ricardo Morales, had to go, citing health reasons, while some tendered courtesy resignations.
"Kasi nakita ko sa PhilHealth, puro resignation dito, resignation doon. Sinasabi ko, well, maganda man 'yan para makatulog ka siguro. Hindi ka na mag-report nang opisina," Duterte said.
"But if you think that it will save you from criminal prosecution or administrative because you are still considered an employee, that resignation will not help you at all. Let us be clear on that," he added.
Raps versus Duque, other Cabinet members, PhilHealth execs
As this developed, the House joint panel that investigated corruption in PhilHealth formally recommended on Tuesday the filing of criminal and administrative charges against Duque, Morales and 14 other officials.
The committees on public accounts and good government and public accountability approved the report of their technical working group. The report found Duque and four other Cabinet secretaries who are members of the PhilHealth board – Dominguez, Silvestre Bello III of labor, Rolando Bautista of social welfare and Wendel Avisado of budget and management – liable for violating Section 3 of Republic Act No. 3019 or the Anti-Graft and Corrupt Practices Act, and Article 220 of the Revised Penal Code on the illegal use of public funds.
Criminal charges were also recommended against Morales and members of the PhilHealth executive committee: former PhilHealth president Roy Ferrer, executive vice president and chief operating officer Arnel de Jesus, senior vice president for the health finance policy sector Israel Pargas, former senior vice president for the legal sector Rodolfo del Rosario and senior manager for the Internal Legal Department Rogelio Pocallan Jr.
Also found liable for the same offenses were PhilHealth board members Maria Graciela Blas Gonzaga, Susan Mercado, Alejandro Cabading and Marlene Padua.
Several lawmakers pushed for the removal of the Cabinet members from the list of respondents, but were outvoted by majority of the joint panel. They instead decided to separate the cases against the PhilHealth board and the executive committee.
According to the report, the criminal liabilities stemmed from the controversial interim reimbursement mechanism (IRM) that allowed PhilHealth to issue cash advances to healthcare institutions.
They noted that while the IRM's legal basis remains unclear, PhilHealth still distributed some P15 billion worth of funds to various healthcare providers nationwide.
"In what is arguably the most notorious instance of corruption to date that is connected to the corporation, PhilHealth officials involved in the illegal disbursement of public funds through this mechanism anchor their defense on blurry interpretations of the law, none of which will hold water in court," read the panel report released after the hearing.
"In summary, while PhilHealth claims it is struggling financially due to the ongoing COVID-19 pandemic and asserts that its remaining actuarial life is down to one year, the joint committees find, based on the data provided in the several submissions of PhilHealth, that PhilHealth has been overspending on COVID-19," it stressed.
The panel also recommended the filing of administrative charges against Duque, former interim PhilHealth president and chief executive officer Celestina Ma. Jude dela Serna and other executives for mishandling the cases of Cebu-based Perpetual Succor Hospital, Cardinal Santos Medical Center and Wellmed Dialysis and other health care providers.
Morales was found administratively liable for allowing PhilHealth to hire De Jesus as executive vice president and COO despite lack of eligibility.
The joint panel will send its report and recommendations to the DOJ for further study.
'Strike force' readied
Guevarra on Tuesday announced: "Tentatively, I am thinking of creating several strike forces that will simultaneously attack various corruption-prone agencies."
The first order of business, he said, would be to organize and determine the composition of the main task force and come up with an overall strategy on how to implement their new role as the government's corruption investigator.
"Considering the breadth of this anti-corruption campaign, I will immediately focus on the organizational set-up and mechanism that will carry out the President's directive till the end of his term, as well as the order of priorities," Guevarra added.
He admitted that this latest responsibility entrusted to him by the President is the most difficult yet, and would require the support and cooperation of the entire government.
"Apart from my usual responsibilities as secretary of justice, this new assignment is the toughest I have ever received from the President. I will need all the support and cooperation of the entire government machinery to achieve this singular objective of substantially reducing corruption in government," he said.
"It will help us a lot if government workers themselves and the people they deal with would come forward and provide us the necessary information to uncover corrupt activities and identify the perpetrators," he added.
Just last August, Duterte had given the DOJ-led inter-agency task force 30 days to investigate the alleged corruption and anomalies in PhilHealth. This eventually led to the filing of charges before the Office of the Ombudsman against Morales and eight others. Duque was spared, but Guevarra said more charges would still be filed.
Belgica disclosed that some congressmen have been implicated by contractors in corruption in the DPWH. Coincidentally, the wife of the DPWH chief, Emmeline Aglipay-Villar, is an undersecretary in the DOJ.
The undersecretary said that if the DOJ-led mega task force would look into alleged corruption in the DPWH, she would inhibit herself from the probe. She noted that so far, she has not received any instructions from Guevarra to join any investigation of the DPWH.
"I have also not been involved in any team organized to investigate corruption in the past such as the PhilHealth. Matters assigned to me are usually review of contracts and other matters assigned to the legal staff. But even in cases involving review of contracts, I will not participate if there is any conflict," she said.
On Tuesday, a ranking member of the House of Representatives conceded that some congressmen might indeed be involved in corruption in the DPWH.
Surigao del Norte Rep. Robert Ace Barbers, chairman of the House committee on dangerous drugs, revealed that he himself had received information on the alleged role of some of his fellow congressmen in anomalies involving infrastructure projects.
"A lot of these reports, although not yet validated at this point, I would presume that there is truth to these reports that also reached my office. Meron talagang involved na mga congressman (There are really congressmen involved)," he said in a virtual press conference.
"We've been in politics for quite a long time so we know that there are people in government that are actually engaged or involved in graft and corruption," he stressed.
He noted that Belgica would not divulge such information without any evidence gathered by the PACC.
But like Belgica, Barbers refused to name the congressmen involved in corrupt practices in the DPWH, saying he personally has no evidence to prove this.
"What I'm saying is that the PACC commissioner will not make such statements if he has no legal basis, so to speak, or he has not gathered enough evidence to name a few," Barbers explained.
He stressed that while the PACC's move is "great news" in stopping systemic corruption, congressmen are not under the commission's jurisdiction.
"As we understood it, the PACC has no mandate or coverage on members of Congress. Remember, we belong to the legislature, and PACC only covers executives or appointees in the executive department," Barbers pointed out.
Still, he supported calls for an investigation of lawmakers. He said the House on its own could look into the allegations, if Speaker Lord Allan Velasco gave the imprimatur to the committee on good government and public accountability via a resolution calling for an investigation.
"But personally, I would rather let the other agencies or the appropriate agency investigate it. Remember, the investigation to be done in Congress is in aid of legislation, so we have a lot of laws that protect public funds and recommend prosecution against corrupt officials," Barbers said.
The PACC bared the alleged involvement of lawmakers in corruption after Duterte expressed disappointment over reports of corruption in the DPWH mostly involving project officers and contractors. – With Evelyn Macairan, Edu Punay