Growing Old And Poor In The Philippines
"The 20-percent discount is good only in the malls and groceries, but not all senior citizens can afford to go to the mall. Is it possible to have the discount in carinderias and sari-sari stores?"
A cacophony of voices filled the Land Bank kiosk on the second floor of the GSIS Building in Pasay City around lunch time in early July as dozens of clients, mostly senior citizens, lined up to have their unified multipurpose identification or UMID cards replaced with an EMV chip-equipped one.
The voices were the usual mixture of exasperation while queuing and chatter to pass the waiting time. While many of the senior citizens can still endure waiting in line, some are no longer capable of even standing — confined to a wheelchair because of disability, disease or advanced age.
These seniors came from far and wide, mostly from provinces near Metro Manila. Some had been waiting in line since 9 a.m. Others began fanning themselves with whatever piece of paper they could put their hands on; the centralized air conditioning wasn't enough to cool the crowded hall.
This is but one aspect of the reality that senior citizens face in the Philippines. While senior citizens are accorded numerous privileges and benefits, many still face difficulties brought about by rising costs and inefficient service.
A growing elderly population
Republic Act 9994, also known as the Expanded Senior Citizens Act of 2010, defines senior citizens as individuals aged 60 years old and above. According to the Philippine Statistics Authority, there were 7.5 million senior citizens in the country, accounting for 7.5 percent of the total population, as of its latest census in 2015.
Quoting a study conducted by the Coalition of Services of the Elderly, former senator Benigno "Bam" Aquino IV said there are already eight million senior citizens in the country and only 32 percent or 2.5 million receive social pension of just P500 a month, while 38 percent or more than three million do not receive any pension at all.
In 2018, the Department of Social Welfare and Development disclosed that P19.28 billion had been allocated for about three million elderly. But RA 9994 specifies that seniors qualified to receive the P500 monthly pension under the Social Pension Program of the DSWD are those who are frail, sickly or with disability; without any pension from other government agencies; and without a permanent source of income or source of financial assistance/compensation to support their basic needs.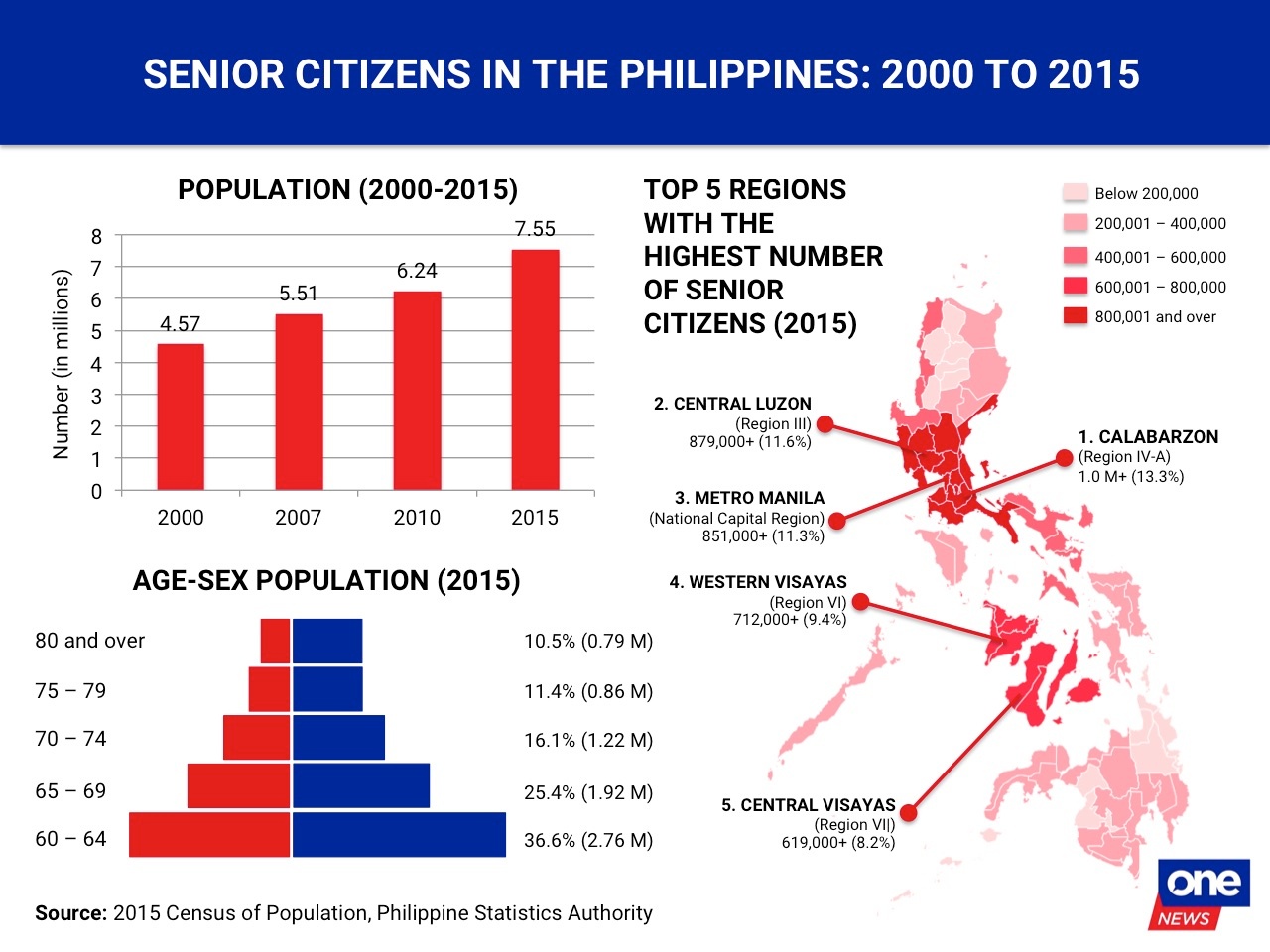 Chart 1. Senior Citizens in the Philippines (2000 – 2015)
Just like a majority of the population, most of the senior citizens live in Central Luzon and Calabarzon — which has the highest distribution of senior citizens at over a million or 13.3 percent of the total population. Central Luzon has the second-highest distribution, with over 879,000 or 11.6 percent of the population. Metro Manila is third, with over 850,000 senior citizens or 11.3 percent of the population.
Other regions that have a high distribution of senior citizens are Western Visayas (9.4 percent), Central Visayas (8.2 percent), Ilocos Region (6.5 percent) and Bicol Region (6.1 percent).
Cordillera Administrative Region (CAR) and the Bangsamoro Autonomous Region in Muslim Mindanao (BARMM) have the lowest number of senior citizens at 1.8 percent and 1.5 percent, respectively. Determining the geographic distribution of senior citizens helps in determining how accessible they are to health and social services.
In terms of sex, there are more female senior citizens than male. Female senior citizens are at 3.33 million or 58.8 percent of the total senior citizen population, while males are 4.22 million or 44.2 percent. Most senior citizens are married (4.37 million or 57.9 percent) while 2.31 million — about 30.6 percent — are widowed.
Old age and sickness
With age, people naturally become more prone to illnesses that may lead to death.
According to the 2014 Philippine Health Statistics compiled by the Department of Health, afflictions of the circulatory system such as heart disease, hypertension and cardiac arrest remain the top causes of death among people aged 60 and above (See Chart 2 below). This is followed by diseases of the respiratory system, diseases of the endocrine system, neoplasms such as cancers and tumors, and infectious and parasitic diseases.
Chart 2. Top 10 Causes of Death Among Filipinos Aged 60 and Above
Because they have greater vulnerability to diseases, senior citizens need greater access to health care facilities and treatments. However, not all senior citizens can afford or have access to such facilities.
According to Lydia Manahan, a professorial lecturer at the University of the Philippines Manila College of Nursing and a member of the university's Institute on Aging, the reasons why some senior citizens experience poverty can be categorized into two: non-modifiable and modifiable.
She said that old age, being a woman and inherent poverty are the three non-modifiable reasons for old-age poverty. The modifiable reasons she identified are poor health, lack of preparation for old age, lack of financial literacy, abusive children, poor pension plan quality and poor government plans that tackle senior citizen needs.
These reasons are modifiable because individuals can invest to become physically fit and healthy, financially stable, and raise children who will take care of them as they grow old. She noted that governments could still improve services and the pension system for the elderly.
"Poverty, I think, is a very crucial reason in not having a good quality of life, not only of the elderly but also the family. The quality of life of the family will have an impact on the quality of life of the older persons. Having a good quality of life is the responsibility of everyone; we cannot really rely on the government for this. However, the government should be supportive by enforcing or implementing laws for our senior citizens," Manahan, who is also the founding president of the Gerontology Nurses Association of the Philippines, told The Philippine STAR.
Senior citizens flash placards as they call on Congress on Jan. 28, 2019 to prioritize the adoption of a law creating a universal social pension fund for them instead of tinkering with the country's minimum age of criminal responsibility. Photo by Michael Varcas, The Philippine STAR
Senior citizens' benefits
Under the current Expanded Senior Citizens Act of 2010, senior citizens are entitled to a 20 percent discount and exemption from value-added tax (VAT) on medicines, professional fees from private hospitals, home care providers and other health-care facilities, medical and dental services, and diagnostic and laboratory fees. They should also be able to receive these services as well as vaccination for free in all government hospitals and health-care facilities through the Philippine Health Insurance Corp. or PhilHealth.
The 20 percent discount and VAT exemption also cover fares in all forms of public transportation and the use of services in hotels, restaurants, recreational centers, theaters, cinemas, and other leisure and entertainment centers. In the use of services in commercial and government establishments, there should be an express lane for senior citizens' exclusive use.
A senior citizen who wants to pursue post-secondary, tertiary, post-tertiary or technical-vocational education in public and private schools is entitled to education assistance through scholarships, financial aids and other means. Seniors are also exempted from training fees for socioeconomic programs.
Additionally, the law states that senior citizens are exempted from paying individual income taxes, provided that they are minimum wage earners, in accordance with RA 9504 (Internal Revenue Code of 1997). Upon death, seniors' funeral and burial expenses are discounted and VAT-exempt. Their nearest surviving relative can also receive from the state a minimum P2,000 death benefit assistance.
All these benefits are apart from the current pensions that senior citizens already receive from the Government Service Insurance System and the Social Security System upon retirement as well as death-related benefits.
While the benefits seem diverse and comprehensive, Manahan cannot say if these are enough. The policies are in place, but she said there could be weaknesses in implementation.
"The 20 percent discount is good only in the malls and groceries, but not all senior citizens can afford to go to the mall. Is it possible to have the discount in carinderias and sari-sari stores?" Manahan asked. She noted that the large malls can get tax exemptions for such discounts, but can the neighborhood sari-sari or convenience store do the same?
As for pension schemes, Manahan said the government should have a good plan for it. "Plans should have high coverage and adequate benefits. Can we have a trusted social coverage program?"
There are bills seeking to amend RA 9994 to increase the social pension for indigents from the current P6,000 annually to P12,000. It will also expand the coverage to include senior citizens who are not enrolled to any pension program.
President Duterte also recently signed the law creating the National Commission for Senior Citizens, which will enable the government to further expand its health and rehabilitation, educational and socio-economic programs for the elderly.
Further reading: Gazini's Next Dream: A Senior Citizens' Center