Education: SM Scholars' Gateway to Limitless Possibilities
Being born in a low-income household is no hindrance for Frances Dhayanah Leonora from realizing her dreams and reaching great heights
Being born in a low-income household is no hindrance for Frances Dhayanah Leonora from realizing her dreams and reaching great heights that would eventually help her family overcome the same condition that has made many other families' lives across the nation a bit more challenging.
And for the lass who hails from Iloilo City, there's only one way to break what has become a seemingly endless intergenerational cycle among Filipinos and in turn lead her to unlocking limitless possibilities ahead: education.
"Education opens doors to jobs, resources and skills that help a person not only to survive, but also to thrive. It is the foundation upon which people can build better lives, achieve their aspirations, and contribute to society," Leonora told The STAR in an exclusive interview via email.
This principle led her to an opportunity – and a blessing – that takes her one step closer to achieving her goals: she is one of SM Foundation Inc.'s 470 recipients of the SM College Scholarship Program for Academic Year 2023-2024.
The new batch of SM scholars were each welcomed and presented publicly for the first time and awarded their scholarship grants in a virtual ceremony titled "Limitless" streamed live via Facebook and Zoom last Sept. 2.
"I am honored to have received this scholarship from SM Foundation. It has not only been an immense financial help for my family, but it has also provided me with the ease of mind to pursue my (degree) to the best of my abilities," Leonora said when asked what the scholarship means to her and her family.
"It truly means so much to me that I am following my passion at one of the most esteemed universities in the City of Iloilo in the Visayas on a scholarship," she added.
The new SM scholar, who is the second in a brood of three, will take up a Bachelor of Science degree in accountancy at the Central Philippine University in Iloilo City because she said that having a background in such field opens the door to understanding how a business succeeds or fails.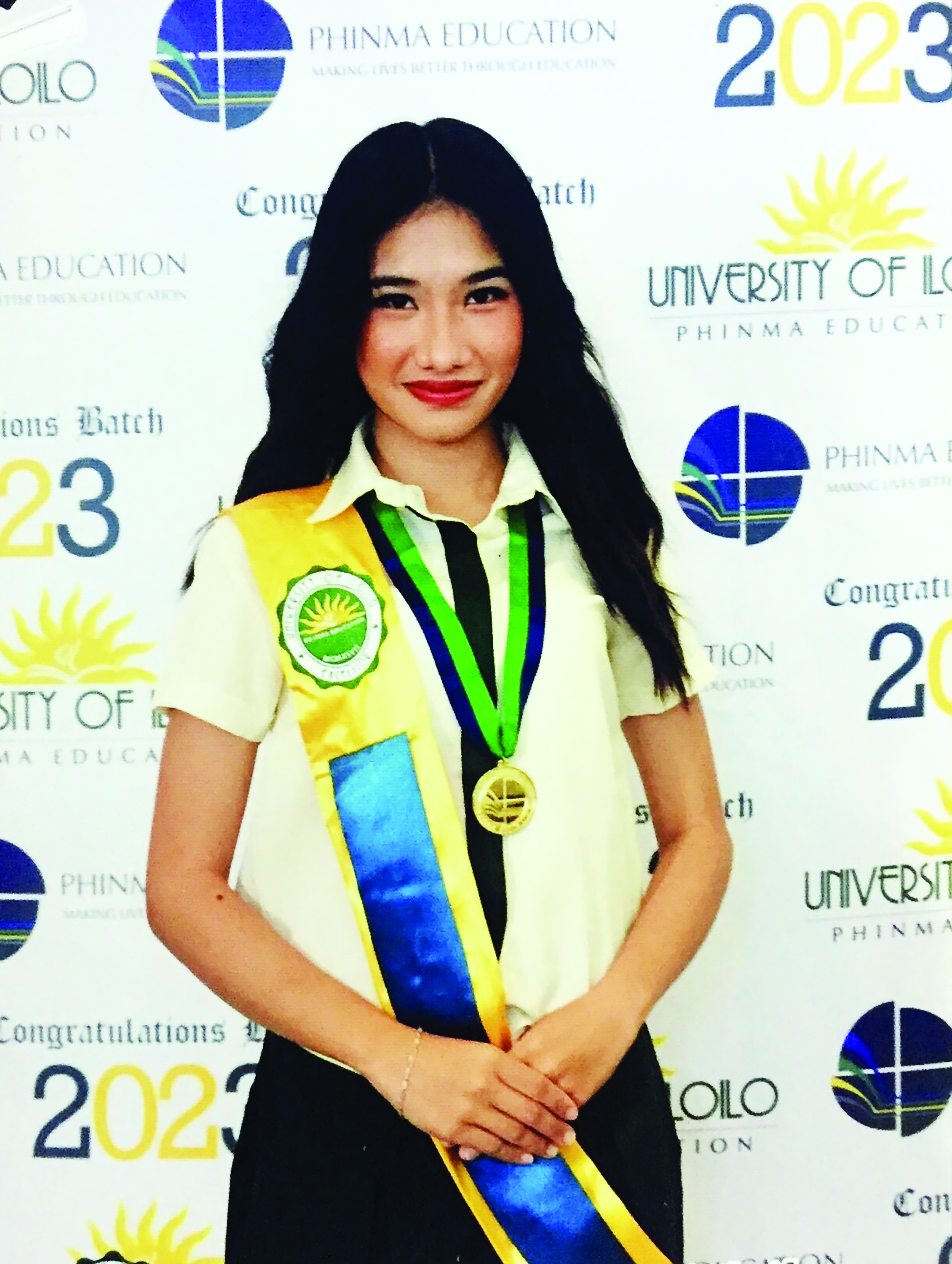 "Accounting is a good profession because it offers good career and good financial returns," she noted.
Rightly so, as living below the low-income threshold can become progressively more difficult for a household to increase its income and break the cycle of poverty, according to Leonora.
"I was born into poverty, and I lack access to all but the most basic necessities," she said.
To make ends meet, her mother sells rice cakes while her father is unemployed.
"Poverty affects my educational prospects, but I do believe that education is the only way in breaking the cycle of poverty," the new SM scholar intimated.
"I believe that all the pressures and challenges have their own purposes, and we just have to face them with all our hearts and always seek the guidance of our Lord and of our family for support," she added, brimming with optimism.
Upon learning that she has been granted a scholarship after going through a rigorous selection process, Leonora said she became highly invested in the SM group's program hoping that it will gift her two types of freedom.
"First, financially, so that I could commit wholly to achieving my highest potential in my studies. But secondly, personally, so I could prove to myself that what I've always wanted was possible and purposeful," she shared.
In a society where access to quality education has remained a privilege for many, SM Foundation stands as a beacon of hope and a testament to the power of philanthropy.
Through its SM College Scholarship Program, the foundation continues spreading social good and offers limitless possibilities to countless young minds – all in line with the visionary aspirations of the SM group's founder, the late Henry Sy Sr.
"As I move on in life and work on more dreams, I realized something: there is no limit to what we can do," Sy, fondly called "Tatang," said then.
The primary benefit of being an SM scholar is being accorded free tuition and miscellaneous fees. Another benefit is a monthly allowance.
Fun-filled activities, such as the "Limitless" scholarship awarding event, a general assembly, a recollection, a Christmas party in December and a presentation of graduates are also in store for SM scholars.
Other benefits include opportunities to work during scholars' summer and Christmas breaks.
The SM College Scholarship Program, an integral part of the SM Foundation's initiatives, has indeed become a living testament to Tatang's vision – it has been instrumental in transforming the lives of thousands of deserving students from low-income households across the Philippines, bridging the gap between their dreams and reality.
Attesting to the impact of the SM College Scholarship Program beyond the classroom is the success story of its alumna, Gretchel Diane Abdullah who has gone on to become a proud marketing officer of BDO Unibank Inc., a company under the SM group.
"Without the help of SM Foundation, I will not be able to achieve this status of my career now," Abdullah said in a separate email interview.
"SM Foundation really helps me and my family a lot. My father is a motorela driver and my mother is a housewife. I spent my high school in a public school and during my fourth year, I was really looking for a scholarship to be able to go to college because I know that my parents will be having a hard time in sending me to college. I was so lucky that our adviser then was able to get a form of the SM Foundation scholarship, so I really grabbed that opportunity. With God's guidance I was able to pass the exams. My parents were so happy when I became an SM scholar because I could go to college for free and I would also have an allowance…," she further narrated as she looked back to the changes in her life.
The SM scholar alumna shared that she chose to work for BDO because the company is owned by the family who helped her achieve her dreams.
"Working with (the Sy family's) company is my way of saying 'thank you' and is my utang na loob (debt of gratitude) to the family," Abdullah said.
Asked how she gives back the opportunities that came to her, thus, further spreading social good, she answered: "Giving my best effort on what is being expected from me as an employee.
"Doing volunteerism. Doing kindness to your kapwa tao (fellowmen) is the best way of spreading social good," she said.
Abdullah also shared the most important lesson that she learned from being an SM Foundation's scholarship alumna who has succeeded in life: "Value your education and the opportunity given to you."
"Don't waste it and work hard to achieve your goal," she said.
To the new batch of SM Foundation scholars who will follow her footsteps to success, she advised: "Savor the opportunity given to you, value it and don't waste it. Study hard and focus, in time success will be yours.
"Continue to dream and do your best shot to be one of SM Foundation scholars. Lots of opportunities await you," she added, addressing aspiring and potential SM Foundation scholars.