DOTr: Face Shield + Mask Now Required For Commuters; Cites Need For Additional Protection Against COVID-19
The use of face shield, aside from face mask, is now mandatory for all passengers of any mode of public transportation.
Commuters who will take any mode of public transportation will be required to wear face shields, aside from face masks, effective Aug. 15, as mandated by the Department of Transportation (DOTr).
In a statement posted on Facebook on Wednesday, Aug. 5, the DOTr said it issued a memorandum circular on Tuesday, Aug. 4, through its Administrative Service, ordering all officials and heads of its various transportation sectors to implement, within their respective jurisdictions, the mandatory wearing of face shields for all passengers in areas where public transportation is allowed.

Mass transport services are currently suspended in Metro Manila, Cavite, Laguna, Bulacan and Rizal were reverted to modified enhanced community quarantine from Aug. 4 to 18 following the call of medical frontliners for a "timeout" amid the continuing increase in coronavirus disease 2019 (COVID-19) cases in the country.

These areas were previously placed under general community quarantine (GCQ), where public transportation is allowed at a reduced capacity along with those under modified GCQ.

The DOTr said initiative aims to further reduce the risk of transmitting the virus in public transport facilities as health authorities have pointed out that the use of face shields and masks reduces exposure to and emission of respiratory droplets considerably.

In July, Metro Rail Transit 3 personnel were reported to have been infected with COVID-19.

"Sa mga kababayan ho natin, huwag sana nating isipin na panibagong gastusin o dagdag abala ang pag-require natin sa paggamit ng face shield. Let us remember that no amount of protection is too much when it comes to health and safety, especially that we are battling an invisible enemy. What we are addressing is not a transport issue but rather a health issue. Kaya nga ho hinihingi ko ang kooperasyon ng bawat isa," DOTr Secretary Arthur Tugade said.

This is amid concerns that not all people cannot afford to buy even just face masks that the government is also now requiring everyone to wear to prevent the spread of COVID-19.

The directive applies to all public transportation throughout the country, involving the aviation and airports, railways, road and maritime sectors.

DOTr Undersecretary for Administrative Affairs Artemio Tuazon Jr. said the order will cover trains, buses, jeepneys, taxis, passengers vessels and even airplanes.

"I will not elaborate more on the practical benefits the face shield offers, but we know that the use of face coverings and masks for superior protection is adopted widely," Tuazon noted.

He stressed the face shield to be used should sufficiently cover the nose and mouth.

"There are the so-called visor, goggles, or other protective eyewear that only encloses the eye area. We advise that our passengers use the ones that cover the whole face. It's actually meant as a redundancy of the protection of the face mask," Tuazon said.

Meanwhile, stringent preventive measures are still in effect to contain the spread of COVID-19 in all public transport facilities, the DOTr assured the public.

These include the mandatory wearing of face mask, strict enforcement of social distancing, and handwashing or hand sanitizing.

Talking and using mobile phones are likewise discouraged inside all public transportation.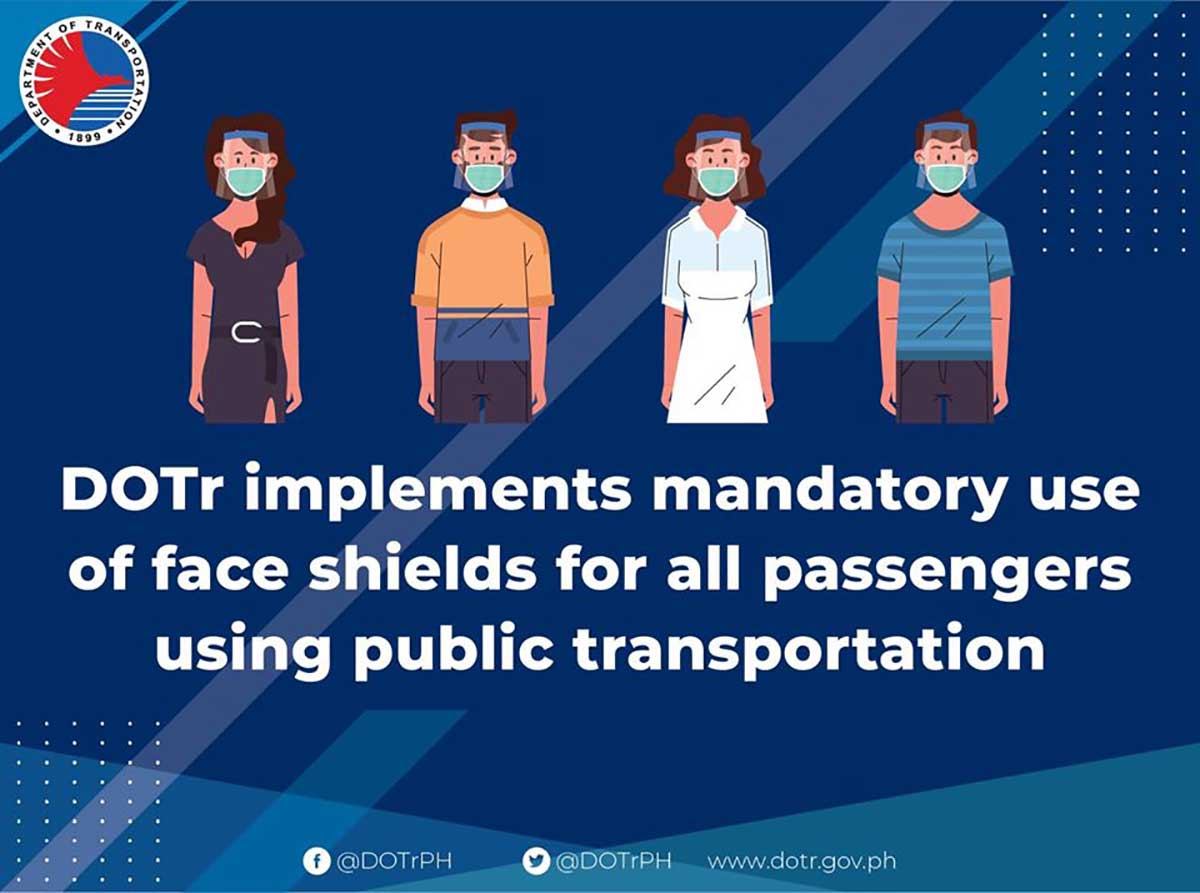 Advice to the public

In a Facebook post on July 20, infectious disease expert Dr. Edsel Maurice Salvana reminded the public that face shields cannot replace masks as protection against COVID-19.

Salvana, director for the University of the Philippines – National Institutes of Health Molecular Biology and Biotechnology, said face shields and masks can be worn together.
He also gave these pieces of advice to the public so they can protect themselves from the virus:

1. Always wear a mask outside the house correctly and consistently.

This can be a cloth or a surgical mask. A face shield is NOT an adequate replacement for a mask but you can wear them together. Do not touch the front of the mask after you have put it on because it is considered contaminated. If you inadvertently touch the front, wash your hands or use hand sanitizer immediately. You can adjust the mask with the straps. Make sure the mask covers your nose and mouth. Do not pull down the mask when talking, sneezing or coughing. If you are going to eat, remove the mask completely rather than pulling it down on your chin and getting yourself contaminated. You can store the mask in a paper bag until you are done eating and you can put it back on using the straps if it is not yet soiled.

Dispose of the mask properly when you get home. If it is a washable cloth mask, immediately put in soapy water upon going home using the straps to handle. If it is a disposable mask, remove using the straps and throw into the trash. Wash your hands or sanitize with alcohol afterwards.

2. Consider wearing a face shield WITH the mask when taking public transportation, or if you expect to meet a lot of people throughout the day and physical distancing might be challenging.

Face shields represent a second layer of protection and also protect the eyes. A disposable face shield, a DIY (do-it-yourself) face shield made from acetate/plastic or a reusable one [will be] fine. Handle using the back straps. For cleaning, you can use soapy water, dilute bleach solution or 70 (percent) alcohol. Some plastic shields may fog up with alcohol so test it out on a small area first. As with masks, avoid touching the front of the shield, and wash or sanitize your hands if you inadvertently touch it.

3. Do NOT eat together at work.

This is one of the most common ways people contaminate each other even if they follow masking and face shield use 99 (percent) of the time. Take turns or shifts because you won't be wearing a mask while eating. If possible, eat in a well-ventilated area. If eating together is inevitable, keep a safe distance (at least (three) feet, but (six) feet or further is better) and do not face each other. Use acrylic barriers if available. Minimize talking any time your mask is off.

4. Physical distance at least (three) feet or further

Combined with masking and face shields, this may be able to interrupt up to 90 (percent) of transmission. If you can't keep that distance constantly, then mask + face shield can maximize protection. Avoid talking in enclosed spaces like elevators.