'Distinguished': What Sets The Thomasian Artist Apart
Curated by Abe Orobia and Ayni Nuyda, "Distinguished" is "not just a showcase of exceptional skills and a celebration of creative intellects, (but also) an exposition of generational talents."
"Distinguished" the exhibit gathers the most artistically accomplished of alumni artists of the University of Santo Tomas, the cradle of modern art and still the trailblazer in contemporary plastic art-expressions in the Philippines.
By "distinguished," we mean not only the most successful in all their artistic and commercial ramifications, but perhaps more importantly, in commanding great respect and authority in Philippine art.
Curated by Abe Orobia and Ayni Nuyda, "Distinguished" is the second edition of the same exhibit that started last year. It is "not just a showcase of exceptional skills and a celebration of creative intellects, (but also) an exposition of generational talents," according to Orobia's curatorial notes in the first edition.
So this "Distinguished" is not only a gathering of the second-generation modern masters (Isidro, Fil Delacruz, Orlina, et cetera), or those who learned from the original Thirteen Moderns (Victorio Edades et al.), many of whom taught at the old College of Architecture and Fine arts of UST. This is also a gathering of the students (Ventura et al.) that the second generation had trained when the latter took over from the Thirteen Moderns.
"The Thomasian artists included in the lineup are not only objectively extraordinary," Orobia added in his original notes, "but (they) are importantly influential … be it in painting, printmaking, sculpture…"
Antonio Austria, who passed away only recently (June 27, 2023), was noted for his naif urban folk-genre works that celebrated in very rich, ebullient colors the iconic jeepney, crowded but vibrant shanty-towns, and charming Filipino urban-character types.
Tam Austria, together with Nemesio Miranda ("Nemiranda"), is the inheritor of the Carlos "Botong" Francisco's bold "Filipinism," distinguished by its folk romantic or folk heroic themes, bold folk colors, and rich decorative patterns.
Rosario Bitanga was, together with the late Nene Saguil, the Philippines first major woman-abstractionist.
Remy Boquiren also distinguished herself in the romantic folk genre, her images of bandanaed rustic woman types in native costumes somehow removed from the ordinary by an inner mystic glow, the artist's deepening spirituality shining through her works.
Whimsy and wit distinguished Richard Buxani's sculptures, which are paeans to pop culture and Orientalia.
Jose "Joe" Datuin is a second-generation modern sculptor renowned for his ability to use lightly visualized symbolism in stainless steel.
Fil Delacruz is renowned for both print and painting; his works are distinguished by their compelling iconography of both Christian and nativist dualism (good and evil, light and darkness), while making deft contemporary discourses on technology, globalization and the environment.
Edgar Doctor, one of the early recipients of the CCP (Cultural Center of the Philippines) Thirteen Artists Award, has had a very successful career distinguished by his ambidexterity in several mediums – from painting to sculpture and even ceramics – as well as his mastery of rural and urban landscapes as well as seascapes.
Derrick Macutay continues the muralist tradition in Philippine modern art founded by Botong Francisco. His murals and even his smaller works intertwine Spanish colonial history and Catholic heritage in a matrix that seeks to explore Filipino national identity.
Raul Isidro is the second-general modern master whose abstracts underscore the elemental power of minerals and natural forces. His works clearly derive their inspiration from the modern spirit, which to Edades, was "to investigate every department of our environment which we directly experience."
Willy Layug is the most successful representative of the religious wood-carving tradition of Betis district in Guagua, Pampanga. While clearly in the folk tradition, his wood sculptures are modernist assays at liturgical art, as could be seen in the all-wooden altar he made for the chapel of the Pontificio Collegio Filippino in Rome.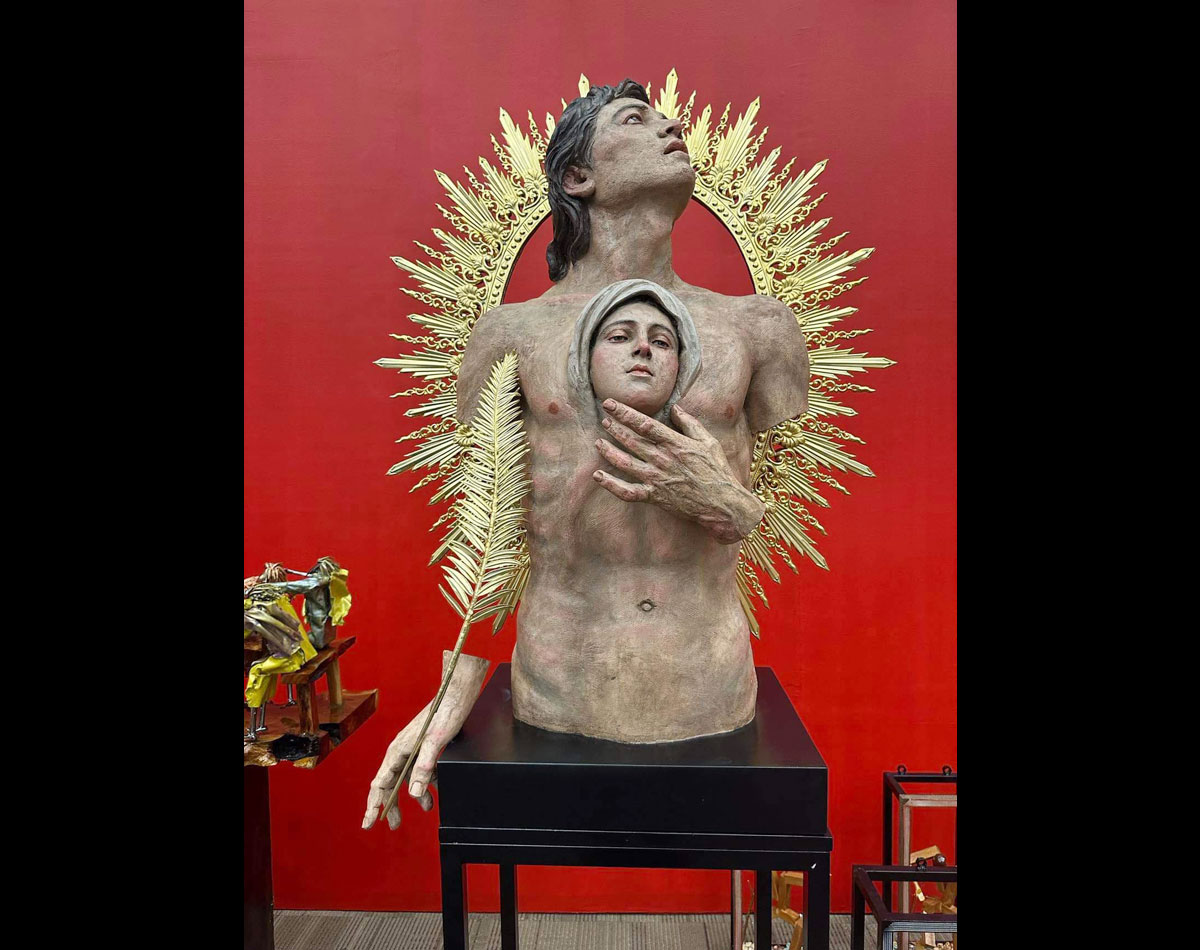 Anna India Legaspi from Aklan, Panay Island represents regional art coming to its own. She's noted in both traditional weaving circles and design trade fairs for her paintings utilizing Chinese art techniques on piña seda, showing the innovations she's made out of her modern-art training at UST, especially on indigenous weaves and other local fabrics.
Justin Nuyda belonged to the first batch of CCP Thirteen Artists Awardees and, until his death in June 2022, the master of innerscapes, highly sophisticated abstract works of compelling intelligence.
Just as compelling are Ramon Orlina's abstract glass sculptures of translucent beauty and effervescent grace.
Anita del Rosario's jewelry designs and metal sculptures show feminine grace in their lineaments but also vim and vigor in their highly bold and masterful use of materials – mother-of-pearl, kamagong and acacia woods, copper and other metals. Her art breathes what Edades used to call as "virility" in the modern spirit that was revivifying Philippine art.
It is easy to consign Jose Tence Ruiz to the social-realist turn of much of Philippine contemporary art at the turn of the 21st century. But this artist (the first Filipino to exhibit at the Venice Biennale since Joya and Abueva in 1964), is more than that: he personifies the multiplicity of mediums and expressions that characterize contemporary art: he's an illustrator, cartoonist, painter, sculptor, performance artist, writer, flaneur, activist, and more.
In his fantasy portraits, Andres Barrioquinto revivifies the portrait genre. Combining human visage and rich botanical forms while endowing both with luxuriant colors, he evokes regeneration and renewal: this is environmentally correct art, if there was one.
Ronald Ventura is Southeast Asia's biggest selling contemporary art sensation. His figurative works are noted for their anatomical hyperrealism and their dramatic verve and power, containing highly imaginative hybrid if not totally fantastical forms, merging both dramatic realism and playful but sometimes darkly sinister gismo-ism.
In his new works, Jose "Pinggot" Zulueta merges the social realism of his old prints and former photojournalism with the melancholy evocations of existential anxieties in his later paintings. As he matures and enters his sixties, his artmaking has become more personal and even confessional.
"Distinguished" reaffirms the commitment of Thomasian artists to reform and revitalize Philippine art, just as Edades envisioned many years ago. This exhibition is not just a showcase of outstanding accomplishments but also a demonstration of the inter-generational brilliance of UST alumni artists who have come together to give back to their alma mater, the University of Santo Tomas.