Curfew Violator Dies After Allegedly Being Beaten Up By Barangay Watchmen
Critics say the government must drop its militaristic approach in dealing with the COVID-19 pandemic as this poses additional risks instead of protecting people from the virus.
A curfew violator died after he was allegedly beaten up by barangay watchmen in Calamba, Laguna, police reported on Sunday, April 11.
Ernanie Lumban Jimenez, 26, succumbed to injuries he allegedly sustained from the beatings shortly before noon on Friday, April 9, at the Calamba Medical Center, where he was taken for treatment.
Police said charges were being prepared against the village watchmen, identified as Arjay Abierta and Joel Ortiz, both of Barangay Turbina.
The incident occurred at around 11 p.m. in Barangay Turbina on April 7.
Lt. Col. Chitadel Gaoiran, spokesperson for the Laguna police, said Jimenez's family claimed the suspects assaulted the victim following a quarrel.
Barangay officials said Lumban tried to escape, but he slipped and fell to the ground.
They said the victim suffered injuries from the fall.
"Nagpaalam na mag-CR (comfort room). Biglang tumakas, tumakbo at nagkahabulan. Natumba siya at nabagok (He allegedly asked permission to go to the CR. But he ran away, prompting the watchmen to pursue him. He fell and suffered head injury)," Gaoiran said.
Probers are studying the statements of both sides as they await the results of the autopsy conducted on Jimenez.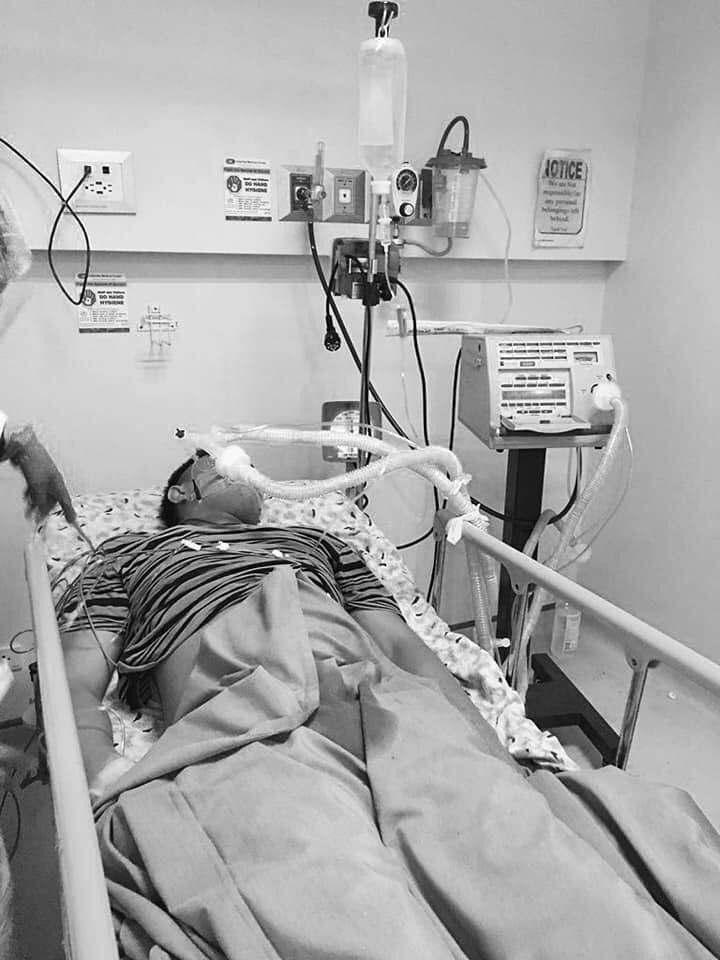 Anakbayan Calamba posted on Facebook on Sunday that Jimenez was accosted by the barangay watchmen at around 10 p.m. on April 7 as he went out to buy food. He did not protest when he was picked up but when he sought permission to pee, the watchmen got angry and prompted the victim to run our of fear, Anakbayan disclosed. When they caught up with Jimenez, the watchmen reportedly beat up Jimenez as shown by the contusions and injuries he sustained, including a broken skull.
"Nang mahagilap si Jimenez at pinagbubugbog ito, nakatamo ito ng maraming pasa, sugat at nabasag pa ang bungo," Anakbayan said.
The incident came as the Department of the Interior and Local Government (DILG) ordered on April 6 a probe into the death of a curfew violator in General Trias City, Cavite who was allegedly forced by police to do 300 squats as punishment for breaking quarantine protocols last week.
DILG spokesman and Undersecretary Jonathan Malaya directed Philippine National Police (PNP) deputy chief for operations Lt. Gen. Cesar Hawthorne Binag and the local government of General Trias to conduct an investigation on the death of 28-year-old Darren Peñaredondo on April 3 to determine "if there were violations and irregularities committed."
The probe will cover the entire police force of General Trias and officials of Barangay Tejero who arrested Peñaredondo on April 1 for allegedly violating curfew.
Peñaredondo was supposed to buy water, his family said, but he was stopped by police and told to do "pumping exercises" 100 times. Police made him repeat the exercises, meaning he ultimately did about 300 repetitions.
Malaya said sanctions would be imposed on the police officers involved if it is proven they went overboard in imposing quarantine protocols.
He said they are supporting the recommendation of Justice Secretary Menardo Guevarra that quarantine violators should be punished with community service.
Local government units (LGUs) have passed ordinances imposing fines and even imprisonment on recidivist quarantine violators, while first-time offenders are released with a verbal warning.
Malaya said the penalties being imposed by LGUs are not within the authority of the Inter-Agency Task Force for the Management of Emerging Infectious Diseases.
The PNP Internal Affairs Service has also launched an investigation on the incident, IAS chief Alfegar Triambulo said.
Peñaredondo and seven other quarantine violators were allegedly subjected by police to do physical exercises as punishment for violating curfew hours. He and the others were sent home on Friday, April 2.
The victim's partner, Reichelyn Balce, posted a video clip of Peñaredondo having difficulty sitting on the stairs of their house, and complained that his whole body ached, particularly his thighs and knees.
Peñaredondo's relatives rushed him to hospital on Saturday after he suffered a seizure. He was pronounced dead at 9:49 p.m.
Lt. Col. Marlo Solero, General Trias police chief, denied they forced Peñaredondo and the other curfew violators to do physical exercises.
Solero said quarantine violators were lectured on the dangers of COVID-19 and ordered to do community service such as cleaning the municipal hall and police station grounds before they were sent home.
PNP spokesman Brig. Gen. Ildebrandi Usana said investigators would get the testimonies of witnesses to shed light on the incident.
The Commission on Human Rights will also look into the death of Peñaredondo, CHR spokesperson Jacqueline de Guia said.
De Guia recommended the imposition of community service on quarantine violators instead of harsh physical exercises and fines, noting that these only add to the burden being felt by the poor and vulnerable sectors.
The CHR has reminded the government to treat the pandemic as a health crisis and not a peace and order problem.
A video of a Grab delivery rider and a barangay official arguing on Wednesday, March 31over whether "lugaw" or porridge was an essential good and should be allowed to be brought to the customer who ordered it went viral.
The delivery rider – Marvin Ignacio – also complained the other barangay officials from Barangay Muzon, San Jose Del Monte, Bulacan harassed and tried to intimidate him after the incident.
Read more: Essential Or Non-Essential? 'Si Lugaw' Or 'Ang Lugaw'? Argument Over Porridge Delivery Goes Viral
A Tale Of Two ECQ Violators: Mang Dodong Out Of Detention; Duterte Defends Debold Sinas
'My Family Thought I Was Dead': Lockdown Arrests Mark 1st Year Of Phl's Pandemic Response