6 Ways Joining A Cycling Club Will Make You A Better Biker
Build connections by going cycling with a group!
Cycling has become a widely popular form of transportation during the pandemic – for some, a necessity to get from their home to the office and back, while for others, a form of recreation, especially given the limited outdoor activities you can do. If you want to try cycling, here's a guide on how to start and where you can buy your first bike.
Aside from the ride itself, another great thing about cycling – or any hobby, for that matter – is being able to share your interests with kindred spirits. You're probably curious about cycling clubs and the benefits of joining one, seeing how cyclists usually travel in groups.
Memberships and qualifications really differ per club – some are exclusive while others are open to anyone who just want to have cycling buddies. There are groups for leisure and there are also teams for competing.
Her are 6 benefits of joining a cycling club:
You're more motivated with a core cycling circle.
Like any other activity, cycling is more fun if you do it with your "people." Finding a club that fits your needs and interests will help you stay motivated and passionate about this sport. By being part of a club, you will also have your go-to companions to bike around town with.
Karel, 23, is an admin of the Esteban Cycling Club (ECC), which was established in June 2020. He began cycling in 2015 after being inspired by the movie "Premium Rush," and he now rides a Lapierre Audacio 200 road bike. Karel describes ECC as a community-focused group in Manila that is open to anyone who respects the roads.
He shares how the main benefit for him is really finding your trusty group. Being able to ride with like-minded people who are part of one community is the first reason he pioneered a club. "[It's] mainly to build your core cycling circle. This is so that you will have a constant group of people you always ride with. Keep building the cycling community in the Philippines to inspire people to ride a bike," he says.
Chino, 27, created a club named Bonk Cycling Club for anyone who has experienced bonking during cycling. When cyclists say "bonk," it could mean "a shortage of energy or a late-race moment when the legs cramp and the engine seems to fail" or the more serious "total inability to continue, marked by nausea, extreme physical weakness and poor coordination, and a profoundly awful feeling," according to Trainerroad.com. Chino rides a Colnago V2R road bike. He started cycling six years ago because he was inspired by his girlfriend's father who joined the Tour in Matabungkay race when he was 52 years old.
"Cycling is a team sport. Riding with others actually make you go faster by drafting behind them and taking turns against the wind. It's also more fun to suffer around your friends while enjoying the outdoors," he describes.
You improve your endurance.
Being part of a cycling club means meeting people who are as determined as you. This way you will have teammates who will point you in the right direction and inspire you to improve in this sport every single day.
Dan, 32, started cycling just last year during the lockdown. His current ride is a classic road bike and, like Karel, he is also part of the Esteban Cycling Club. He shares how he helped establish their cycling club to develop his skills in cycling. "[The] main reason why I joined is because I can't live without a sport and I wanted to continue improving my endurance skill and to keep me healthy always," he says.
You meet different people and build connections.
Cycling clubs can be a way for cyclists to build connections with other people. Receiving tips and hacks firsthand from your co-cyclists can be a huge advantage. You can grow your network by joining one and even discover different routes and spaces during the process.
Jay, 29, is a co-founder of the Esteban Cycling Club. He started cycling 3 years ago as his mode of transportation to the bus station. His current ride is a Giant Contend 3 road bike.
He tells OneLife.ph why he joined and started a club: "You get to connect with people who share the same passion. It's easier to get insights with something or help if needed. It helps you gain confidence especially if you are someone who is new into biking, or have difficulty dealing with the pressure when side by side with vehicles."
You feel safer with company.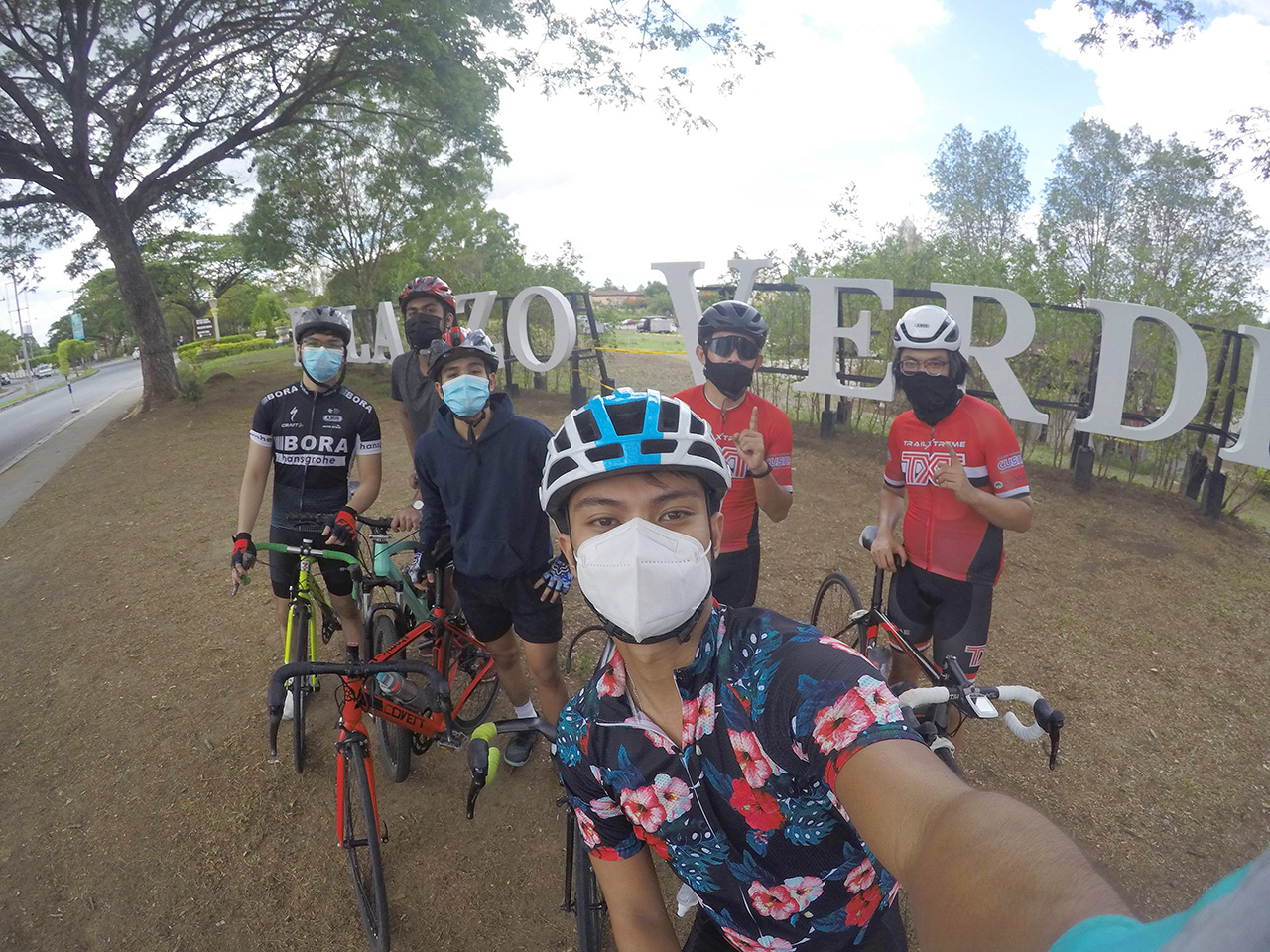 There are dangers to cycling, especially if you're passing through busy roads. Having companions can help you be more confident about your safety throughout the ride. This way, you won't have to worry about your security, and you can just focus on enjoying.
Daryll, 23, isn't part of an official cycling group yet, but he constantly rides his trek classic road bike with his childhood friends. He has been into cycling for six years now, and he says their group is open to anyone who wants to ride around their area (Las Piñas) for fun.
Daryll says the main benefit of riding with a group is the assurance of your safety. "First is 'yung may feeling ka na kampante because may kasama ka. In case masiraan or other unfortunate incidents, there is someone to look after you," he explains.
You discover resources from people you trust.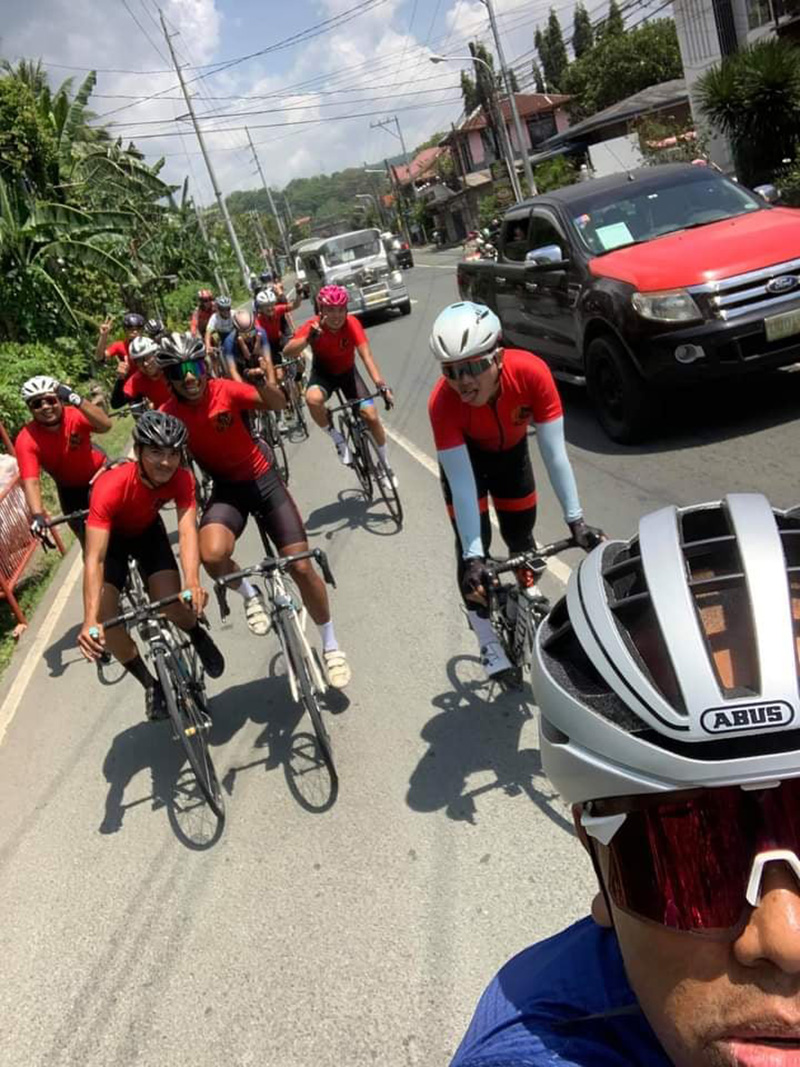 Since you're constantly riding your bicycle, you also have to take care of it. You have to learn how to maintain your ride by also knowing where to get trusted bike parts and whom to ask for tips on how to fix or repair it. Your teammates can serve as your reliable source.
Miguel, 25, is part of a business-based team named Bike Kings Laguna. He started cycling back in 2013 just for fun, but has since discovered a deeper passion for the sport. He currently rides a Cannondale road bike. He also disclosed that membership to their team is by invitation only.
When asked what the benefits are of being part of a team, he said, "[You] develop cycling connections and camaraderie, [get] sponsorships for races, and have trusted bike mechanics for repair and maintenance."
You build camaraderie over coffee or a food trip after the ride.
What's a bike trip without a food trip or coffee? Cyclists are often closely associated with coffee because "Caffeine has some clear and obvious benefits to bike riders, it's a mild central nervous system stimulant so [it] can improve your alertness and concentration and perk you up if you are feeling tired or lethargic," according to this article.
"A visit to a café is a real chance to meet local people, to sit quietly and watch the world go by and slip into the lifestyle of the country you are visiting," it says.
Daryll also shares how their bike trips are incomplete without a food trip. Before or after rides, you and your fellow cyclists can go eat out or grab a cup of coffee. It's basically part of the cycling ritual.
Both Jay and Dan work at a coffee shop, and if you scroll through @estebancyclingclub's Instagram, you can see that they're always bonding over coffee pre- or post-cycling trips.
Here are some of the coffee shops we've spotted on their Instagram:
Daily, for a Kyoto-style coffee experience.

Located at 6 M.T. Dioquino Street, (between 15th and 16th Avenue), Quezon City
Brewed Specialty Coffee, your neighborhood café.

Located at C. Raymundo Avenue, Rosarion, Pasig City
Typica Coffee, a Japanese-inspired coffee shop.

Located at 72 E. Rodriguez Avenue, Brgy. San Isidro, Taytay, Rizal
PapaKape, an aesthetic green café.

Located at 5641 Ampere St. Palanan Makati City
Slow Space, which has a coffee-shop-by-the-beach kind of vibe.

Located at Mazapan Sweets, Sta. Rosa-Tagaytay Road, Tagaytay, Cavite
Yardstick Coffee, curbside coffee for cyclists.

Located at Universal LMS Building, 106 Esteban, Makati City
Still thinking about cycling? These bikers share one-liner tips with OneLife.ph:
Karel: Just like Nike's slogan, "Just do it."
Daryll: First, [you should] have a bike, then ride at bike-friendly spaces.
Dan: Invest on your safety.
Jay: Respect – not only co-cyclists, but also minimum health standards.
Miguel: Find a group that is more accessible to you and is easy to get along with.
Chino: When you're on the road, don't forget to wave and say hi to your fellow cyclists!
This article originally appeared on onelife.ph