37-Year-Old Security Guard Finishes College As A Scholar
Just when Jennibeth Dayao thought she could forget her desire to go back to school, her son started asking questions about his homework. "It was difficult for me to assist," she confessed, realizing she had to learn more to properly tutor him.
When Jennibeth Dayao was assigned to the De La Salle-College of Saint Benilde in Manila in 2013, she was solely focused to do an excellent job to support her son in Pampanga.
Affectionately called Jhen, the single mother was first stationed at the information lobbies at the Taft campus. She then became a roving guard and mail delivery personnel.
On her first week, she learned from former housekeepers and security guards about the institution's Blessed Arnould Study Assistance Program (BASAP), a grant for working students who wish to pursue Business Management or Marketing Management degrees.
"They were all BASAP graduates and are now employed as full-time Benildean associates," she stated. "It was so inspiring. I was encouraged to apply."
However, Jhen – who had to pause her Bachelor of Science in Civil Engineering (BSCE) degree journey at the Nueva Ecija University of Science and Technology due to financial difficulties – and second of six siblings, was sending her younger brother to college.
"Our parents were farmers," she said, noting that her parents wanted her and her siblings to finish their studies but could not support them due to lack of finances. This was the reason why they helped one another achieve their dreams.
"Gusto sana nila na lahat kami ay makapagtapos pero hindi talaga kinaya pagdating sa financial aspect. Kaya kami na lang magkakapatid ang nagtutulungan," Jhen noted.
To augment her income, she resorted to selling beauty products. Meanwhile, her brother supplemented his daily allowances by working part-time at a church.
Just when she thought she could forget her desire to go back to school, her son started asking questions about his homework. "It was difficult for me to assist," she confessed. "I realized I must learn more if I wanted to properly tutor him."
"I still wanted to be a direct employee in Benilde," she added. "To be able to do so, I needed a degree."
In 2018, she was delighted when her brother finally graduated. He is now a policeman.
Jhen, who was then assigned at the Angelo King International Center (AKIC) as a CCTV operator, decided it was about time to pursue her own goals. In September of the same year, she applied for the scholarship. Nerve-wracking as it may be, she passed the entrance examination. Two months later, she received her acceptance letter.
"I was so thankful to the Lord and to Benilde for the opportunity," she beamed. "My whole family was so happy."
However, by the end of November, her father passed away due to a heart attack. "Parang ito lang 'yung hinihintay ng Tatay ko (It's like my father waited for this)," she shared. "He gave me the courage to study again. I dedicate this mission to him."
Jhen enrolled in Bachelor of Science in Business Administration majoring in Marketing Management and felt like she had to go back to Grade 1.
"Para akong bumalik sa Grade 1," she admitted. "Mahirap pala kapag matagal ka nang hindi nag-aaral then all of a sudden babalik ka. Kailangan kong himayin lahat para mag-sink in sa utak ko (It's difficult to go back to school after a long absence. You need to process everything to sink into my brain).
"Hindi naman talaga ako matalino (I'm not really intelligent) but I was willing to adjust."
Her batch comprised of working students aged 18 to 36, all of whom fondly called her Miss Jhen or Ate Jhen. With their patience and help, as well as positive support from professors, she was able to embrace being a learner again.
A security guard by day and a scholar at night was not easy. She held on to the power of time management.
Her hectic schedule included waking up at 4 a.m. to prepare her food for the entire day then commencing her 15-minute walk to the campus for the briefing. By 6 a.m., she would enter the CCTV room for her 12-hour shift then have her meals at the station. When the opportunity allowed, she went over some notes, all while still being on top of her tasks. With permission from superiors and assistance from a reliever, she would leave earlier to rush to the Taft Campus in time for the 6 p.m. to 9 p.m. lectures. She would then stay up until midnight to accomplish assignments.
"I never took my post for granted," she reiterated. "Being a CCTV operator had many obligations and I ensured to do it well to avoid any untoward incidents."
When the pandemic hit, her 12-hour duty was cut to eight and classes shifted online. With additional free time, she decided to open a fried chicken stand outside her dorm.
This time, wake up call was at 3 a.m. to receive fresh deliveries from the supplier. She then attended her 5:30 a.m. shift that would last until 2 p.m. Afterwards, she rushed home to cut, marinate, and fry the chicken and open the stall. She logged in for the 6 p.m. to 9 p.m. classes. Believe it or not, she resumed selling once the sessions were adjourned.

"This small business helped me survive until Benilde bounced back to normal operations," she noted.
She said it was difficult but had to tell herself that she already made it far during the times when she wanted to give up. "Mahirap pero kinaya pa rin. Ginusto ko na ring sumuko pero lagi ko sinasabi sa sarili ko na sayang kasi nandito na ako. Bakit ko pa nga naman papabayaan?"
After three years of hard work, Jhen finally earned her own diploma. That's exactly a decade since she walked into Benilde as a security guard.
"Mahal kong Tatay in heaven and to my supportive Nanay, yehey, graduate na ako!" she cheered. "Finally, I made it!"
The graduate expressed her utmost thanks to all who encouraged her in her journey, from her fellow security guards and housekeepers, to superiors and mentors.
She believed that motivation, willpower and passion served as her guidance. For those who wish to follow suit, she advised: "Do not just dream – take action."
"Never stop growing and learning," she noted. "Whatever your age and status in life, do not give up. Believe in God and live the determination in your heart. Just keep trying until you achieve your goals," she said.
Jhen was recently promoted to CCTV supervisor, effective Sept. 1, 2023, and will take office at the Taft campus, where she was first stationed. She promised to do her usual best in her new role as she waits for the next direct full-time position available under the college's Benilde Center for Emergency Management, Safety and Security or CEMMS.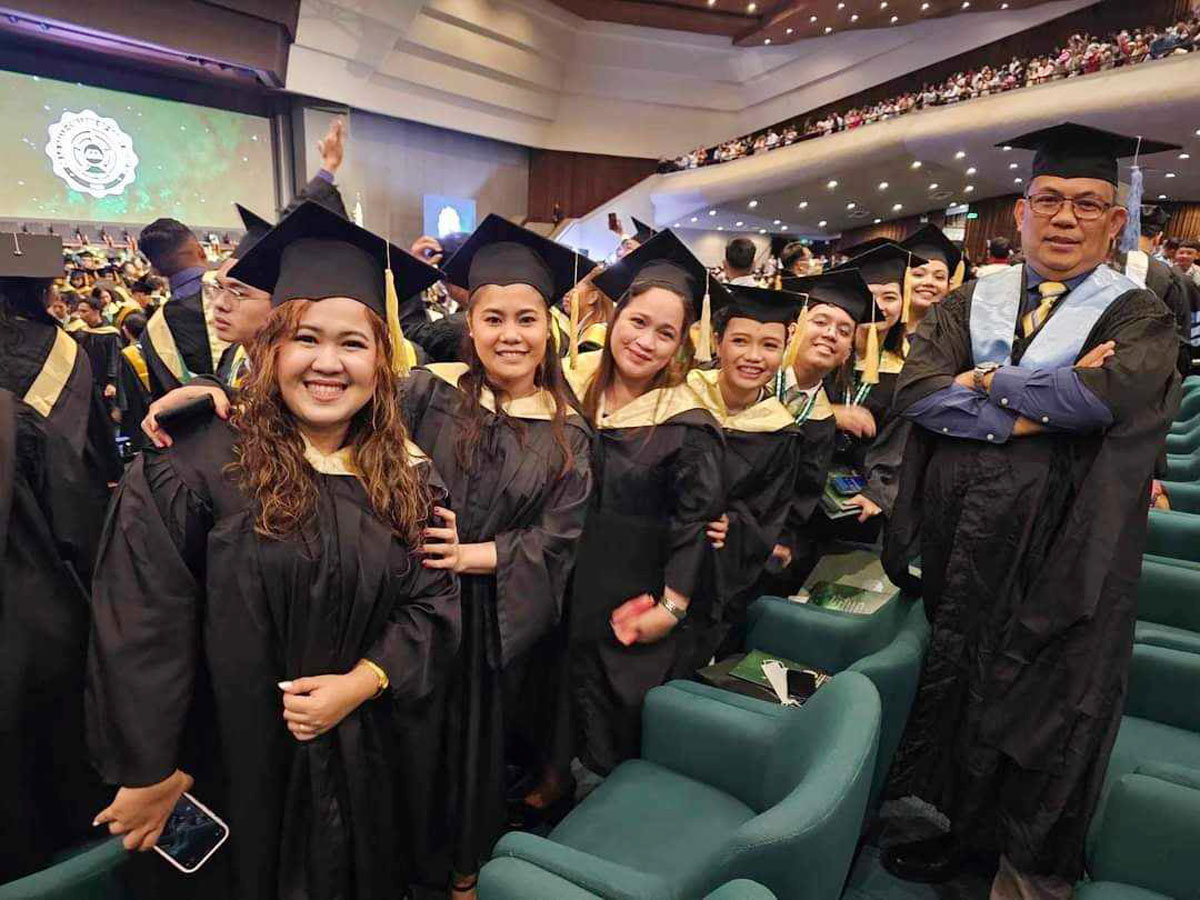 All photos from the De La Salle-College of Saint Benilde