Antiporda, Roque, Marcos Draw Flak After Conflict With Scientists, Experts
Environment Undersecretary Benny Antiporda, presidential spokesman Harry Roque and Sen. Imee Marcos were all criticized for supposedly failing to appreciate the works of scientists and various experts that could help the government make decisions.
The Geographic Society of the University of the Philippines (GSUP) has called for the resignation of Environment Undersecretary Benny Antiporda after accusing the University of the Philippines Marine Science Institute (MSI) of being "bayaran (paid hacks)" – the third such attack by key Duterte administration officials on the sciences in just a matter of days.
The hashtag #AntipordaResign has become a trending topic on Twitter following Antiporda's outburst during the #LagingHandaPH virtual briefing of the Presidential Communications Operations Office on Wednesday, Oct. 14.
Prior to this, presidential spokesman Harry Roque Jr. on Tuesday, Oct. 12, told the OCTA Research Team, which regularly releases projections to guide people and officials about impending trends in the spread of the coronavirus disease, to "refrain from making these recommendations publicly."
On the same day, Sen. Imee Marcos –  whose claims of having graduated from Princeton University and the University of the Philippines College of Law have been belied by both institutions – said the field of development communication "has been largely debunked" and called it "cute and archaic."
Angelo Joshua Victoria, a senior lecturer at the UP Institute of Biology, said in a well-received Twitter post that "times like this make me unapologetic when I say that when the opportunity to move abroad arises, take that."
"As young scientists, it is not mentally healthy to continue working for an anti-Science government while the rest of the world moves forward," Victoria said.
'We are doing something good'
Antiporda – who earned P2.1 million in basic salary plus P847,368 in allowances in 2019 – hinted that UP scientists should pay for the expense of conducting research out of their own pockets.
He bragged about the P500-million funding supposedly given by the government since 2016, which social media users pointed out was a meager amount.
"Ang UP po sa buong pagkaalam ho natin ay libre dapat iyan ano po. Bakit kayo naniningil sa gobyerno? Matapos kayong pag-aralin ng taumbayan, matapos kayong maging iskolar ng taumbayan, sisipsipin ninyo ang dugo ng taumbayan sa dami ng kinuha ninyong pondo (UP, as far as we know, should render services for free. Why are you charging the government? After the people sent you to school and made you scholars, you are sucking the blood out of the people with how much funds you got)?" he said on Wednesday, Oct. 14.
Antiporda had been upset after the UPMSI on Sept. 30 said the dumping of crushed dolomite alongside Manila's Baywalk to create a white beach "will not help solve the root of environmental problems in Manila Bay." The institute pointed out that storms would just erode the fake beach without improving the water quality, given the lack of wastewater treatment plants to get rid of pollutants, plastics and fecal matter.
His response to this was: "Gumagawa kami ng maganda, kailangang magbayad kami sa inyo, huwag naman, ano po? Hindi ninyo karapatang batikusin ito dahil bayaran kayo. Iyon lang po ang masasabi ko sa UP. Uulit-ulitin ko – bayaran kayo (We are doing something good, but we are paying you, just don't do that, you know? You have no right to oppose this because you are paid hacks. That is all I have to tell UP. I repeat – you are paid hacks)!"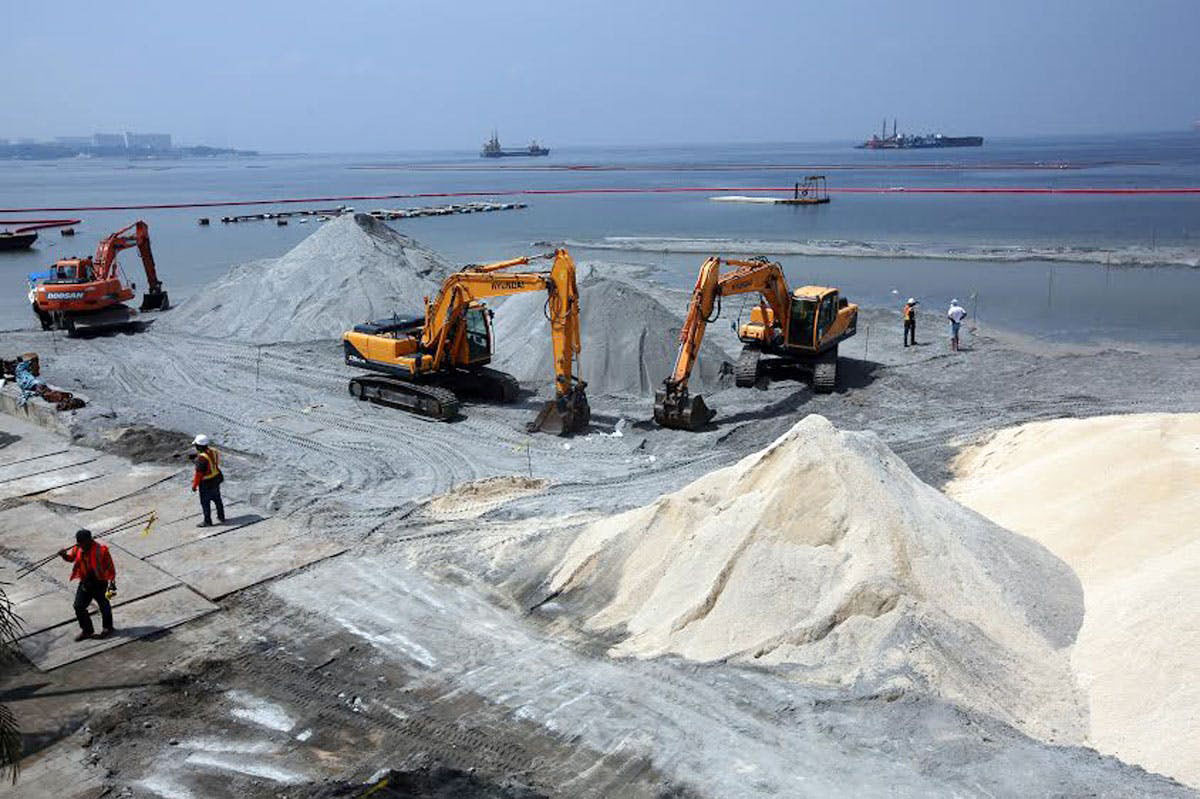 Not much funding
In response, UPMSI, in a statement on Thursday, Oct. 15, said it actually received the amount of P364.07 million "total for the last decade."
This was the cost of 10 collaborative projects related to the assessment of the National Integrated Protected Areas Systems sites, enhancing capacity for management and rehabilitation of marine ecosystems, and strengthening the understanding of Philippine waters from the West Philippine Sea to the Philippine Rise.
The amount represented the cost of scientific research and investigation, including field work, the use of laboratories and research equipment, support to research assistants, and training of the personnel of national government agencies and higher education institutions.
It said it would not have its own funds for the cost of such services, because the government would only give it budget for the maintenance and other operating expenses of facilities and equipment in Diliman and the Bolinao Marine Laboratory.
"These costs are typically shouldered by clients requesting the UPMSI's services, as the Institute has no access to funds that would support the conduct of scientific inquiry on top of the research it is already doing," UPMSI pointed out.
It also welcomed Antiporda's call for the Commission on Audit to review its spending. "This is only appropriate for any government office or agency, given the understanding that any funding received by the Institute is ultimately channeled into scientific projects meant to protect the Philippines' marine ecology and to promote the development of the nation," it said.
UPMSI described the DENR as a "long-standing partner" and said it would remain "willing and open to extending its services to the DENR, no matter the passing opinions of the day."
To apologize or not to apologize?
Hours after UPMSI released its statement, Antiporda said the institution should be the one to apologize, not him.
"I don't think kailangan ako mag-apologize now, but again 'di po kami ang nagkamali dito. Sila po ang unang nagkamali, sila po ang unang bumatikos sa 'min, pero partners kami (I don't think I have to apologize now, but again, we were not the ones at fault. They were the first to do something wrong, they were the first to oppose us, but we are partners)," he said in a radio interview.
Antiporda erroneously accused UPMSI of going to the media first and discrediting the DENR's own experts. UPMSI had actually released its statement directly to the public through its Facebook page.
Shortly afterwards, he said in a separate television interview: "I apologize because talagang natangay po ako ng emotions ko rin kahapon dahil masakit po eh (I was swayed by my emotions yesterday because it really hurt)."
Nonetheless, Antiporda refused to walk back his earlier remarks. "Mag-partner tayo eh. Nagbabayad kami sa inyo. Kliyente niyo kami. Bakit niyo ginagawa 'to (We are partners here. We pay you. We are your clients. Why are you doing this)?" he said.
He erroneously said that "tuloy-tuloy po 'yung lumalabas na statement coming from UPMSI na parang wala na hong tigil (Statements coming from UPMSI keep coming out like there's no end to it)."
Between the Sept. 30 and the Oct. 15 statements quoted above, UPMSI only released one statement on Oct. 13 and that was in response to an Oct. 9 comment by Antiporda regarding the "cost of services."
Make way for 'better qualified' officials
If student organization GSUP had its way, UPMSI's future partnerships would involve a DENR without an official expressing "anti-science sentiment" despite having an "ill-fitting background for the job."
GSUP told Antiporda in an open letter on Thursday, Oct. 15, that the DENR "needs a spokesperson who, instead of antagonizing homegrown scientists, articulately expresses and explains the department's goals and policies."
"UP scientists work tirelessly for the benefit of Filipino society, despite being underfunded, yet you, Usec. Antiporda, have seen it fit to attack not only the MSI but the valuable contribution of the scientific work of the Filipino Academe," GSUP said.
"This anti-science sentiment is disappointing, as the statements from these institutes are not personal attacks towards you nor the DENR, but rather an effort to present the truth and alternatives for better policy-making decisions," it added.
The organization emphasized that someone in his position should be "credible, responsive, and committed to protecting, conserving, and managing our environment and natural resources." It argued that the department "has to make sound scientifically based decisions in its mandate to protect the environment and not cause its further destruction."
"Considering your ill-fitting background for the job as well as your disregard for the opinions of other Filipino scientists, we call on you to formally retract your statements against the UP MSI and to resign from your position as undersecretary, as both a form of accountability and to give way for other, better qualified candidates to work in the Department," GSUP said.
Commission on Elections Commissioner Rowena Guanzon, a UP College of Law alumna, shared GSUP's statement approvingly and added: "You should resign, you IGNORAMUS!"
While Antiporda did not have much of a background in the field of sciences and the environment, his credentials include being the publisher of tabloid Remate before President Duterte gave him a seat in the Subic Bay Metropolitan Authority board of directors in 2017.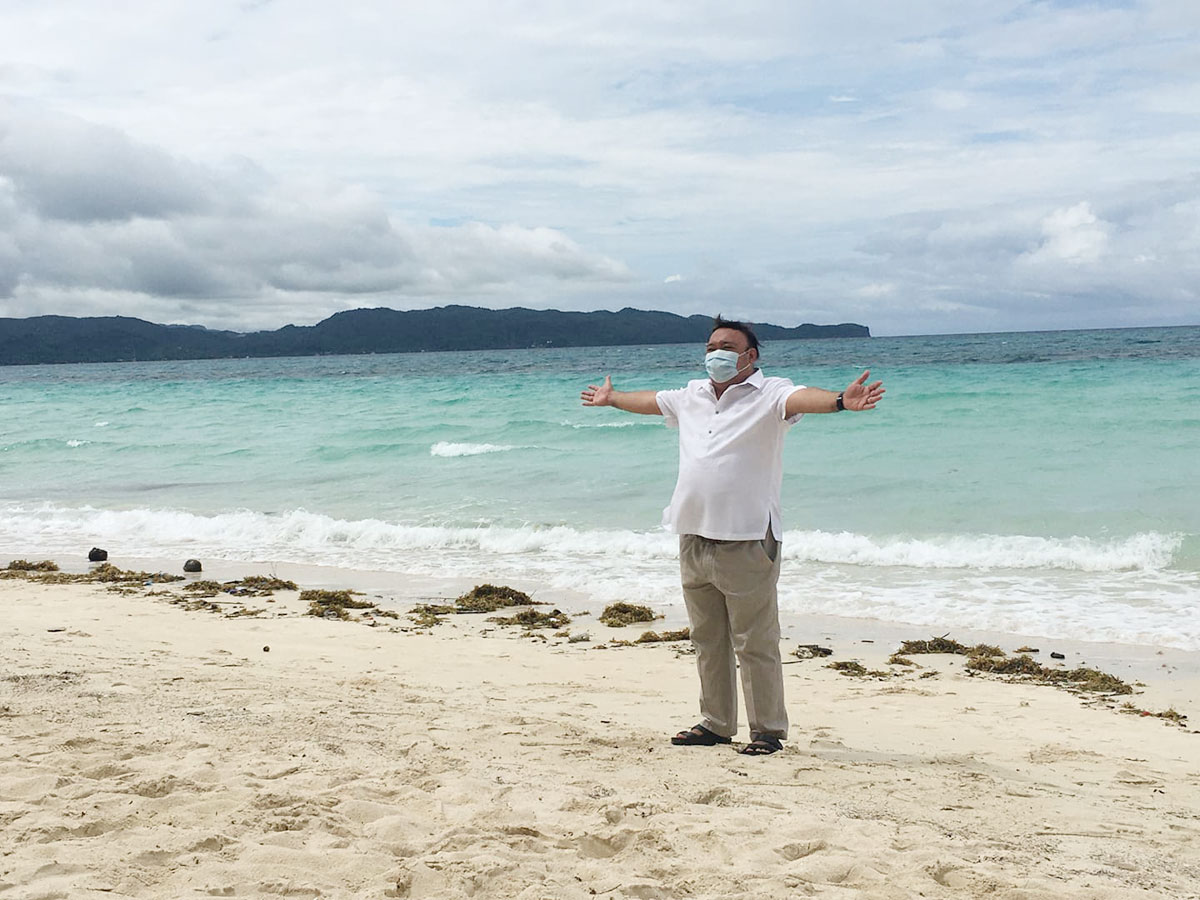 'Keep scientific analysis private'
Days before Antiporda lashed out at UPMSI, Roque told the OCTA Research team to keep the public in the dark about its latest findings regarding the spread of COVID-19 "para hindi po nagkakagulo (so there would be no confusion)."
He said the independent team, composed of UP and University of Santo Tomas experts, should course its recommendations through the Inter-Agency Task Force for the Management of Emerging Infectious Diseases (IATF) privately because "only the President announces po the classifications."
"They can probably endorse or course their recommendations privately to the IATF nang hindi naman po napapangunahan (so they do not get ahead), highlighting the fact that classifications are normally announced by no less than the President himself," Roque said.
However, OCTA Research member and UP Institute of Mathematics professor Guido David said they had already been sending their reports to Malacañang, adding that "we're not actually commissioned for this, we're not paid by the government [nor] anyone."
David on Tuesday, Oct. 13 said the team wanted to inform the public about its findings "because we've been doing this as a public service."
Guido and another OCTA Research fellow, UP political science professor Ranjit Rye, told "The Chiefs" Wednesday night on OneNews / TV5 that they would continue releasing their findings and recommendations to the public.
Roque's remarks were prompted by OCTA Research's recommendation to tighten the lockdown in General Trias City, Cavite; Bauan, Batangas, and Calbayog City in Samar because of the recent increase in the "daily attack rate" of the virus.
"We understand the position of the spokesperson on this issue. The idea of managing communications during this crisis is really a challenge…(But) after much discussion… majority of us agreed that we will continue what we have started," Rye said.
Roque said he merely appealed to the OCTA Research team to send their recommendations directly to the government, noting that certain decisions affect the lives and livelihood of many Filipinos.
He clarified that he appreciates the help being extended by OCTA Research.
Roque also disagreed with Antiporda's statements against UPMSI because UP "is really a partner of government."
"But he has already apologized," Roque said.
This was not the first time that the administration had lashed out against expert advice and sought to prevent the public from knowing what it may be doing wrong in its response to the pandemic.
President Duterte himself accused more than 100 medical groups of advocating "revolution" after they issued a statement calling for a "timeout" from the rising number of new cases by reverting Metro Manila and neighboring provinces to modified enhanced community quarantine.
Duterte on the night of Aug. 2 accused the organizations of raising the "spectacle of [your] agony" and said: "Wala kayong ginagawa kung 'di magreklamo (You do nothing but complain)." He angrily said that the groups "could have just wrote us a letter" instead of "demeaning" the government publicly.
The Philippine College of Physicians wrote a letter pointing out that its previous attempts at communicating its concerns were "for some unexplained reason… left unheeded" by the IATF and the Department of Health.
"If we just knew that your office was not briefed in detail about the situation of our workers in both government and private hospitals, we would have sought a private audience with you to settle these issues and made things clear and right," the letter read.
Marcos gets schooled
Marcos, meanwhile, drew flak for saying during the hearing on the budget of the Presidential Communications Operations Office that development communication is no longer "uso (trendy)."
Professor Nora Quebral, also known as the mother of development communication, defined the field as the "science of human communication linked to the transitioning of communities from poverty in all its forms to a dynamic, overall growth that fosters equity and the unfolding of individual potential."
Development communication, she said, "circulates useful information and knowledge, provides a forum where problems and issues may be aired, teaches needed ideas, skills and values, and creates a base of consensus that stabilizes the state."
Marcos, the eldest daughter of the late dictator Ferdinand Marcos whose tenure has been described as a kleptocracy, said she "really would like to understand the nitty gritty of this Development Communication program because it is so old-fashioned. It is sort of cute and archaic."
Philippine Information Agency director general Ramon Cualoping argued that the field remains "very relevant especially in this time and age when communication is democratized because of the internet where everyone is empowered to create their own content."
He said the agency's goal was to go down to the level of the barangays and "develop the grassroots customized communication per area."
UP Los Baños College of Development Communication, a pioneer in the field, said that "for as long as there are social issues to be addressed, DevCom will remain even relevant."
"First, (DevCom) has a long and established history, which is recognized by thought leaders around the world. Second, devcom is a vibrant academic program being offered by numerous local and international academic institutions. And third, driving positive social change through communication has always been at the heart of devcom," the college said in a statement on Wednesday, Oct. 15.
The college added that community broadcasting, development journalism, educational communication and science communication have become part of everyday lives "especially in the current times" with the ongoing need to improve remote learning and spread the right information among communities.
"Because many of the development challenges we face deal with science, there is a need to cultivate science literacy, boost public appreciation of science, and enhance the use of scientific innovations in the country," UPLB CDC said.
The UPLB CDC Student Council, in its statement on Tuesday, Oct. 13, said: "It is politicians like Imee Marcos and her family, especially her corrupt parents, who have made DevCom relevant then and now."
The field, it said, helps raise social awareness and consciousness. The student body added that development communication scholars developed the first distance learning models in the country.
It also stressed the need to enhance the people's right to information to help them make informed decisions to ensure their wellbeing and mobilize communities for social change amid the pandemic.
"As a nation heavily beset with poverty, social inequality, inadequate social services and corrupt political dynasties, the call for the strengthening of DevCom as a field of study and practice must be amplified," the student council said.
"It is Senator Marcos' detachment from the social realities of our country that makes her ignorant not only of what DevCom has accomplished but of the Filipino people's needs and aspirations," it added.
Filipino talent driven away
Weaverly Colleen Lee, a Filipina research assistant at the University College London Queen Square Institute of Neurology, said in light of the recent controversy that she was "tired of being guilt-tripped by friends, family, and society for even thinking about pursuing a science career outside the Philippines."
Lee, in a series of posts on Twitter, noted that scientists continue to be "underpaid and underappreciated" and face delays in the payment of salaries for as long as six months up to a year. This is despite them "pulling insane shifts" from early mornings to late nights and weekends, while having to contend with limited resources and red tape.
"A politician once told me that if I was so smart, I should just go home and 'fix the Philippines.' But how could I, when scientists at home are treated this way?" Lee said. "Instead of helping us fix these issues (which scientists alone cannot fix), (government) tells us to shut up and then has the audacity to claim that we're taking up too much money."
"And please stop harassing those of us who choose to look for better educational and career opportunities abroad. If you want us to come back, show us that we can actually have a career at home," she added. "Many of us don't want to leave. But many of us also don't have that choice."
UPMSI associate professor Deo Florence Onda said the past few days should be "a wake-up call" for Filipino scientists "to be more involved."
"We need to be loud to be heard, and insist to be heard. We need to be part of the system to change it," Onda said. "We need to cross the road – not just always recommending but actually being involved in policy making." – With Janvic Mateo, Christina Mendez, Elizabeth Marcelo