#ANG KAKAPAL: VIP Testing, House Banner, Thank You COVID-19 Spark Outrage
Various developments showing apparent insensitivity caused fury among people who are forced to deal with the difficulties spawned by the coronavirus disease 2019 pandemic.
Netizens and members of the health community are furious over reports that some government officials and their families are receiving special treatment and getting tested for coronavirus disease 2019 (COVID-19) even if they are not showing symptoms or have not been exposed to those infected.
The Department of Health (DOH) has been saying there are not enough test kits so it must prioritize the testing of those exhibiting symptoms.
But the alleged testing of "very important persons" or VIPs was not the only issue that incurred netizens' ire.
At the House of Representatives, Speaker Alan Peter Cayetano and other congressmen together with Executive Secretary Salvador Medialdea displayed Manila paper with the words, "TOGETHER WITH DOCTORS AND FRONTLINERS, WE WENT TO WORK FOR YOU, SO PLEASE STAY AT HOME FOR US!" during a special session on Monday to grant President Duterte additional powers to address the COVID-19 pandemic.
The photos immediately went viral and "ANG KAKAPAL" became one of the trending topics on Twitter.
Not only that, "THANK YOU CORONAVIRUS" also trended on Twitter as the Department of Transportation posted this message on social media along with a video, saying: "Thank you for shaking us and showing us we're dependent on something much bigger than we think." The post was deleted and DOTr apologized.
Palakasan, unfair
In an interview, Philippine Medical Association (PMA) president Jose Santiago Jr. said it is unacceptable that VIPs even without symptoms have been tested for COVID-19 when there are patients who die without really knowing their actual condition.
"There are policies for testing and they should be strictly followed… I hope they have some decency (not to) have this kind of personal COVID testing," Santiago noted.
Santiago stressed that patients, doctors and other health workers are the ones who need the testing kits.
The reported VIP testing also did not sit well with the groups of nurses and health workers who are now on the front line of the battle against COVID-19.
According to Alliance of Health Workers president Robert Mendoza, the VIP testing is just the latest manifestation of the "palakasan system" and "VIP treatment" in the country.
He said it is "favoring politicians and their families instead of prioritizing those patients with symptoms and most importantly our frontline health workers who are prone and most vulnerable to the virus."
"We urge the government to conduct free mass testing to communities with positive cases, hire and train regular health workers to handle such virus cases, and increase the health budget," he added.
Ang NARS president Lea Paquiz says it is "so unfair" that politicians and other government officials are at the top of the list of those to be tested in this pandemic.
"It's too sad.  It's so unfair that they are depriving our patients and even the frontliners of the chance to be tested… Have pity on patients who should be prioritized," she said in an interview.
Filipino Nurses United secretary general Jocelyn Andamo said they could not comprehend how testing even the family members of government officials could be considered a matter of "national security."
"What's the national security issue there? I beg to disagree… I hope they will prioritize the patients and nurses and health workers because they are the ones who are really at risk," Andamo said.
Netizens were also up in arms over reports that the VIPs were tested right in the comfort of their homes.
One of the netizens – Virginia Benosa – posted on her Facebook page that the country's leaders "should think of the greater good." Instead, she said what she saw was evidence to the contrary, as "they even proudly posted" on social media  "that they underwent home testing."
"This happens while our frontliners are suffering from lack of supplies and they even rely on donations for food," Benosa said.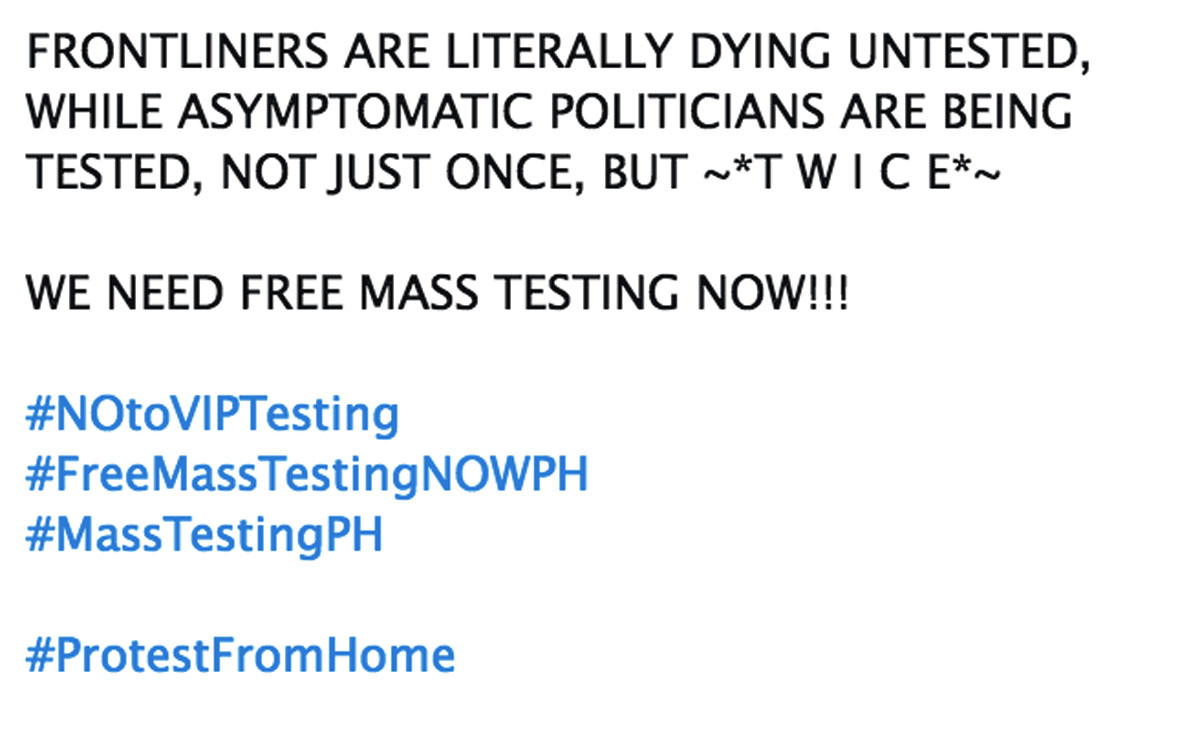 There is also fury over reports that the request of some officials to prioritize them and their families in the tests had delayed the release of the COVID-19 test results of some patients with urgent needs.
Amid heavy criticism, the Department of Health DOH issued a statement denying a policy of VIP treatment. The DOH claimed that "all specimens are being processed on a first-in, first-out basis."
However, the DOH admitted that "courtesy (is) accorded to officials holding positions of national security and public health."
"These are extraordinary times, but we are hopeful that with the arrival of 100,000 testing kits and accreditation of additional sub-national laboratories and dedicated COVID-19 referral hospitals, more cases will be detected and appropriately managed," the agency said.
According to the DOH, the criteria for testing all patients follows "published screening protocols."
Based on the updated screening protocols as of March 16, eligible for testing are PUIs or patients under investigation with mild symptoms who are elderly, with underlying health problems or immunocompromised, and PUIs in severe and critical condition.
For its part, Malacañang said no one should be given special treatment in the conduct of tests for COVID-19.
In a televised press briefing, Cabinet Secretary Karlo Nograles initially evaded questions about the alleged VIP testing, saying the Research Institute for Tropical Medicine (RITM) is more familiar with the issue.
"Well, the testing is with the RITM. Right now, RITM has the protocols on testing as well as those in the sub-national laboratories that were accredited or were given clearance by RITM," he said.
Nograles, who is also spokesman for the Inter-Agency Task Force for the Management of Emerging Infectious Diseases, went on to explain the swabbing process, which involves the taking of samples from the nose and throat.
When asked to respond to claims that only government officials have access to testing kits, Nograles reiterated that he does not have details on the matter.
"I do not know the answer to that. I don't handle the protocols. I do not know how that protocol came about if it's true. I don't have details. I cannot answer," Nograles said.
Pressed if the IATF would appeal to politicians who do not have COVID-19 symptoms not to use their position to be tested, Nograles said there are "general rules" on testing that must be followed.
"Walang lamangan, walang gulangan. 'Yun naman po 'yung ating mensahe (There should be no undue advantage, no seeking of special treatment. That's our message)," Nograles said.
"This is for everyone, for all Filipinos. We have general guidelines that should be implemented so everyone gets a fair treatment," he added.
Officials had admitted that the limited number of testing kits could have resulted in the unintentional underreporting of COVID-19 cases.
Last Thursday, Nograles said the IATF might update its COVID-19 testing protocols once it receives a "considerable" number of testing kits from various sources.
No new RITM director
The DOH also clarified that Dr. Celia Carlos remains the director of RITM, the country's leading referral center for infectious diseases including COVID-19.
It said "the circulating issuance stating that Dr. Carlos has been replaced" by Assistant Secretary Nestor Santiago of the Public Health Service Team amid the VIP testing issue resulted from "an erroneous draft of the document which was inadvertently posted but immediately taken down."
"We sincerely apologize for any inconvenience and confusion this has caused," the DOH added.
The DOH said the RITM has been placed under the supervision of Santiago to "allow Carlos, with her technical expertise, to focus on optimizing RITM functions."
Santiago "shall guide and manage the expansion of testing capacity to public and private laboratories and attend to coordination with other agencies," the DOH added.
How dare you?
Netizens were also enraged by the House banner flashed by Cayetano and other officials.
Gldys Urbano posted on Twitter: "HOW DARE YOU COMPARE YOURSELVES WITH OUR BRAVE DOCTORS, NURSES AND OTHER FRONTLINERS!!! ANG KAKAPAL NG MUKHA NIYO. YOU ALL DISGUST ME!!!"
You read it right, comments are being written in all caps these days to stress a point. The photos were also edited and the message altered. One of them read: "FRONTLINERS WENT TO WORK FOR YOU, SO PLEASE STAY HOME."
 An emergency doctor – Lyndon Cosico – earlier posted such an appeal on Facebook, which became viral and garnered positive comments and support.
 The government has placed the entire Luzon under enhanced community quarantine with stringent social distancing measures to prevent the spread of the disease. The World Health Organization said the proper term should be physical distancing as connection among people must remain despite being far away from one another.
 As regards the "THANK YOU CORONAVIRUS" post, the DOTr communications team was sorry.
 "We apologize for the recent post we shared featuring the poem and video of Polish vocalist/writer Riya Sokol, which is meant to provide an enlightening and awakening narrative into this pandemic. The poem and video have gone viral because it presents a different perspective, one which gives humanity a reflective pause and (allows us to) appreciate what really matters in our lives," the statement read.
 "We acknowledge that not all of our audience appreciate the underlying message of the poem and video, and we understand that some view it as an insensitive act. For that, we sincerely apologize. We have decided to delete the post altogether in both our Facebook and Twitter accounts, as a prudent move to avoid confusion. Again, we are very sorry," it added. – With Alexis Romero