ANALYSIS | US Bases And Duterte's Pivot To China
First, a fact-check: Article 18, Section 25 of the Constitution does not allow foreign military bases in the country – except under a treaty – after the expiration of the 1991 agreement between the Philippines and the US concerning military bases.
On Monday, July 27, President Duterte broke away from his prepared speech during his fifth State-of-the-Nation Address (SONA) before a joint session of Congress to warn the United States against setting up a new military base in Subic, making an off-the-cuff comment that he had read about the plan somewhere.
There was once a huge military base in Subic Bay. It was the home of the US Navy's 7th Fleet until November 1992 when the last American sailor left after a dozen senators voted to abrogate the US Military Bases Agreement.
The President's statements had inaccuracies. There was a plan for a new naval base but it was from the Philippine Navy – in a 100-hectare area that will become the future homeport for its first modern warship, a missile-capable, semi-stealth frigate.
Subic's deep and natural harbor and covered location makes it a perfect home for the Philippine Navy's largest warships as some of its naval bases are heavily silted and need massive dredging to allow ships to dock at its piers.
But the plan has not left the drawing boards and the proposed site remains in limbo. It is waiting for a new investor to take over the facility.
At the moment, the Philippine Navy has a small facility in the sprawling former US naval base. It only uses parts of the Alava wharf, which has been privatized by the Subic Bay Metropolitan Authority and the Sattler Pier as a naval supply depot.
A much larger area is still occupied by a failed South Korean shipyard, Hanjin Heavy Industries and Construction Philippines, Inc. or HHIC-Phil, which used to build container ships, oil-and-gas tankers and giant buoys.
It has stopped its operations, laying off more than 20,000 workers, even before the coronavirus disease 2019 (COVID-19) pandemic, after it defaulted on its $400 million loans from a group of five domestic and Korean lenders in January 2019.
Two Chinese companies have expressed interest in taking over Hanjin's operations, which was building 20 vessels in various stages of construction when it closed shop.
However, security officials had serious reservations on the entry of Chinese investors due to the strategic location of the facility. They wanted a more friendly country to operate Hanjin's shipyard.
Before the COVID-19 outbreak early this year, an American investor and an Australian shipbuilder were about to sign a $2 billion deal to take over the facility. Part of the deal was to provide a space for the Philippine Navy where it could put up a base.
Yes, the Americans want to return to Subic. But it will be under a commercial arrangement, not a military base although the biggest clients will be the US Navy.
The American investor, private equity Cerberus Capital Management, which specializes in distressed investing, wanted to use part of Hanjin's facility as a ship repair facility for the US Navy and its partner, Australian shipbuilder Austal Ltd that planned to construct six off-shore patrol vessels for the Philippine Navy in the shipyard. The project cost will be P30 billion.
The project will employ about 30,000 Filipinos, which the country needs at the moment as the pandemic ruined its economy. The Philippine economy had contracted for the first time in more than 20 years in the first two quarters this year and more than seven million workers lost their jobs and livelihood after the government imposed a lockdown from mid-March to prevent transmission of the deadly disease.
Duterte must be well-informed about the American-Australian investment plan in Subic but he used the SONA to show his friendship with Beijing as tension builds up between the US and China over the South China Sea.
Washington has demonstrated its resolve to challenge Beijing's excessive claims on the South China Sea by sending two aircraft carriers to patrol the strategic waterway.
The US has also changed its policy on maritime dispute from staying neutral on the issue to supporting the Philippines' position after it won a legal battle against China in the Permanent Court of Arbitration in The Hague four years ago.
Australia has supported the US policy shift, calling China's claims as invalid and without legal basis. It has also joined the US, India and Japan to hold naval drills in the regional waters, sending strong signals to China, which has been using its force to coerce smaller neighbors.
Duterte has said the country would pursue an independent foreign policy, showing it is "not beholden or a pawn" to any powers but his unwillingness to act against China and warning to the US not to put up a base in the Philippines revealed where his loyalty lies.
It can be unpatriotic for a leader to say he could not do something against China's illegal activities even within the country's 200-nautical mile exclusive economic zone when other smaller countries with inferior military capabilities continue to stand their ground against Beijing's bullying.
Preventing a long-time security ally from taking the cudgels for the country in the fight against China also raises more questions about his intentions.
 The US does not need to put up a military base again anywhere in the country. Article 18, Section 25 of the Constitution also states that after the expiration in 1991 of the agreement between the Philippines and the US concerning military bases, "foreign military bases, troops, or facilities shall not be allowed in the Philippines except under a treaty duly concurred in by the Senate and, when the Congress so requires, ratified by a majority of the votes cast by the people in a national referendum held for that purpose, and recognized as a treaty by the other contracting state."
The US is even thinking of scaling back its presence in Japan and South Korea because it has realized these bases are sitting ducks in a missile exchange with its adversaries.
Under its "Regain the Advantage" plan, the US Indo-Pacific Command in Hawaii has come up with plans to scatter its strike forces and forward bases by co-locating with allies and partners surrounding its potential enemies.
US Marines, naval strike forces and strategic bombers are more mobile and agile and ready to deliver lethal blows within hours in the Indo-Pacific region. It has also rehearsed plans with other allies and partners to strike decisively against any hostile state.
Before Duterte was elected into office in 2016, the US gained access in at least five local military bases – a Philippine Army jungle training facility in Nueva Ecija and four strategic air bases in Pampanga, Palawan, Cebu and Misamis Oriental provinces – following the approval of the 2013 Enhanced Defense Cooperation Agreement (EDCA) between the Philippines and the US.
Technically, the EDCA allows the US military access to anywhere in the country. It has been using the civilian airport in Basco, Batanes as a pit stop for tactical fighters during the war in Iraq and Afghanistan during the time of president Gloria Macapagal-Arroyo.
US Navy maritime surveillance planes, like P3C Orion and P8 Poseidon, have been operating in the South China Sea from an airport in Clark Field, the former home of the 13th US Air Force.
It was also operating unmanned aerial vehicles or drones from an air base in Zamboanga City, where it had a small command and control center and communications facility within the AFP Western Mindanao Command.
Duterte probably wants to shut down US military operations in the country before he steps down from office in 2022, thanking his friend – Chinese President Xi Jinping – despite unfulfilled pledges to invest heavily in the country.
Very little of the $24 billion investment pledges Duterte had taken home from his first visit to Beijing in 2016 were realized except two token bridge projects over Pasig River and another water project in northern Luzon.
Early in his administration, when Duterte ranted about the US military unloading tanks somewhere during a military exercise, everyone was puzzled because there was no such activity going on.
But he used that episode to ban military drills with the US along the western coastline facing the South China Sea.
Then, he terminated in February the Philippines-US Visiting Forces Agreement on a very flimsy reason – the visa of his former police chief, now Sen. Roland dela Rosa, was revoked by the US State Department.
Let's hope his rant against the US plan to set up a new military base in Subic would not be made as an excuse to abrogate EDCA. That could be his next target.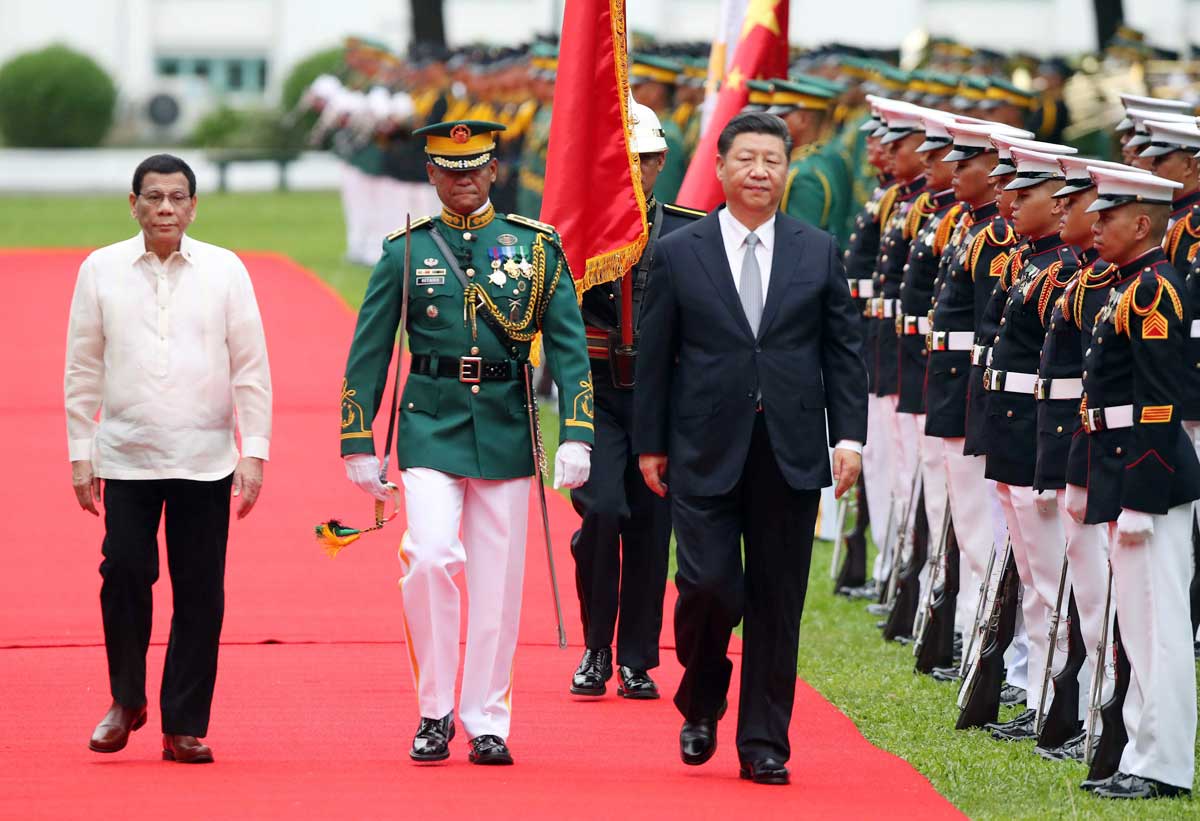 Editor's note
 This is a fact-check, analysis of and opinion on President Duterte's pronouncements in his last SONA that went:
I will just put on record my thoughts. I have nothing against America, I have nothing against China but if you put bases here, you will double the spectacle of a most destructive thing just like Manila during the Second World War --- during the retaking of this city. One of the most devastated cities in the world.
Kaya maglagay-lagay ka ng base at this time, this will ensure if war breaks out, because there would be atomic arsenals brought in, this will ensure the extinction of the Filipino race.
We worked without fail to protect our rights in the South China Sea, neither beholden nor a pawn to anyone. We broadened the boundaries of Philippine diplomacy. We built productive ties with everyone willing to engage us on the basis of equality and mutual respect. And, we redefined our relationships with our most important partners, placing the country in a far better position to advance our interests in an evolving regional order and emerging global problems.
Now, plenty of critics, both sides, claim about nothing has been done to retake forcefully or physically the South China Sea.
Alam mo, unless we are prepared to go to war, I would suggest that we better just call off and treat this, I said, with diplomatic endeavors.
China is claiming it. We are claiming it. China has the arms, we do not have it.
So, it is simple as that. They are in possession of the property. It will remain a property of a --- if you're a lawyer, property rights.
They are --- it has nothing to do with the Philippine laws of property but it's akin to --- they are in possession. So what can we do? We have to go to war and I cannot afford it. Maybe some other president can, but I cannot. Inutil ako diyan, sabihin ko sa inyo. And I'm willing to admit it. Talagang inutil ako diyan. Wala akong magawa. I cannot…
The moment I send my Marines there at the coastal shores of Palawan, tinamaan ng cruise missile lahat iyan. Hindi pa nga naka-set sail iyan eh, sabog na.