After Testing Positive For COVID-19 Four Times, Patient Declared 'Clinically Recovered'
What does it mean to clinically recover from COVID-19?
A patient from Quezon City has been classified as "clinically recovered" even as she remained positive for coronavirus disease 2019 (COVID-19) after four tests in July.
Mary Clarence Reyes, 23, was confined in St. Luke's Medical Center (SLMC) in Quezon City for 23 days, with her hospital bills reaching almost P500,000.
"It was very frustrating," she said of the experience.
 The first time she tested positive for COVID-19 was when she was at the Lung Center of the Philippines (LCP). The three other tests were done at the SMLC.
 Even if the symptoms had subsided in the last two swab tests, with her senses of taste and smell restored, she lamented that the results still came out positive: "Bumalik-balik na 'yung panlasa ko (at saka) pang-amoy. Still, nagpa-positive pa rin ako,."
It meant another week of confinement before undergoing a third swab test, in which she again turned out positive. That was when she was told that she was ready for discharge: "Nung ika-third, nag-positive ulit. Ang sabi lang nila sa 'kin ay actually ready for discharge na ako nung ika-third swab test ko, hinihintay na lang 'yung result."
 After her fourth swab test, which again yielded a positive result, the doctors discharged her from the hospital since she no longer had symptoms and was considered to be "clinically recovered" from COVID-19.
 Her doctors explained that she still tested positive even after regaining her senses of smell and taste because there were remnants of the coronavirus in her body. But they reassured her that the virus is no longer contagious.
 "'Yung explanation nga sa 'kin ng doctor is, it would take a while na maging negative 'yung result mo even though clinically recovered ka na, meron ka pa ring bahid ng virus pero hindi ka na nakakahawa," Reyes said.
 Symptoms
 Reyes first noticed she had COVID-19 symptoms in the morning of July 4, when she could not taste her breakfast or smell an ointment she regularly applied.
 "Paggising ko, sabi ko, 'bakit parang wala akong maamoy?' Tapos, 'di ko muna siya sinabi sa Dad ko, and then after which…parang nagpe-prepare na ako for breakfast, uminom na ako nung morning. Sabi ko, 'bakit wala naman akong malasahan?' Dun na ako nagtaka," she recounted.
Her parents suspected that it could just be early symptoms of an impending cough or cold. Two days later, on July 6, with her sense of smell and taste still gone, she underwent a swab test at the LCP. She said she was no longer shocked upon learning that she contracted COVID-19.
"Nung nalaman ko…actually hindi na ako masyadong na-shock kasi parang I really prayed na magkaroon ako ng spirit of preparedness na rin, kasi nung nalaman ko, nung sinabi ng doctor, parang 'yung pumasok na lang sa utak ko na 'I knew it,' parang ganun, kasi I never experienced na (magkaroon) ng loss of smell and taste," Reyes said.
 After getting the result of her first swab test, Reyes immediately planned what to do for her isolation – whether she would stay at home, go to an isolation facility or be admitted to a hospital.
 Isolation experience
The 23 days in the hospital were filled with frustrations. Aggravating her struggle was the fact that she had no one with whom she could share her thoughts and feelings. She said she did not want to be pitied or discriminated against, and she feared that people might think she failed to take the necessary precautions to avoid infection.
"Parang nung ako lang 'yung mag-isa within those 23 days of my stay, it was not easy…'ay, parang ako lang 'yung mag-isa, anong gagawin ko?' I cannot talk to anybody… kasi ayoko feeling na kaawaan or ma-discriminate, kasi parang feeling ko kapag may COVID, sasabihin nila na, 'ay, ano bang ginawa mo, hindi ka ba nag-ingat?' Parang ganun," she admitted.
 Reyes described her days in the hospital as "routinary." She decided to use her phone and make a daily journal during her confinement.
 "Sinimulan ko siya. Parang mostly nga 'yung first week puro frustrations lang 'yung sinulat ko dun or 'yung nasa thoughts ko," she recalled. "Still, nagkaroon ng improvement as days went by, na nung una frustrated ka, and then parang nagiging peaceful na 'yung mind mo the moment na nae-experience or nare-realize mo na you just have to rest."
During her confinement, Reyes and her family feared the hospital bills piling up since she had been laid off due to the impact of the pandemic on the company where she worked. Reyes' only hope was the health card from her former employer, which was already nearing its expiration. But luckily for her, on the day of her discharge from the hospital, the medical insurance company emailed her saying it would cover all the expenses.
Reyes posted her experiences on social media, including what she considered as miracles that happened as she faced the health crisis.
With her COVID-19 experience full of uncertainties, keeping her faith and trusting God became her sources of strength, Reyes said.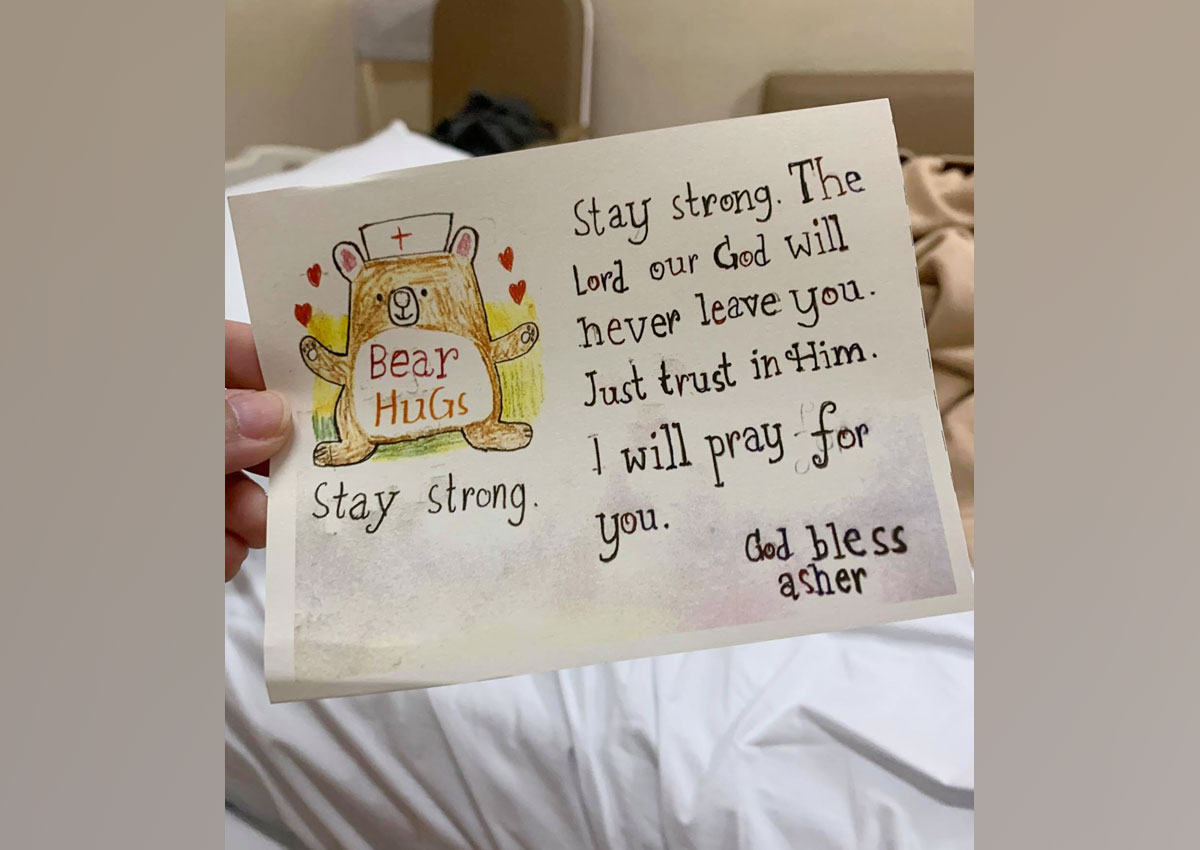 What does it mean to 'clinically recover' from COVID-19?
 According to the Department of Health (DOH), mild and asymptomatic COVID-19 cases are tagged as recovered 14 days from the onset of symptoms or the date of specimen collection.
 In a media forum on July 31, DOH Undersecretary Maria Rosario Vergeire defined clinical recovery as "fever resolution or symptom improvement," which can be a basis for discharging a patient from a hospital or quarantine facility.
 If the patient remains asymptomatic throughout the 14-day isolation, the patient will be tagged as recovered upon the assessment of a physician.
 On the other hand, patients who still have symptoms need to undergo another 14-day isolation. After this period, they can be checked by a physician who will determine whether they can be considered clinically recovered.
 Based on recent findings, the risk of transmitting the virus to other people is significantly reduced on the 10th day of illness. This clinical recovery protocol is followed by the United States' Centers for Disease Control and Prevention, among others.
 "Alam naman po natin na even from the start, wala naman talagang naging standard na definition for recoveries internationally," Vergeire said.
 "This disease is evolving so every time there would be definitions, there would be criteria that will be issued internationally by the experts, and then WHO (World Health Organization) also would provide their recommendations, and we just try to align with whatever international evidence there is," she added.
 The first time the DOH announced mass recovery on July 30, it generated controversy. But the DOH said massive data reconciliation efforts under "Oplan Recovery" resulted in faster and more accurate tagging of health statuses, particularly on deaths and recoveries.
 The DOH stressed that clinical recovery can be applied only to mild and asymptomatic confirmed cases and not to severe and critical patients or to those who are immunocompromised.