14-Day Challenge: House-To-House Tracing Of COVID-19 Patients; Face Shields, Masks For Poor Communities; No Rapid Testing
After the modified enhanced community quarantine, the Department of Health is expecting to see 10 achievements, including an end to the use of rapid antibody test kits or RATs for COVID-19 screening.
The Department of Health (DOH) and Department of the Interior and Local Government (DILG) will be conducting house-to-house visits to find coronavirus disease 2019 patients who are asymptomatic so they can be tested and isolated.
According to DOH Undersecretary Maria Rosario Vergeire, they are adopting the so-called Dharavi model from Mumbai, India that has become a global model for COVID-19 management.
She said the tracing would start in Metro Manila and Calabarzon, which now account for most of the new cases being reported by the DOH.
Dharavi is a densely populated 2.5-square-kilometer slum area in Mumbai where about one million people live. But due to active surveillance and containment measures such as screening, testing and isolation of possible COVID-19 cases, the spread of the virus in the area has been placed under control.
Vergeire expressed confidence on Wednesday, Aug. 5, that COVID-19 cases can "be contained effectively and efficiently" during the two-week modified enhanced community quarantine (MECQ) reimposed in Metro Manila and the provinces of Bulacan, Laguna, Cavite and Rizal.
The Aug. 4 to 18 MECQ period was a compromise as the medical community had asked for a two-week reversion to ECQ to give everyone time to recalibrate the response to the pandemic. In asking for a "timeout," the medical community feared that if COVID cases continued to surge, the health system could be overwhelmed.
Vergeire said they intend to fully implement the CODE Protocols or the Coordinated Operations to Defeat Epidemic to "crush clusters of infections."
"We need to operationalize a national government-enabled, local government-led, people-centered response, with health taking the primacy in the approach," she declared.
Under the program, the national government will provide stronger support to local government units that need it most.  These include localities with a high number of cases and fewer resources such as testing and isolation facilities.
Dissemination of face shields, masks and hygiene kits to those in need is also part of the program.
After the MECQ, the DOH is expecting to see 10 achievements, including an end to the use of rapid antibody test kits or RATs for screening."We have always emphasized  that RATs is not recommended by DOH as a method to screen individuals for COVID-19," Vergeire stressed. "There is still use for RATs, but not for screening and detecting if an individual has the virus or not."
Aside from stopping the use of RATS, the DOH is expecting to see the following after the two-week MECQ:
• High awareness and compliance with minimum health standards
• All poor communities must have face shields and masks
• Areas in the community where people commonly congregate, such as markets, terminals, churches and schools, will have physical distancing cues
• 100 percent of households in targeted areas will have symptoms checks
• 100 percent of those with COVID symptoms/relevant history/contacts will be swab tested
• Placement of suspect, probable and confirmed cases in quarantine facilities instead of their homes
• At least 37 contacts are identified per confirmed case (1:37)
• 100 percent admission/isolation of cases referred
• Zero out-of-pocket payment by all admitted patients
• Identification and isolation of all cluster cases 
• Reduced stigmatization in the communities
Contact tracing, isolation and testing
Former health secretary Manuel Dayrit also said on Wednesday that  the Philippines has not flattened the COVID-19 curve because of its failure to build the overall capacity to respond to the pandemic.
Dayrit noted in a forum that at some point during the ECQ that was first implemented in March, the epidemic curve of COVID-19 was bent, "but we didn't flatten it."
"It did not go horizontal.  People think that when we say flattened the curve, we stopped transmission. We did not. Transmission occurred at a certain rate slower than the initial surge," he added.
But when the ECQ was lifted, the curve continued to rise.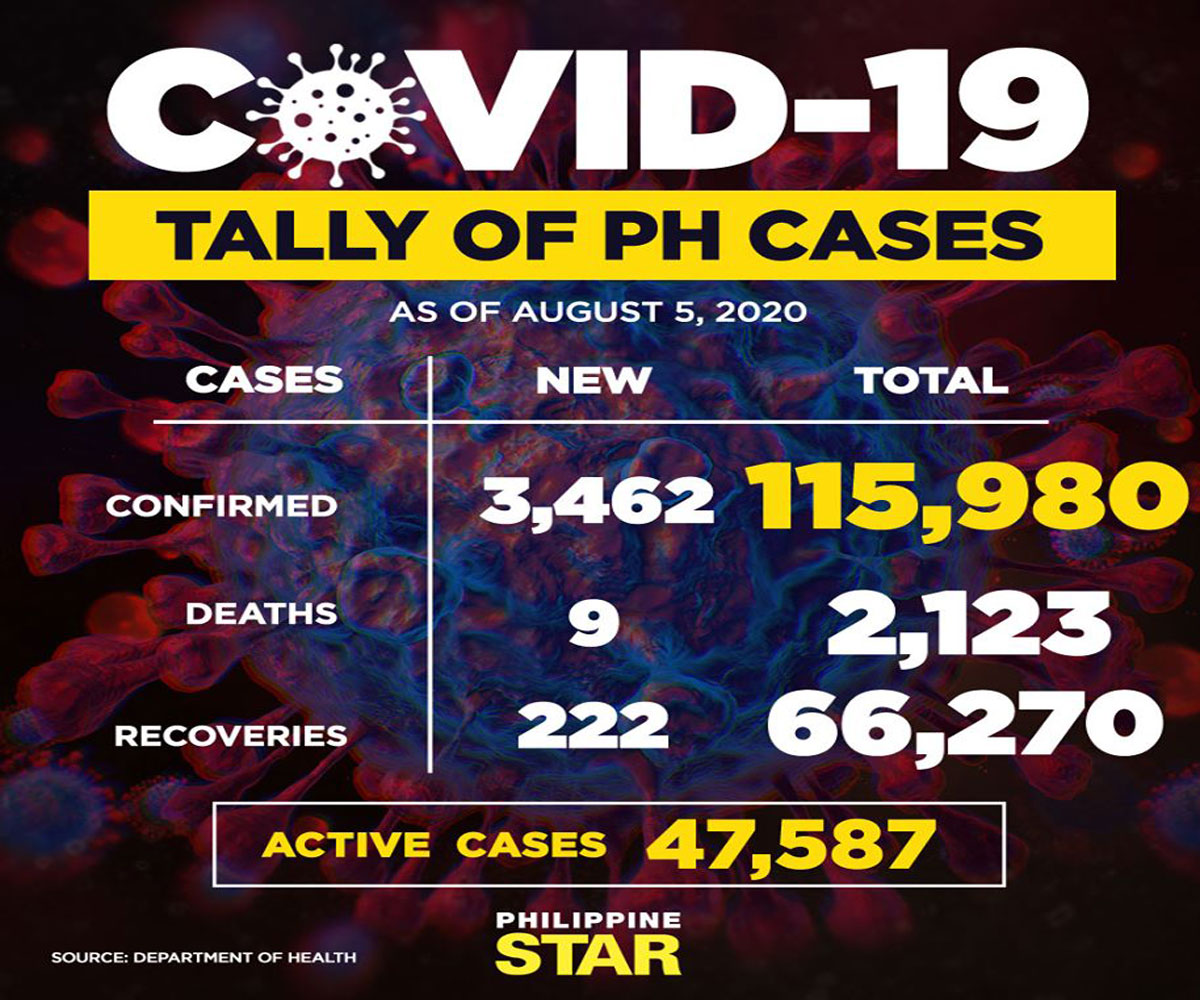 Dayrit urged the public not to be "fixated" on the total cumulative cases of COVID-19 because the large proportion of these cases have recovered while some have died.
He likened the fixation to "looking at the rear view mirror while driving."
Dayrit maintains that it is more important to focus on the new cases that occur every day. He says this is where interventions can be implemented, through strict contact tracing followed by isolation and treatment of the contacts.
"When the local government units, the national government and private sector work together and identify those new cases and clamp down on the clusters, you will stamp the epidemic or slow it down," he stressed.
Dayrit likewise noted that the number of cases per population in the regions is still low but increasing.
"That's what we have to stop, by identifying cases and not allowing them to create clusters of infection," he said.
During the ECQ, the country was able to build up the laboratory capacity from one to 99, but this was not enough because, Dayrit underscored, "our test capacity has not grown, our isolation capacity has not grown in proportion to growth of (laboratory) capacity."
"Supply kept up to a certain extent. The contact tracing capacity has not grown," he pointed out.
To contain COVID-19, which Dayrit described as "very treacherous," he said there is a need to scale up the overall capacity.
"To defeat the virus,  we have to rise above ourselves. We have to do the fundamentals – testing, contract tracing, isolation – and you have to do that all very well," he said.