10 Outstanding Senior Citizens Feted In COSE's 30th Year
The Coalition of Services of the Elderly, Inc. (COSE) awarded 10 exemplary senior citizens with the annual Sampung Ulirang Nakatatanda (SUN) Award during their 30th anniversary celebration on Thursday, Nov. 26.
They came from far and wide, all of them already in the late stages of life.
Still, they came – despite their fragile condition and humble backgrounds – to be recognized for their continuing dedication and service to their communities.
They are this year's recipients of the Sampung Ulirang Nakatatanda (SUN) Awards, an annual recognition for senior citizens held at the SM City North EDSA Skydome on Thursday, Nov. 26.
Now on its 29th year, the yearly award event is organized by the Coalition of Services of the Elderly Inc. (COSE), one of the leading advocates for the rights of senior citizens in the country. The award is given to senior citizens who continue to serve their communities through voluntary public service or their work in espousing various advocacies.
The event was held alongside the celebration of COSE's 30th founding anniversary, with the theme, "Celebrating 30 Years of Journey Toward Dignified Aging."
The 10 recipients of this year's awards are Fu Martha Ancheta, 70 years old, from Polomolok, South Cotabato; Marietta Andrada, 70, from Caloocan City; Tomas Añonuevo, 86, from Bobon, Northern Samar; Bai Bibyaon Ligkayan Bigkay, 86, from Talaingod, Davao Del Norte; Emon Osano, 80, from Malungon, Sarangani; Soning Guinang, 77, from Malapatan, Sarangani; Nenita Gonzaga, 78, from Manila; Florencio Ramos, 83, from Flora, Apayao; Editha Burgos, 75, from Quezon City, and Estelita Dy, 90, from Quezon City. 
Distinguished activism, community work
Most of the 10 awardees are either involved in activism for various causes or are known for their outstanding community work for the benefit of their fellow senior citizens.
Dy, the oldest in the group, was a comfort woman during World War II. In an interview with The Philippine STAR, she said that at the age of 14, she was abducted by Japanese soldiers from her home city of Talisay in Negros Occidental and raped at a military garrison.
Except for her mother, Dy did not tell anyone of her ordeal until 1994, when she was inspired by fellow comfort woman Rosa Henson to go public about her experience. Since then, Dy has become an activist for comfort women, calling on the Japanese government to recognize the war crimes against them and to provide an official apology, aside from providing compensation.
Like Dy, Gonzaga is also an activist but focuses on labor rights, having been a member of the labor group Kilusang Mayo Uno (KMU) para sa Kababaihan for the past 39 years.
Her activism has made her a leading figure in the organization's protest actions. As the current vice president of KMU para Kababaihan, she is a familiar face at KMU rallies promoting women's rights, calling for higher wages, abolishing contractualization, decrying union busting efforts, and demanding justice for slain labor rights campaigners. During martial law, she was imprisoned for three months by the Marcos regime for labor activism.
Another activist in the batch is Burgos, who is the mother of missing activist Jonas Burgos. Since her son's forced disappearance in 2007, she has been actively working through her organization Free Jonas Burgos Movement to find her son and pursue those responsible for his disappearance. She is also a member of the Asian Federation Against Involuntary Disappearances (AFAD), an organization that helps families of victims of forced disappearances throughout the region.
Añonuevo, one of two men in the batch of awardees, is known for organizing senior citizens in their village in Bobon into a group. He spearheaded dialogues with the local government that led to senior citizens being given a seat in various local special bodies.
Ramos, the other male among the 10 awardees, is celebrated for his work in advocating for the delivery of basic services to senior citizens in the community, including providing safe and clean drinking water, establishing a burial fund for senior citizens, organizing medical missions, and raising funds for the construction of a Senior Citizens' Building.
Andrada, on the other hand, founded the Bagong Sikat Elderly Association in Caloocan in 1993, where she has been helping members earn a living and take care of their health by teaching them skills in urban herbal gardening.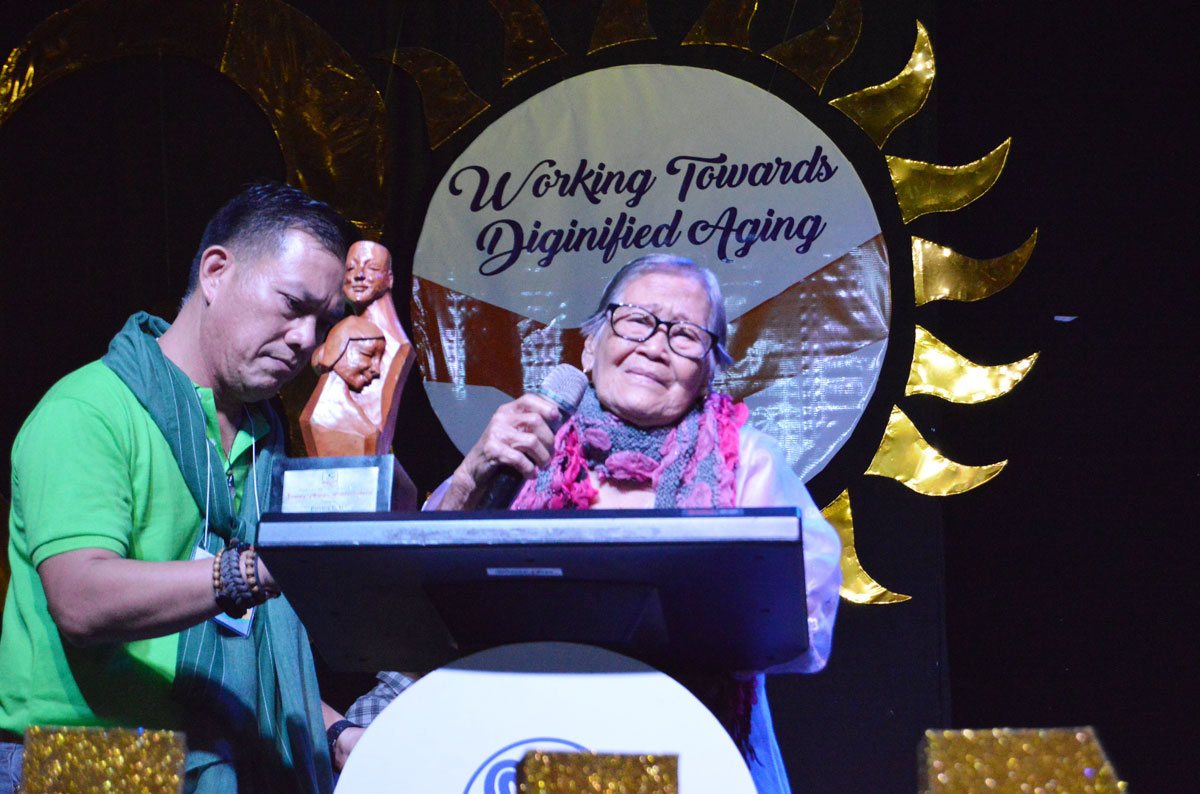 Inspiring indigenous women
A noteworthy detail about this year's winners is that some of them are women from indigenous people's communities in Mindanao.
Ancheta, a member of the Blaan tribe, has been a volunteer health worker, nutrition scholar, agricultural extension worker, craft master and clan leader in her community for the past 47 years.
As clan leader, she worked vigorously to defend her tribes' ancestral domain from encroachment by private interests. As a health worker, she has helped reduce the number of teenage pregnancies in her community and provide villagers with access to needed medical care.
Guinang, also a Blaan like Ancheta, is known for her work in preserving Blaan culture through her organization Ded Libon di Lasang, composed of women from her village of Upper Lasang.
She taught them the traditional art of igem weaving as well as buri basket weaving, enabling her to pass on the tradition to the next generation. She also preserves her community's music through performances using indigenous musical instruments and teaching younger members of the community how to perform their music.
Like Guinang, Osano is also a Blaan whose advocacy is teaching children and women in her community the art of making Blaan clothing and accessories. She gathers them daily in the local school to make the traditional crafts and apparel, which they sell to tourists. The earnings go to the children's schooling and the women's livelihood.
Another indigenous senior citizen in the group is Bigkay, the only female chieftain in the history of the Manobo tribe in Talaingod, Davao del Norte.
As chieftain, Bigkay became an active defender of her community against increasing militarization in the Pantaron region. She organized the community group Sabokahan to mo Lumad Kamalitanan to assert their rights against military and private interest encroachment in their ancestral domain.
Providing education to members of her tribe is also important for Bigkay. This is why she worked to help the Salugpungan Ta Tanu Igkanugon Learning Center, one of the Lumad schools in her community, grow. The center now has 50 branches throughout the region. 
Putting the overlooked on the spot
For COSE executive director Emily Beridico, the SUN Awards is not just about recognizing the continuing community work of senior citizens. It's also about putting the spotlight on senior citizens from far-flung areas whose work has been crucial for the survival and growth of their communities, but who have been overlooked by authorities in recent years.
"Ang pinaka-objective talaga ay i-recognize yung contribution ng older persons sa community development, lalo na yung mga hindi napapansin, kaya kung titingnan mo karamihan ay galing sa ibat't iba sulok ng bansa, sa mga baryo at hindi nare-recognize ang mga ginagawa nila na kung titingnan mo talagang buong puso at oras nilang ginagawa," Beridico told The STAR.
By putting the spotlight on these distinct elderly individuals, Beridico hopes to shed light as well on what senior citizens in various localities still lack in terms of basic services and government assistance.
"Sa totoo lang, malaki sana yung papel na pwedeng gampanan ng ating pamahalaan. Nandoon yung structure, yung mga local government units na permanente na diyan, habang kaming mga NGO ay pumupunta at umaalis. Sila rin yung may resources. Siguro tingnan lang na pantay yung lahat kasi kung may programa sila sa mga kabataan at sa mga kababaihan, pero pagdating sa mga matatanda ay nililimitahan o hindi talaga pina-prioritize. In a way, may effect pa rin talaga yung pagtingin sa mga matatanda, yung ageism," Beridico explained.
Despite her statement, Beridico also recognized that there have been numerous achievements and progress in the country in terms of laws and regulations for senior citizens, which she attributed to a number of factors.
"Mula nang nagsimula kami noong 1989, wala pa namang masyadong mga batas na para sa mga senior citizens. Ngayon naman, nakikita ko na marami na yung mga nangyayari na positive. Kasi una, nare-realize nila na lahat tayo ay tatanda, so unless mamatay tayo nang maaga, lahat tayo ay magbe-benefit sa ipinaglalaban natin ngayon." she said.
"At kahit papaano may influence pa rin sa politics 'yung mga senior citizens kasi sila 'yung kumukumbinsi sa mga family members tuwing may eleksyon. Ngayon, pag na-o-observe kapag naghi-hearing sa mga bills, wala namang kumukontra. Prioritization lang siguro sa tingin ko (ang problema)," she added.
Beridico likewise recognized the role of partnerships in helping the organization grow in the past 30 years. This is evident in the organization's bestowing of special awards to various media partners for promoting senior citizens' rights. One of the recipients is The STAR, which has written positively on various issues concerning the elderly in recent years.
"Sobrang mahalaga. Ako kasi naniniwala na kaming COSE maliit lang kami na organization kung wala kaming mga partners. Mahirap talaga kaya ang laki ng tulong. Sa usapin ng mga nakatatanda, mahalaga yung maka-build ng partnership sa iba't ibang mga grupo at the same time sa mga legislators at government agencies din," Beridico said.